An article, entitled "City closer to changing downtown Edmonton parking lot, putting up paradise", appeared in Metro News last year. It was related to the rezoning of a parcel on the northwest corner of 105 Street and 102 Avenue to the Public Park zone. The parcel is to be developed as a pocket park in 2016 and named Alex Decoteau Park.
The title is an amusing play on Joni Mitchell's Big Yellow Taxi. If we take 'paradise' more seriously than the article intended, it also offers insight into the trade-offs common to inner-city parks.
The word 'paradise' is linked to walls and exclusivity. The word's root comes from ancient Persian, subsequently borrowed by ancient Greek, meaning 'enclosed park, orchard or pleasure ground'. The Common Era definition, beginning with post-classical Latin, is associated with the Garden of Eden and Heaven. It describes a secret garden better than the proposed open, public park.
Setting aside idealistic and etymological considerations, there are practical reasons for enclosing parks. As Camillo Sitte noted well over a century ago, the principal motivation for creating public parks is for hygienic reasons; to improve the health and well-being of city dwellers. This park is no exception, as it is intended to be primarily used by downtown residents for passive recreation.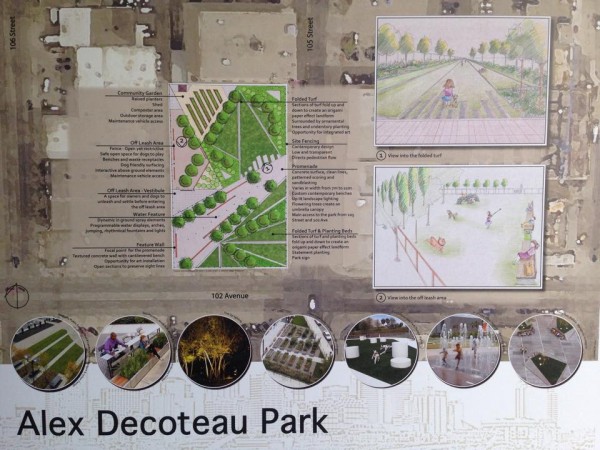 Sitte argued that it is possible to have open parks that promote well-being. They must be large enough, though, for a person to put enough distance between themselves and the noise and air pollution of surrounding roads to find peace. The closer one is to the centre of a city, the smaller parks tend to become. At 3,500 square metres, there will be little room in this downtown park to distance oneself from adjacent streets. While the impact of 102 Avenue may be lessened as it transitions into a transit street for the light rail train, 105 Street will continue to be a busy arterial road.
The more significant form of open public space was the plaza. Plazas were not isolated oases of well-being, but rather a part of the city as a work of art. They were open, yet framed by civic and/or other monumental buildings. The design of the park includes some elements of a plaza, especially with the view corridor provided by the main promenade. On the northeast end, for instance, it looks onto the only significant structure in direct proximity, the historic H. V. Shaw Building across 105 Street.
For Sitte, it was nearly impossible to develop a plaza within the constraints of a modern street grid, let alone on land acquired as an opportunity purchase and with no control over the surrounding buildings. The two downtown Edmonton plazas that have been or will be built close to the time of writing this piece – at the Alberta Legislature and in the Arena & Entertainment District – are both integrated with the development of surrounding buildings and overcome the limitations of the grid.
He had one major rule for vegetation in plazas and other parts of the city-as-art realm: "trees must not constitute an impediment for the view." Although crime prevention was not a part of his theory, this is remarkably similar to the direction for leaving parks as open as possible to allow for passive surveillance from the street.
He knew that his rule was in contradiction with hygienic principles. In response, he promoted parks in the inner-city as paradise; enclosed spaces protected from the noise and grime of the street where greenery, for shade and protection from the wind, would be abundant. These spaces had different security measures, such as being locked at night.
Alex Decoteau Park will not be paradise. It will be a hybrid space that fulfills many needs of the downtown community. It will also be a reflection of the values and trade-offs associated with developing a new pocket park in inner-city Edmonton.
Trent Portigal is a writer and planner. His new novel, Cowards, is coming out in September, 2015.