There are more places to live in Downtown Edmonton than ever before. As part of this revitalization, the City is campaigning that it is doing its part by investing into projects that will build a "Downtown for Everyone". So does this growth include more families with children?
The numbers suggest that the answer is no. According to the 2014 Municipal Census, 697 children under 14 years of age were reported living in Downtown and Oliver, an increase of just 195 children since 2005. As a conservative estimate, this age group represents only 2.1% of the population in both neighbourhoods — a figure that pales in comparison to the 2011 city-wide share of 16%.
If the redevelopment continues as is without further planning intervention or action, neighbourhoods like Downtown and the Quarters will stay unfriendly to families. This matters because there are many benefits of having children live downtown including: higher exposure to diversity and perspectives; increased social interactions particularly with seniors; and many more. Currently, the downtown lacks several aspects and amenities that would attract and retain families to live in a comfortable lifestyle. This article will outline four of many important topics that will need to be addressed if we want a downtown that is truly for everyone, and a core that enables children and families to take part in it.
Childcare
Families moving to the downtown core for a more walkable lifestyle find themselves without any nearby childcare services. Fortunately, recent changes to the Zoning Bylaw have made it easier for daycares to set up business in the core. The City could do more however. For instance, Vancouver has recently committed $30 million towards childcare through the investment of 1000 new spaces. Developers could also be incentivized to build such spaces.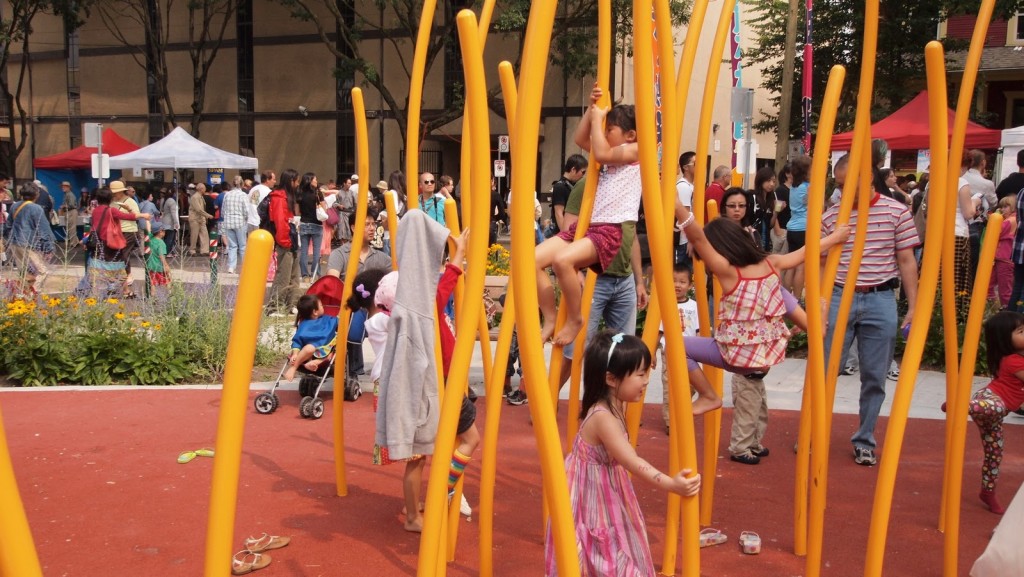 Play Spaces
Although many family activities take place at Churchill Square and the Legislature Grounds during the summer season, few other opportunities exist for children particularly in the residential portions of Downtown Proper. The Capital City Downtown Plan identifies two areas that should accommodate playgrounds but no formalized funding is in place. These spaces also need to be thoughtfully designed. For instance, during my childhood I recall playing on residential parking lots in Chinatown with my siblings and neighbours despite having a playground situated nearby. Why? The playground site did not support any gathering places for larger groups, was not particularly safe to access and had no other amenities. Consequently, the adults preferred to supervise us in informal spaces closer and more convenient to access from their apartments.
Family-Oriented Housing
The Downtown Plan also proposes a housing incentive program encouraging developers to provide affordable "family units" with more than two bedrooms. That said, there needs to be recognition that housing needs to be designed with families in mind beyond just the number of bedrooms. This means appropriate site location, diverse housing (i.e. providing rental, affordable and ground-oriented options), outdoor play areas on site, indoor common amenities, and enough family units for children to interact, etc. Current zoning regulations make it difficult to incentivize such considerations when they favour conventional high-rise developments.
Another complicating factor is the allowance of adult-only residential buildings in Alberta. While age is a protected ground for tenancy in many other provinces, Alberta only protects family status. Many condo boards and rental landlords actively discourage children on their premises. This creates an unwelcoming environment for families as a result. This also further exacerbates the lack of family-oriented units in the core because it enables development of new housing that is inaccessible to families.
Schools
Schools can serve as a catalyst for residential development because they are an incredible draw for many families. However, parts of Downtown and the Quarters lack a primary school and their respective neighbourhood plans do not provide any guidance for future school sites. Rather weak policy regarding schools currently exists for the downtown area:
"Assist the Downtown Edmonton Community League in working collaboratively with adjacent communities and the Edmonton Public School Board and Edmonton Catholic Schools to develop a strategy for an improved central area school system to serve Downtown and central area communities' school-aged children."
In addition to this approach, school boards and the City should work proactively to plan for future children and families, such as by reserving land for downtown schools and collaboratively identifying opportunities to advance their construction.
Moving Forward
There are some promising signs that the City of Edmonton is taking action in planning for families in high density neighbourhoods. For example, the Blatchford redevelopment will support many housing typologies and a school site has been identified in its plan.
Edmonton wants to have a downtown for everyone, indeed. But, like many other Canadian and American cities, it has more work to do to achieve that in a meaningful way. More than buildings, a downtown for everyone needs to look at who is able to live there, and what steps can be taken to make the communities more inclusive and accessible.