Like every place, I suppose, Edmonton has its share of mysteries. Consider the tunnel under Jasper Avenue, the garage castle and the fact that the clock on the City Hall tower wasn't designed to be read at night. While some mysteries are best left unexplained, it's time resolve a question that has puzzled Edmontonians for decades: how do you pronounce Muttart?
The Muttart Conservatory has been one of Edmonton's best-loved landmarks since opening in 1976. The Muttart Foundation has been doing philanthropic work for over 60 years. Earlier this year the Naming Committee designated a road planned as part of a development south of Stadium LRT station as Muttart Crossing and two adjacent future plazas as Gladys Muttart and Merrill Muttart parks. And in 2020 or 2021 there will be a Muttart LRT stop. In other words, we will be saying M-u-t-t-a-r-t more often as time goes on. It only makes sense that we arrive at a common understanding of how to say it.
The name goes way back in Canadian history. Balthazar Moutarde was born in the region of Alsace in 1738. Alsace was then under French rule but Balthazar's native language was probably German. His surname, which means mustard in French, may have been a corruption of Mothart. He crossed the ocean and was a stonecutter at Louisbourg when the British captured it in 1758. He deftly switched sides and fought on the Plains of Abraham under General Wolfe the following year. After the Treaty of Paris, he married and in 1769 obtained land on St. John's Island, aka Prince Edward Island. There the Moutarde surname anglicized into Muttart.
Balthazar's great-great-grandson Samson Muttart and his wife Alma moved their family from PEI to Edmonton in 1903. Samson, a carpenter, established a construction company with his brother Benjamin. Muttart Brothers timed the market perfectly, as house building and other construction expanded rapidly in an exuberant economy. Ultimately, the company built over 400 homes.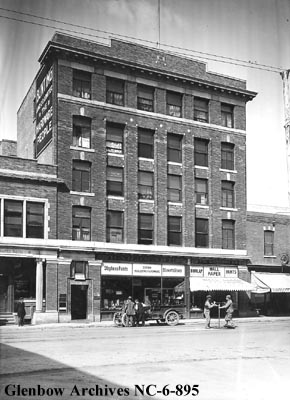 In 1912, on a lot on Namayo Avenue (97 Street) where the Muttarts had previously lived, Samson built the Muttart Block as a symbol of the family's early success. Five storeys tall, it had shops on the main floor and offices and residences above. Here Welshmen sang songs of home and organized a soccer team, children learned music, society dresses were sewn, an international pandemic claimed a husband and father, a car was stolen, union organizing occurred, a rubbish chute caught fire, a pedestrian was injured, and countless other nameless, unremembered acts in the drama of the city took place. In 1929, after the Muttarts sold the building, it was converted into the Ritz Hotel. Over time the Ritz lost whatever glitz it started out with. Canada Post built its main Edmonton depot just west of the hotel in the 1960s. In 1975 the lovely old building was ignominiously demolished to make way for an expanded loading bay for the post office, itself now replaced by the new Royal Alberta Museum.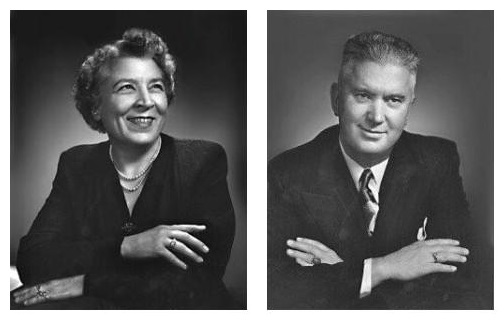 The next generation of Muttarts continued to put its stamp on Edmonton. With the help of his father, Samson's son Merrill established the M D Muttart Lumber Company in 1927. The company survived the Great Depression in part by obtaining the contract to demolish the aging rollercoaster in Borden Park. It took the ride apart piece by piece and resold the lumber. After World War II, Merrill and his wife Gladys built low-cost housing across Alberta and Saskatchewan under the eponymous Gladmer Developments banner. Merrill was one of Edmonton's most prominent business people, with dozens of companies in a vertically integrated construction enterprise. "Swept with depression" when diagnosed with diabetes in 1932, Gladys went on to become a founder and energetic organizer of the Canadian Diabetes Association. She eventually received an honourary doctorate from Mount Allison University for her advocacy efforts.
The Muttart family continues to influence Edmonton. The foundation they established donated $1 million towards the conservatory that bears their name, helped make the University of Alberta a leading centre of diabetes research and today focuses on strengthening the charitable sector and on early childhood education and care. Gladys and Merrill's son-in-law Ted Mildon was instrumental in the construction of the Coliseum (formerly Rexall Place), the transformation of which into a recreation facility is now being considered.
Aware of none of this history when I was growing up in Edmonton, I variously called our local version of the Pyramids of Giza the "Moo-tart" or "Mew-tart" Conservatory. Thinking the Muttart family would be party to the most authoritative pronunciation of the name, I contacted Lloyd Mildon, an affable grandson of Merrill and Gladys and owner of Muttart Industries. Admitting that it is an uncommon name, Lloyd told me that:
The correct pronunciation is ma-tart. The first syllable is soft while the second has just a tiny bit more emphasis…on the last "t". The two syllables are also spoken quite quickly so that it's not MA-tart or ma-TART but rather ma-tart…and they run right into each other.
A good example of this would be the word "Impart". It's a two syllable word, (im-part) but both syllables are given equal emphasis and are pronounced so quickly they almost sound like one. So, if you say Muttart like that…you have got it!
So "ma-tart," or "muh-tart" if you wish, is how the Muttarts pronounce the name. When the Muttart LRT stop opens, and when we are able to walk to Commonwealth Stadium on Muttart Crossing, let's do the same.