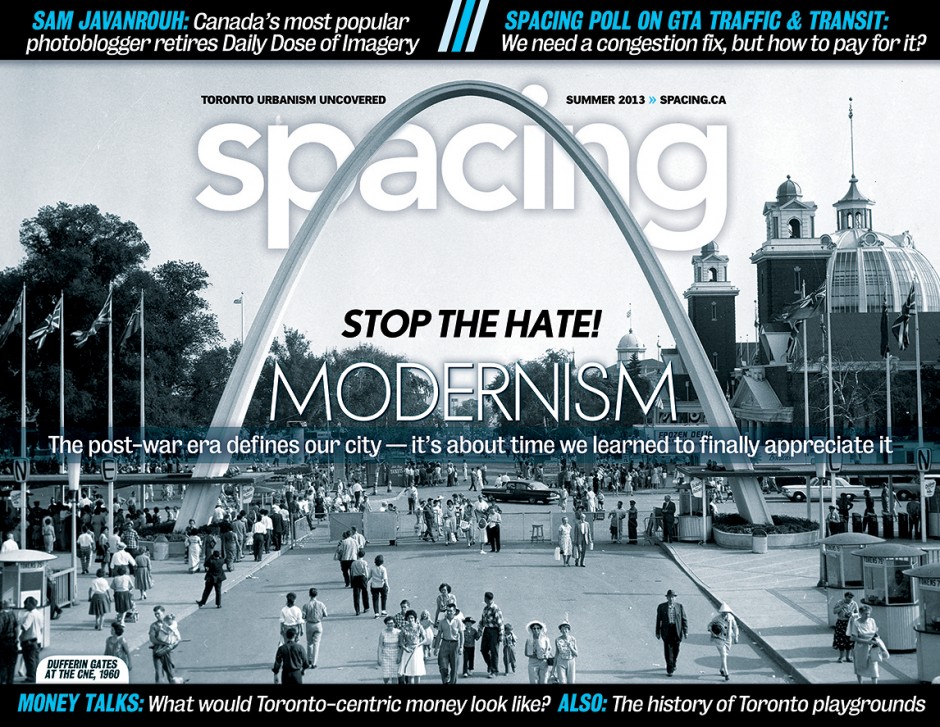 2013 | Issue 28
Toronto Modernism: Stop the Hate!
In the Summer 2013 issue, our contributors explore a variety of topics related to Modernism and its effects on Toronto's urban landscape. As Senior Editor Shawn Micallef writes in his essay on Toronto's mod architecture, "To stand in the middle of Nathan Phillips Square today, after its recent renovation, is to realize how all of Toronto's Modernism should be treated…. This is how all buildings — the old and not-so-old ones — should be revered: with love, a facelift every couple decades, and some new accessories that give a nod to the contemporary but maintain the building's inherent style."
Other articles on Toronto Modernism include: how churches and synagogues shunned traditional architecture after Word War II in favour of the more seductive Modernist style; profiles of the leading local Modernist architects; the Modernist buildings that have already been felled; and how everything from gas stations to medical centres to schools were built in the Modernist vein throughout Toronto's suburban neighbourhoods.
The issue also contains features on the art and science of public engagement; the history of playgrounds in Toronto and the "child savers" who crusaded to make space for kids in the city; and graphic article that explore what a Toronto-centric currency could look like.