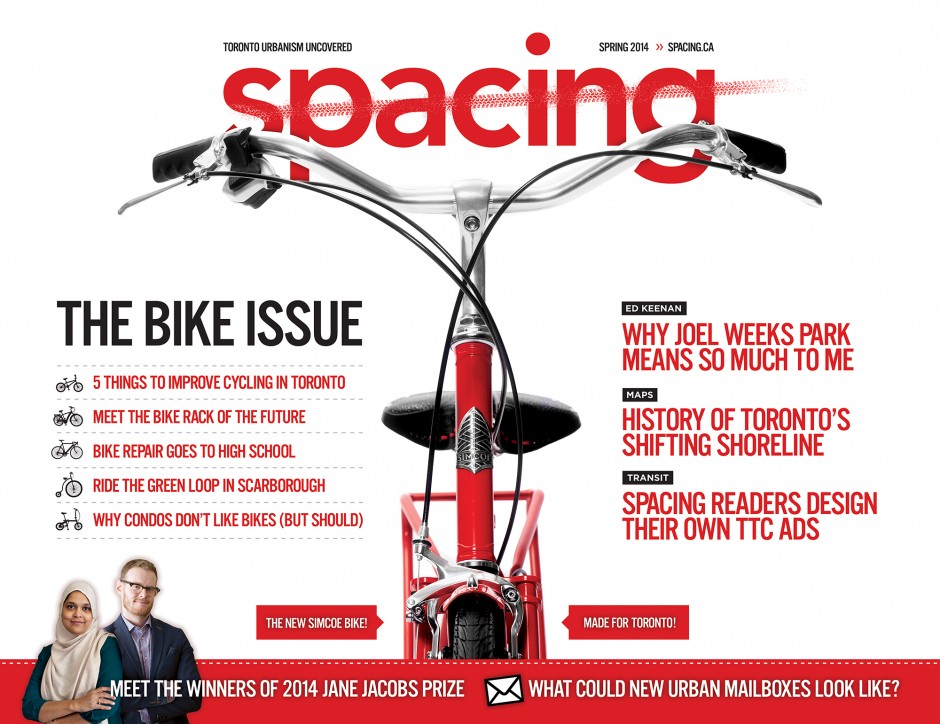 2014 | Issue 31
The Bike Issue
The cover section of the Spring 2014 issue tackles cycling in Toronto and the variety of topics, controversies, and stories inspired by riding around on two wheels. Our contributors examine how city hall can improve cycling in Toronto, why condo boards don't like bikes, how the Green Loop is Scarborough can revolutionize cycling in the suburbs, why bike repair classes should be in all high schools, and much more.
The issue also features Spacing's newest venture: the magazine is now the official stewards of the Jane Jacobs Prize. Since 1999, the organization Ideas That Matter (ITM) has been handing out the award to Toronto residents who have influenced the urban fabric of the city (Spacing was the winner in 2010). The ITM team wanted to breathe new life into the award and asked Spacing to take over administering it moving forward. This new issue of Spacing features a profile on the two 2014 winners (their identities will be revealed on March 25th).
Contributing editor Edward Keenan (senior editor at The Grid) contributes a personal essay about the legacy of Joel Weeks, a friend of his who died in 1982 when he drowned in a Don River storm sewer. This emotionally-moving feature explores the fight to name a renovated park after Joel and the idea of who "owns" memories of the city.
You can also see the results of our Transit Poster Contest in this issue. Also included in this issue: the moving history of Toronto's shoreline, design ideas for urban mailboxes, how to organize a subway party for kids, and a profile of sidewalk artist Victor Fraser.