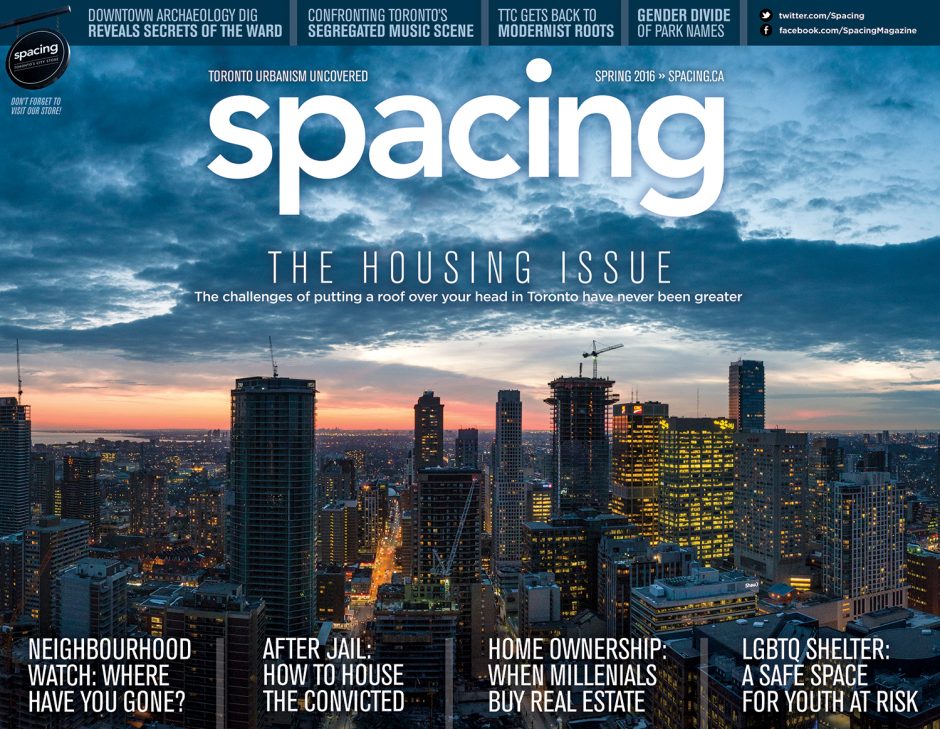 2016 | Issue 39
The Housing Issue
The Spring 2016 edition of Spacing is packed with fantastic articles about Toronto and a variety of urban issues.
The cover section focuses on the city's housing challenges. The features span a wide range of topics:
• Where has the Neighbourhood Watch movement gone?
• The unique powers of the Land Transfer Tax
• How to house convicts after their release from jail
• Why some Toronto neighbourhoods still have cottages
• The dream of co-housing
• Toronto's first LGBTQ2S shelter for youth at risk
• What happens when millenials buy houses
Two other prominent features in the magazine:
• Senior editor John Lorinc dives into Canada's largest urban archaeological dig, right in the backyard of Toronto's city hall
• The Toronto Archives director presents a series of photos documenting the evolution of the Bayview Bridge
Also look out for articles on Willowdale modernism, food that can be foraged from parks and ravines, the gender divide of park names, how the TTC is rediscovering it's modernist design roots, and the controversy of installing sidewalks on streets currently without them.