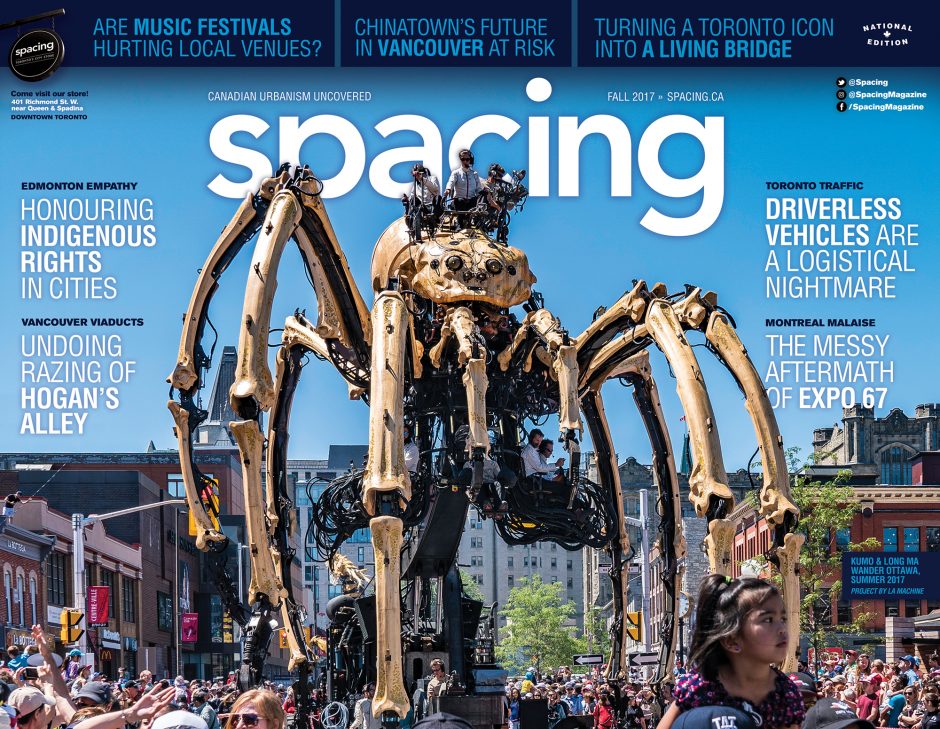 2017 | Issue 44
National Issue
Spacing's annual national edition is out and features a number of unique stories about Canadian cities.
• The Messy Aftermath of Expo 67: While Expo 67 is considered one of the seminal moments in Canada's history, the site had sadly become a wasteland. David Leonard explores the slow decay of this historic site.
• What 1967 Built: Graphic artist David Kopulos profiles over 40 projects inspired by Canada's Centennial celebrations.
• A Place That Honours Local History: Hogan's Alley was a small neighbourhood home to Vancouver's historic Black community. Then the downtown viaducts came and changed everything.
• The New Congestion: John Lorinc looks at how Canadian cities are finally waking up to the second coming of the automobile revolution.
• The Island Flood: The summer inundation of rain on the Toronto Islands has been a shocking reminder of their vulnerability. Cartographer James Steenberg examines the high-water marks of the floods.
Also featured in the magazine: the positive aspects of a noisy city; how music festivals are killing off local venues; why Vancouver's Chinatown is under threat from developers; an outline of all of the transit projects happening across Canada; how smart urban design is transforming Dartmouth; and three projects breaking accessibility barriers across Canada.
cover photo by Andre Vandal