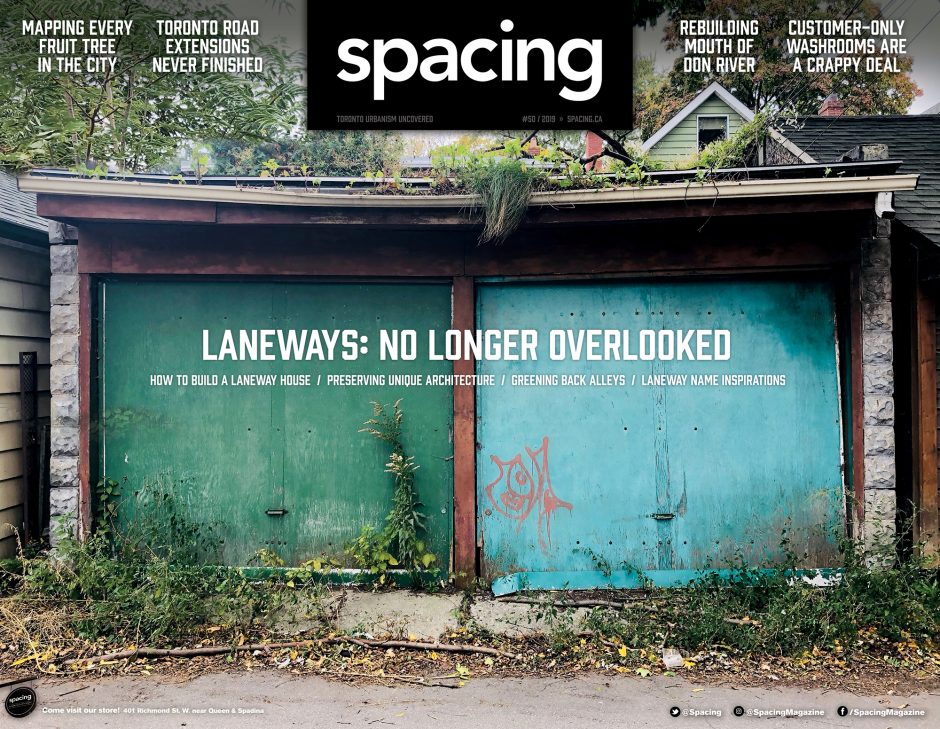 2019 | Issue 50
The Laneway Issue
The cover section of Spacing's 50th issue is focuses on one of the city's best kept secrets: laneways. In a city where every inch of street space is contested and every building is closely assessed, Toronto's laneways have remained an oasis of laid-back neglect and ragged randomness. That quality also makes them a great venue for experimentation and exploration. Nithya Vijayakumar explains the steps to building a laneway house, Elle Côté looks at how to green a laneway, Mike Canzi explores bikes and alleys, and Laneway Project founder Michelle Senayah shares her insights in a Q+A. Plus, ERA architects gives a primer on coach houses, and Glyn Bowerman guides you through how to get your laneway a real name.
And that's not all: Edward Brown digs up the story of the lost remains of the last convicts executed at the Don Jail, and James Burt dissects the curious case of the carnivorous squirrels. Our cartographic feature sounds a more cheerful note with a map of Toronto's fruit trees, and Cheryll Case looks at four ways to address the city's housing affordability crisis. Edith Wilson asks how retail employees feel about managing public washrooms, Emily Macrae shares a new accessibility project on St. Clair, and Bob Georgiou reveals some of Toronto's never-built road extension schemes.
Lastly, senior editor John Lorinc unpacks the story of building a new river through the Port Lands. All that plus our usual columnists and reviews make our issue 50 one to savour.
cover photo by Matthew Blackett