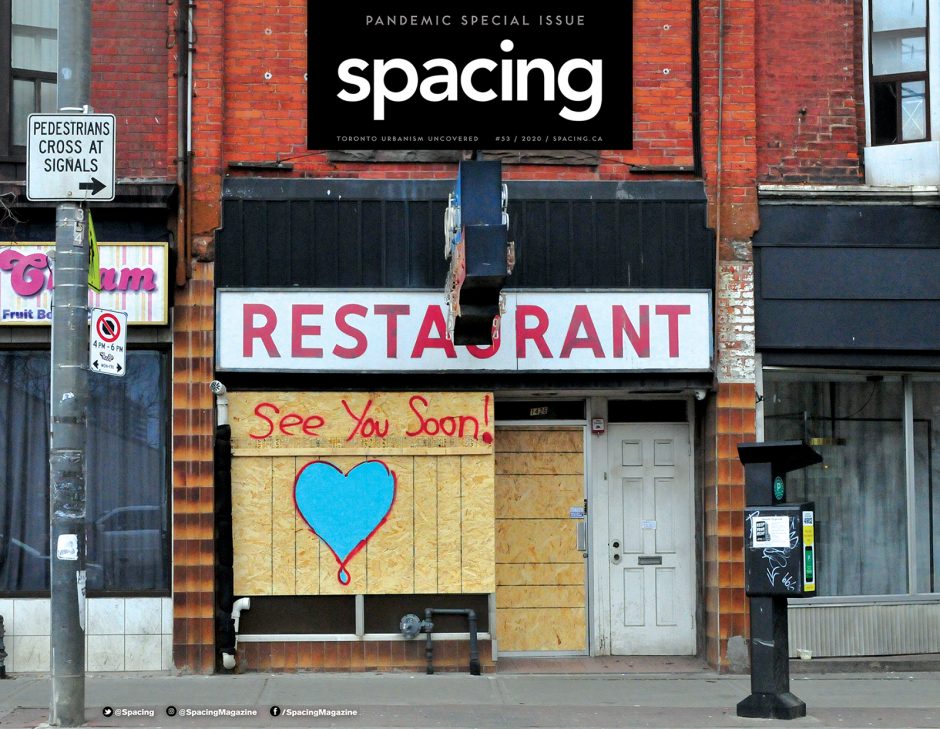 2020 | Issue 53
Pandemic Special Issue
When we began to assign articles for our spring 2020 issue back in the halcyon days of December 2019, we had no idea the theme of our cover section would turn out to be so prescient. Before even a whisper of a new, deadly coronavirus was in the air, we were putting together an issue about disruption — and now we are all facing a speed and level of disruption in our lives that most of us have never experienced. Yet despite the timeliness of the theme, we have pushed that planned issue and its contents to a future date.
The pandemic is a crisis of many facets, with the limitations on movement and gathering in the city's public realm standing as a central issue. And the impetus to start Spacing sprang from a desire, if not an outright need, to bring people together in Toronto's public spaces.
This special issue of Spacing — a totally ad-free edition — is our attempt to quickly respond to a situation that is ever-changing but could have a long-term impact on how our public spaces function in the future. You'll find deep-dives on a variety of politics and public space issues related to COVID-19, as well as photo essays, maps, comics, and archival articles that help put the pandemic into perspective. It's a snapshot of our city struggling with how to respond to a once-in-a-lifetime event and a look into what we can learn from the past and from possible futures when it comes to this kind of struggle.
photo by Julie Fish