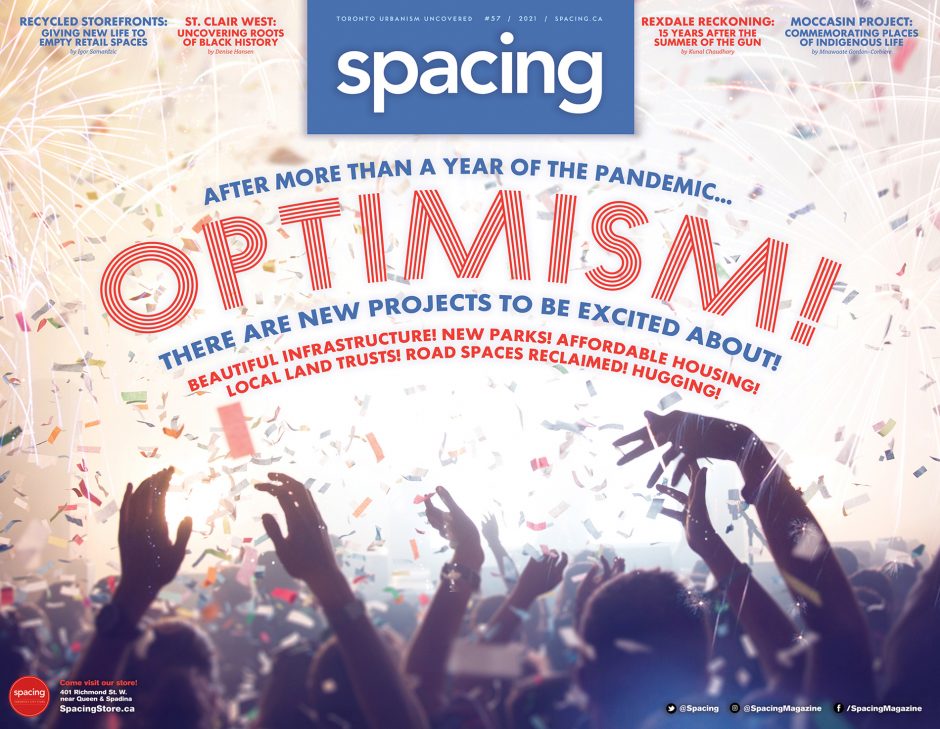 2021 | Issue 57
Optimism!
After four issues themed inevitably around the Covid-19 pandemic — a full year's cycle of this magazine dealing with that devastating, depressing crisis — we decided, enough. Let's have an issue filled with optimism, with exciting new ideas, with hope for the future.
HIGHLIGHTS FROM THIS ISSUE:
• In last year's pandemic summer, Torontonians explored their own neighbourhoods. Daniel Skwarna's photographs of that time capture the sense of strangeness, of reaching out and yet keeping distance, generated by that strange season.
• We have a bit more freedom this summer — and, as you'll discover, we don't need to leave the city to bathe in greenery, or splash in water, for that matter, which we can do in our outdoor public pools, as Lorina Hoxha describes.
• Two authors in this issue open up new ways of looking at two of Toronto's neighbourhoods: Denise Hansen profiles the Black community of St. Clair West, less known than Little Jamaica further north but nonetheless a long-time anchor for many. And Kunal Chaudhary takes us to Rexdale, a complex and vital community whose labelling as place where gangs fought over drugs (and Rob Ford took them) scarred the youthful experiences of those growing up there.
• And, in our explorations, we can keep our eye out for wondrous details — that is surely something our pandemic walks have taught us. Dave LeBlanc gives us the history behind an unusual wavy wall hidden behind the Yorkdale Mall, while Mnawaate Gordon-Corbiere teaches us about the moccasin images we can discover at Ontario Place and other locations.