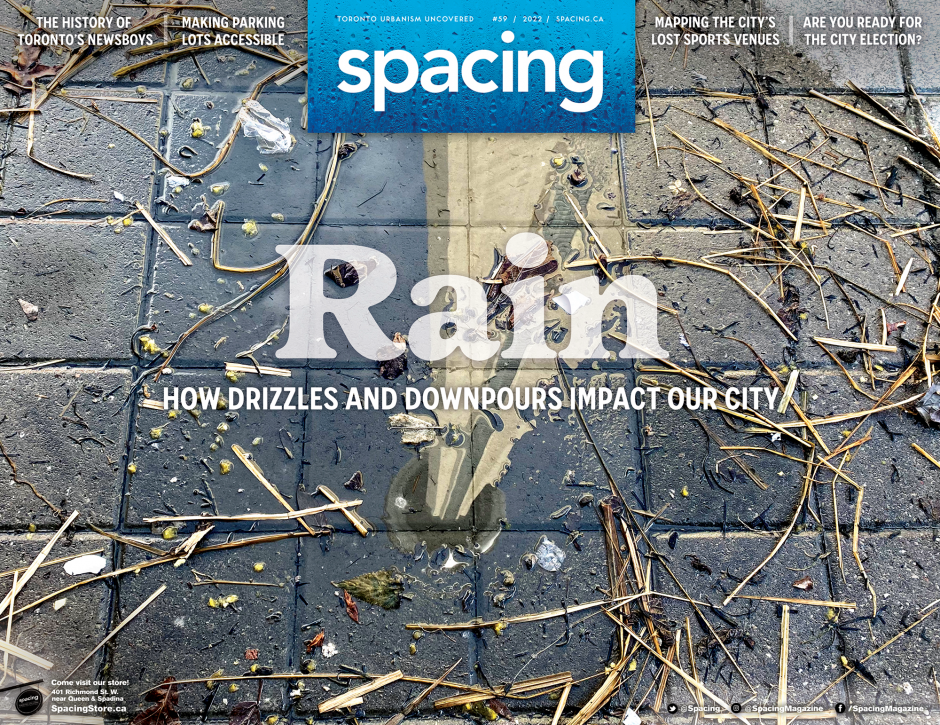 2022 | Issue 59
Rain
Rain is a pain for cities, too. We build over soil and creeks to create our houses and our roads, and then, having blocked the outlets nature relies on to absorb precipitation, we have to also build places for it to go. Rain management shapes every aspect of the city. Until recently, we did the minimum in Toronto, and then complained when things went wrong. Basements flooded, rivers overflowed, roads were swamped, slopes eroded, and sewage was swept up in stormwater and dumped on the lakeshore.
The range of contributions we received for our cover section on rain is inspiring. The pieces are short and long, personal and scientific, illustrated and cartographic. They cover disaster and pollution, construction and infrastructure, trees and insects. They explore plans and regulations, discoveries and debates, old archives and contemporary research. It's a kaleidoscope covering many of the different ways rain interacts with the city, and both the challenges and the benefits that result.
Elsewhere in the issue, Beth Simons explores the history of newsboys in Toronto — children who employed themselves selling newspapers on streetcorners in the early twentieth century. Artist Bill Perry shares a remarkable 360-degree photograph collation he took — while perched on the roof of the Church of the Holy Trinity — of the old Eaton's complex just before it was torn down for the Eaton Centre. In our feature, Mnawaate Corbiere looks at the decision of the communities of Six Nations and New Credit to transform, rather than demolish, a former residential school near Brantford. Plus we feature the potential and pitfalls of electric vehicles, the accessibility of parking lots, the legacy of Eb Zeidler, out-takes from our latest book, and more.
cover photo by Julie Fish