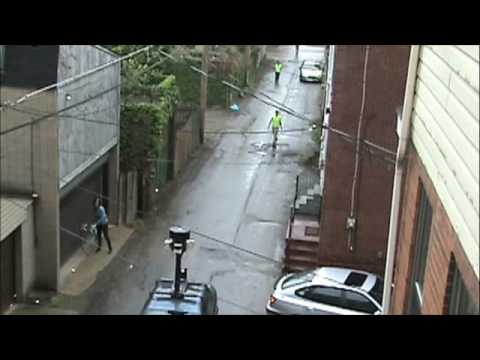 As Google Street View spreads from city to  city, it's inevitable that people will try to do some fun things when the Googlemobile drives by. Two artists in Pittsburgh recently did just that, starting A Street With a View, along with a cast of dozens. Though Street View has captured some odd and funny  moments, it doesn't give a sense of who lives in the neighbourhood. This project attempts to add a bit of community into the images.
Street With A View introduces fiction, both subtle and spectacular, into the doppelganger world of Google Street View.

On May 3rd 2008, artists Robin Hewlett and Ben Kinsley invited the Google Inc. Street View team and residents of Pittsburgh's Northside to collaborate on a series of tableaux along Sampsonia Way. Neighbors, and other participants from around the city, staged scenes ranging from a parade and a marathon, to a garage band practice, a seventeenth century sword fight, a heroic rescue and much more… 

Street View technicians captured 360-degree photographs of the street with the scenes in action and integrated the images into the Street View mapping platform. This first-ever artistic intervention in Google Street View made its debut on the web in November of 2008.

An incredible cast of real-life characters contributed their time, energy and talents to creating pseudo-street life on Sampsonia Way. Please check out the scene breakdown, the participant page and the video documentation to learn more about the artists, groups and participants that made Street With A View possible.