Editor: Spacing is pleased to continue our partnership with the National Film Board of Canada to showcase films and interactive projects from their online screening room. Julie Matlin of the NFB will be occasionally posting films here on Spacing that explore public spaces, Canadian or international cities and anything urban. The NFB is one of Canada's greatest resources. Click here to view their entire online collection.
As part of the International Digital Arts Biennial in Montreal, the Quartier des Spectacles is playing host to an open-air laboratory for digital arts, with the facades of 7 different buildings being used to showcase the work of local and international artists. This Parcours Numerique, or Digital Route, runs from May 17 until June 3 and one of the projects being featured is our very own Bla Bla.
The installation was designed specifically for the space outside the Saint-Laurent metro station and is based on Vincent Morisset's original online project Bla Bla, a film for computer. The seemingly simple interactive tale offers a new look at how humans communicate and reflects on the challenge of telling stories in the digital age. I highly encourage you to drop by any night between the hours of 9 pm and 2 am and experience the magic for yourself.
To give you an idea of what you'll see, here are some photos taken by photographer Dominque Lafond:
And for those of you who wonder how the magic happens, here's a short film detailing how the installation was erected: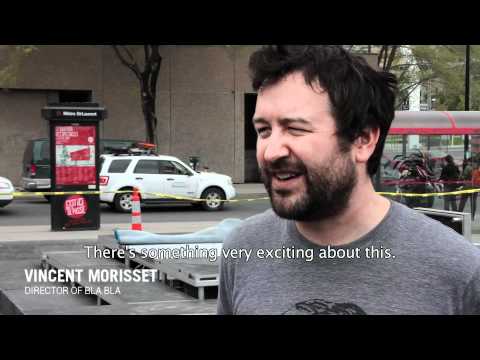 If you haven't yet seen the original online version of Bla Bla, check it out here.