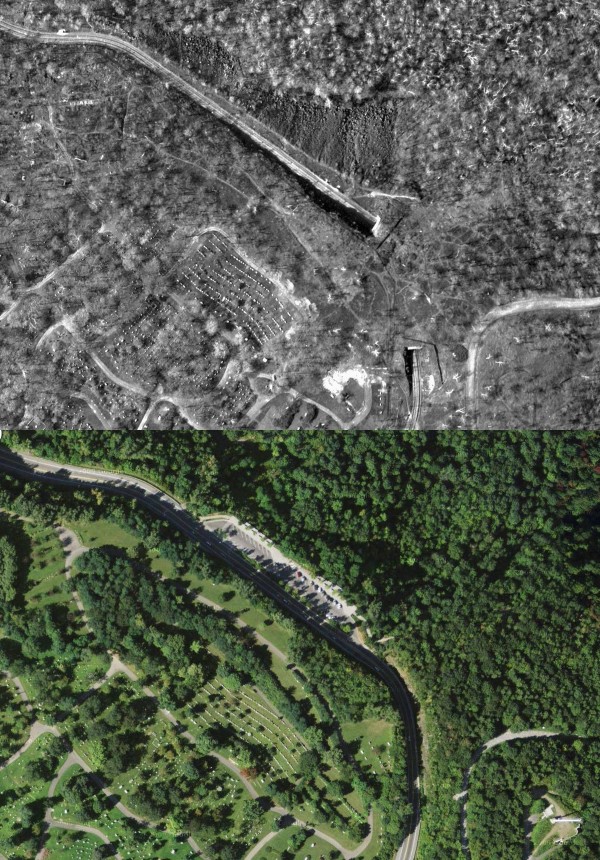 Special contribution by Anton Dubrau.
A series of aerial photos taken between 1947 and 1949, which were recently published by the City of Montreal, and made more accessible by this little mashup, has brought to light some interesting discoveries about the evolution of the landscape over the past 65 years.
Back in 2008, Spacing Montreal pondered what happened to the tram tunnel on Mount Royal? Well, now we know: it was turned into an open cut when the tram tracks where ripped out in the '50s and a road across the mountain was built. The road was built by mayor Jean Drapeau, and named posthumously after his predecessor, mayor Camilien Houde. Some consider Drapeau's decision to name the road after his former adversary to be ironic as Houde was actually responsible for some of the improvements of the park on Mont Royal, and opposed to the construction of the road.
Fun fact: The tram line you can see in the image is the 11 tram, a ridiculously short line that ran from the corner of Parc and Mont-Royal to the area near Lac des Castors. Before that area became a mountain-top parking lot, it was the site of a tram loop, which was shared with the 93 tram, an even shorter line that ran along Remembrance road down the west side of the mountain to Cote-des-Neiges. Today both former lines are served by the 11 bus, which connects to Mont-Royal metro station.
In the past 65 years, tram line turned to road and tunnel to cut; a parking area and look-out point was added, and the radio tower in the bottom right corner was erected. But the Mount Royal cemetery displays constancy, where even the walking paths are largely unchanged. The same can be said for the path around the tip of the mountain in the bottom right corner.
You can browse this location in the app hosted by Catbus blog.