Absence, they say, makes the heart grow fonder, and after 65 years of street food prohibition, Montrealers' fascination with these illicit eats has reached fever-pitch. Like many Montrealers, I was thrilled when I heard that food trucks will once again hit the streets as of June 20th.
The City's pilot project allow 10 food trucks at specific sites in the Ville Marie Borough. To be sure, plenty of conditions will apply, most notably that all participating vendors will have to have a permanent locale with a food permit, meaning that the street food permits will really only be accessible to existing restaurants or caterers.
While the regulations aim to maintain a high standard of local gastronomie, they also risk extinguishing the sense of adventure and innovation that has characterized Montreal's fledgling street food scene. Urban planner and food critic Bartek Komorowski went to far as to suggest that the city may revive and ruin street food with the same stroke.
While I have no doubt that Montreal's food trucks will be a welcome and delicious addition to the urban landscape, they'll hardly provide that edgy experience – the fine line between dodginess and brilliant discovery – that one often associates with street eats.
Fortunately, Montreal already has a budding tradition of under-the-radar food for those who prefer to walk on the wild side: Dépanneur cuisine.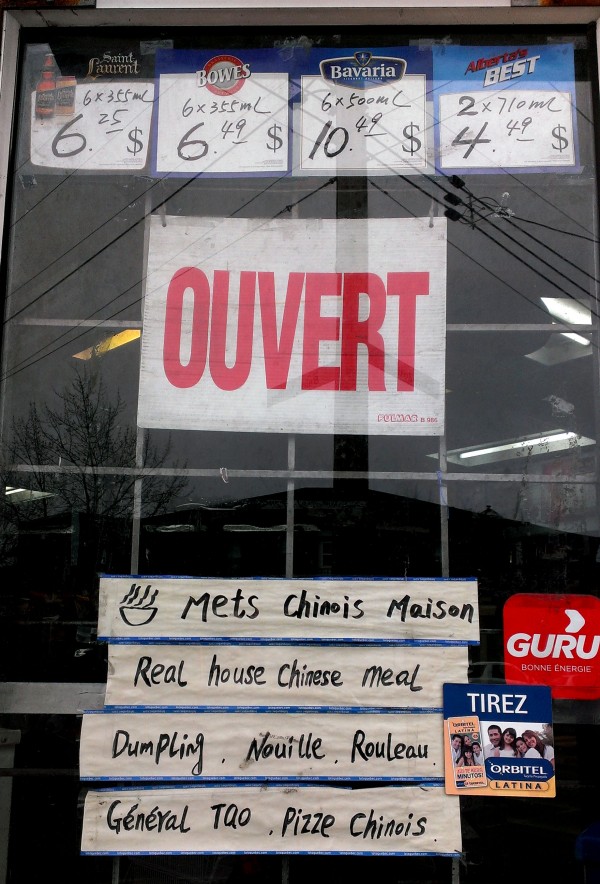 Handwritten signs advertising everything from hot-dogs and paninis to samosas and "Chinese pizza," dot the chaotic windows of corner stores in every neighbourhood.
My local dépanneur-owner, Li, was eager to tell me about the business, although careful not to spill any trade secrets that might be picked up in the competitive corner-store world. His food permit, stapled to the wall behind the cash register, costs under $200 a year and the little sandwich counter in his dépanneur is subject to annual inspections. He dosen't have the kind of ventilation system that would allow for a deep-fryer or a grill, so he sticks to the stove-top, toaster oven, and microwave. A few months ago, Li also acquired an espresso machine which, he boasts, produces far better fare than the nearby Tim Hortons.
In a primarily residential area, Li explained, selling paninis and boxes of Chinese food isn't a gold-mine but it helps make ends meet, especially during the winter when drink sales are down. But the business isn't for everyone: Li described the additional hours that must be invested in ordering and prepping ingredients each morning and in cleaning the kitchen each evening – all on top of the 15-hour work day that he shares 7 days a week with his wife.
Fortunately Li's wife is the type of woman who collects cookbooks and dosen't feel burdened by the extra hours in the kitchen. "You have to love cooking," Li says; "don't treat it as a chore."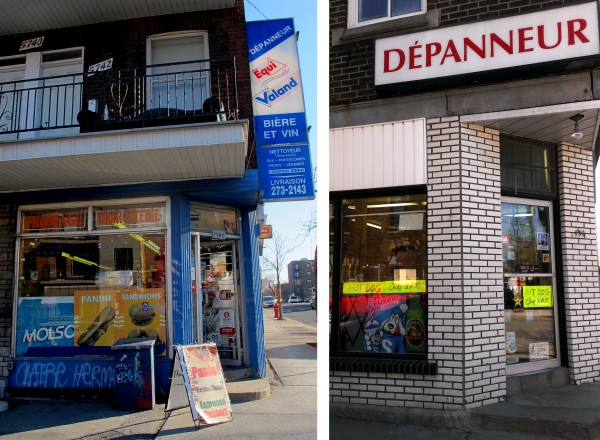 Towards the end of our conversation, Li also mentioned that this kind of food counter might be necessary for the survival of dépanneurs. Cigarette sales shrink every year, and the SAQ is taking of a greater share of alcohol sales. Even food sales are decreasing as grocery stores extend their business hours and more proximity services open in residential areas.
Montrealers love our deps. The Plateau and Villeray have even put in new legislation to protect corner stores. But citizens need to show our support as well, so why not overcome whatever qualms you may have about chowing down at the corner store and try your local dep cuisine.
After all, you'd do it for street food, wouldn't you?