Each year, Dr. Pierre Gauthier, a professor in Concordia's Department of Geography, Planning and Environment, gives his Advanced Urban Laboratory students the same challenge: rethink a downtrodden neighbourhood in the Montreal area. In the past, they've taken on Griffintown, the Turcot interchange, and the Blue Bonnets Raceway sector. The results of this annual exercise are reliably stirring.
This year, Gauthier asked his students, who were separated into five teams, to take on the suburban zone surrounding the Brossard-Panama bus terminal on the South Shore, located at the junction of Highway 10 and Tascherau Boulevard.
The stakes changed when, in January 2015, the Caisse de dépôt announced it would finance the Champlain Bridge light rail, connecting Montreal's downtown core to Brossard's Panama hub.
Sector A
While the Brossard-Panama bus terminal is located next to the Tascherau/A-10 junction, it's part of a much larger context. The triangular area (pictured below) – officially called "Sector A" because most of its street names begin with "A" – is more or less bordered by Tascherau Boulevard (also "route 134") to the west, Auguste Avenue/Grande Allée to the east, and Auteuil Avenue to the south. It also spills over a little west of Tascherau, from Panama Avenue to the south, to Pelletier Boulevard to the west, and Provencher Boulevard/Allard Street to the north. The area is about 3 km northeast of the Dix30 shopping district.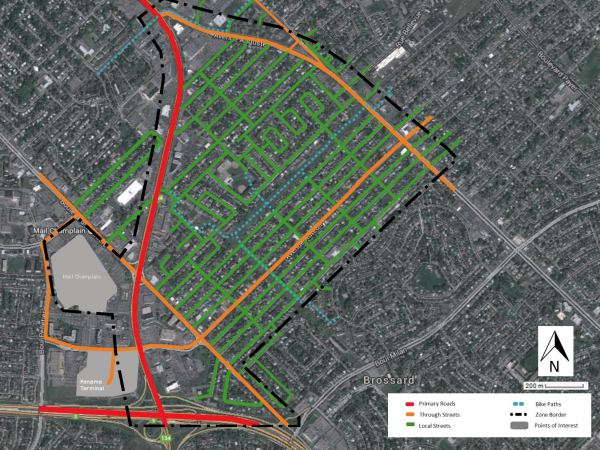 Problems to Solve
Each group identified some of the same issues across the board. Namely, expressway-like Tascherau cuts through residential neighbourhoods; the area's road infrastructures were built with cars in mind, so public transportation, while well connected, is underused; the vast concrete surfaces create a considerable heat island effect; the green spaces and bike paths lack a destination focus; there's little to no cohesion within the built environment; and universally, the area is not pedestrian-friendly, with few appealing public spaces encouraging people to congregate. (See aerial view below.)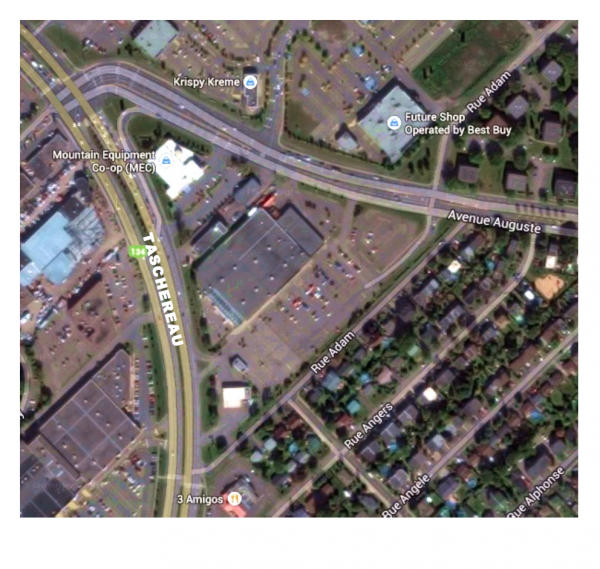 Light Rail Could Change Everything
While the presentations put forth solutions to the above concerns – like more mixed density residences and green spaces – certain concepts particularly stood out.
For instance, because the light rail station would be located at the Brossard-Panama terminal, each group saw an opportunity to develop the area around public transit. As such, they proposed to remove the highway access ramps. While that may seem extreme, there are other ramps nearby, and such a move would necessarily foster a paradigm shift that would seep into other throughways.
One team – including students Justin Santillo, Alize Hand, James Phelan, and Baghdig Balyan – proposed a reconfiguration of Tascherau that would start with larger sidewalks next to two-lane bike paths, with a plant strip separating it from the automotive zone (pictured below). This zone, relegated to the centre, would have six lanes. The first two, edging the plant strip, would allow for car traffic going in opposite directions; then comes the bus lane. This initiative could slow down traffic on Tascherau, on top of reducing noise pollution by moving the busses away from the sidewalks, and further from the bordering buildings. They suggested a similar approach to Auteuil Avenue, with much wider sidewalks, a bike lane, and more trees to block out the sound.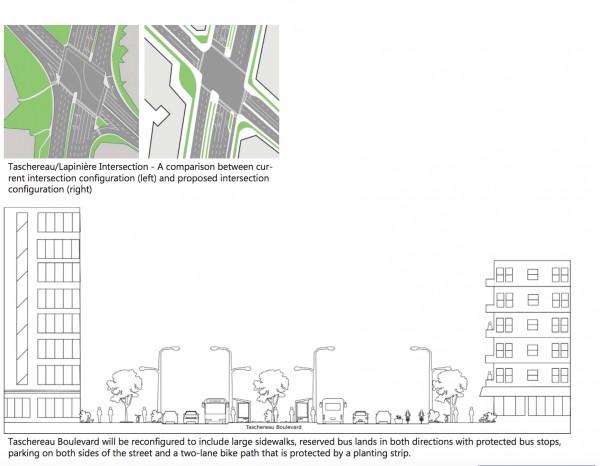 Removing the access ramps is also an opportunity to redesign the public transit hub. A team including Natalia Izzo Manzano, Yuating Wang, and Brian Barratt reimagined a multi-use terminal that would revolve around building a mall at the transit site (pictured below). From there, a bus lane at ground level would connect users to both the entrance of the shopping centre, as well as a stairway leading to the light rail level above. With underground parking in the mall, pedestrians would mostly interact with public transit while they're outside, making their walk safer and more comfortable.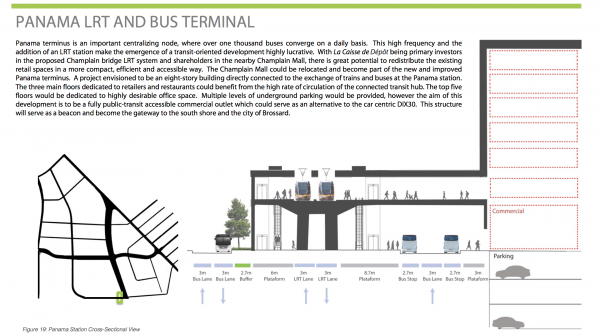 Creating Moments
Some groups targeted specific zones with ideas that could breathe new life into these areas. The team including Mariah Gillis, Sophie Leblanc, and Hannah Brais focused on the Tascherau-Auguste-Adam triangle, currently an underused space housing a few retail outlets and parking lots. They proposed more zoning diversity so that a variety of functions could converge. Lining Tascherau and Auguste would be mixed-use, commercial, and institutional buildings, while inside the triangle would be two- to five-story residences surrounding shared green courtyards (pictured below). They estimated that the area could create over 1,000 residential units. They also proposed to mark the Tascherau-Auguste junction with an architecturally unique structure.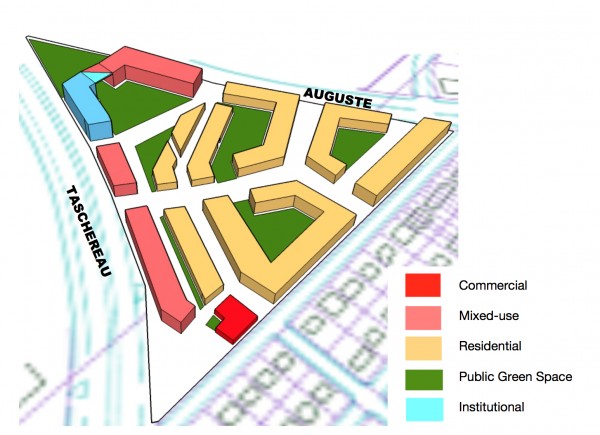 The team including Athanasios Boutas, Cristina Colt, and Chris Fatouros proposed to make room in the Panama hub for a multi-use park (pictured below). It could be used to host large-scale events like festivals and shows, house a public market, or even sporting events by convert the space into an outdoor skating rink during winter. The park would be surrounded by a high-density residences, and a civic building that could be a library, daycare, or theatre.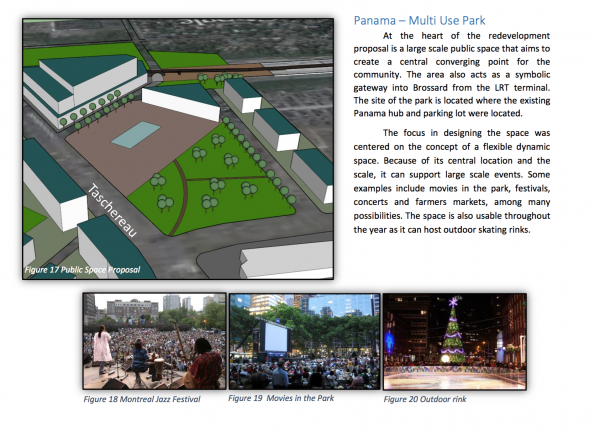 Embracing the Grid
Recalling the urban grids in New York, Portland, and Barcelona (pictured below), the team including Nadia El Dabee, Brett Hudson, Yue Yue Zou, and Ashley Prudencio Macaraeg noted that Brossard is planned similarly, but its grid blocks are much larger, and far less walkable. Their proposal suggested creating much finer blocks around the Panama hub.

Drawing inspiration from the Liverpool Street Plaza in London, State Street in Chicago, and Hiawatha Avenue in Minneapolis, they'd like to create a Brossard City Centre. They see it as a pedestrian-oriented environment, where local shops and chain stores can inhabit the same space, and everything at street level is on a human scale. An anti-Dix30, as it were.
They'd plan for ample green space, modern architectural structures, and underground parking exclusively. Around the Panama hub, they'd introduce fun, interactive street design, ecological diversity, and high-density residential units, between five and eight stories tall (pictured below).



They also thought of mixed-use buildings along the adjacent Notre-Dame-du-Sacré-Coeur area, where ground-level shops topped with upper-level dwellings would vary up the mostly single-home zone.
What's Next
Gauthier has sent these proposals to a Brossard city planner. He hopes some of the doable ideas will compel the urban planning committee to rethink the area and tap into its public transit potential. If done right, it could lead many Montrealers to discover Brossard, and without ever using a car.