Based in Providence, Rhode Island, Cleverhood expresses their support for urban bikers in livable cities in the form of a stylish, high-performance street cape. Inspired by the bicycle movement, the Cleverhood is built to protect against the elements for cyclists who brave the pavement in rain or shine. Spacing talked to John Coulbourn of the Cleverhood team about the global impact of their U.S. made rain capes.
When did Cleverhood start?
Cleverhood officially launched in April 2012 but product development began a few years before that.
Where did the initial idea for a biking rain cape come from?
Founder Susan Mocarski was first inspired during a family trip to Copenhagen. They were planning to use bikes to get around but the weather didn't cooperate – lots of rain. Many people were using umbrellas on their bikes but the Mocarski family opted for some plastic covers instead. It was less than ideal but at least they were out and about.
How did that idea develop into what Cleverhood is today?
Back home in Providence, RI, there was more rain and three dogs to walk. Handling an umbrella with three dogs on leashes is as difficult as riding a bike with one. The idea of the rain cape continued to percolate. Aptly, or ironically, Providence is known as the Creative Capital. Susan searched the market for good solutions. But, she had no luck finding something with some style for downtown. Mocarski wasn't happy with the usual plastic camping look. With a background in art and design, she decided to come up with her own cape idea, something that would work for her bike rides, too. As she dived into it, she discovered that quality apparel designers and manufacturers were few and far between in North America. More and more research ensued. Eventually, prototypes were made and tested and tested. There were dozens of people in the city using the new Cleverhood on foot and on bikes. For two years, designs were improved to offer better performance and style features.
Creating and selling Cleverhoods suddenly became a mission that would serve the emerging slow-bike movement and provide good work for skilled people. It's become a family business with a reliance on other specialized people in Rhode Island and elsewhere.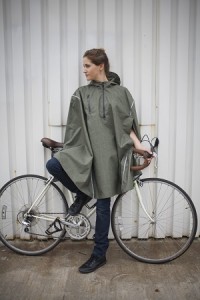 Why did the company decide to create the Cleverhood for bikers?
The beauty of the Cleverhood is that it's not specifically for bikers. The Cleverhood is designed as a smart fashion alternative for people in cities who are, increasingly, apt to use a bike to get around town. People in Cleverhoods do all sorts of things – rain or shine. Riding bikes is a great way to reduce urban congestion, noise and pollution, which causes climate change. By the way, scientists say that global warming means more rain in some places too.
Why ponchos as opposed to a jacket, or a more fitted hoodie?
Capes are proven garments with a long tradition of hundreds of years for very good reasons. They're easy to don and doff, which is a fun way of saying 'on' and 'off.' They provide excellent coverage against the elements and good ventilation. Plus, a poncho will keep all your stuff (backpacks, shopping bags, cameras, purses) dry too. We all carry stuff.
What elements does the Cleverhood have that specifically benefits bikers?
The Cleverhood forms a cover over your body and legs (and bags) when you're riding a bike. It has elastic thumb loops that keep it secure in the front and Velcro trim tabs for the sides. All Cleverhoods have reflective properties for dark rainy nights. The Electric series have interwoven reflective thread that's invisible by dark and quite dramatic at night. The hood is designed to fit under any bike helmet and to optimize peripheral vision. There are also magnet clasps on the armholes that snap shut automatically.
What sets the Cleverhood apart from other gear on the market right now?
Cleverhoods are designed for both style and performance. That means it has to work in tough weather for people on bikes without looking like bike apparel.  We carefully select fabrics that are waterproof and stylishly distinctive. On top of that we ensure that our garment is carefully crafted to last a lifetime of city exploration.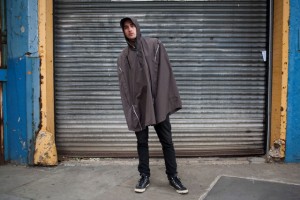 What other recreational activities is the Cleverhood good for?
The Cleverhood is designed to support just about anything you may do in the city in the rain. That may include window shopping, dog walking, kid walking, waiting for a bus or jumping in puddles. We also have a number of pro photographers with multiple cameras who use the Cleverhood. You can keep a lot of things dry under the cape.
Why do you think it's important to emphasize an American made product?
Employment in the apparel manufacturing industry here has declined by more than 80 percent over the past two decades. That means we've lost a lot of jobs in the U.S. But it also means that we've lost the ability to design and create new apparel. Through a lot of research (far too much research) we've able to find wonderfully skilled workers in this industry. We are proud to be able to support them and their skills in our modest way.
What kind of response have you received from the biking community in regards to your product?
We've had a tremendously positive response from all over the bike community. Forbes listed Cleverhood on its top 10 list of "Great Gifts for Cyclists" in December. Our news coverage includes Der Spiegel, The Guardian, and Vogue who are recognizing new trends in livable cities. We've been reviewed by some of the best, most detailed blogger biker writers from all over the world from Alaska to the Inner Hebrides.
We're also actively used (and sometimes sold) by community bike organizations, like NYC's huge Transportation Alternatives membership, Boston's Hubway, the Cascade Bicycle Club and lots of others. Hopefully, we'll find more.
Importantly, our customers provide the best response. There are Cleverhoods in cities all over the world. We have customers all over Canada from Halifax to Vancouver. So far, we're in two shops in Montréal and enjoying a great relationship with Spacing in Toronto.
You can purchase a Cleverhood at Spacing's e-store.