With summer coming up, some of us might start to see social media posts with images celebrating Montréal's festive and convivial open streets. While many of these streets are temporarily closed for the warmer months, Montréal stands out in car-centric North America for making permanent physical roadway changes that prioritize walking, biking, and socializing over car traffic, from fully pedestrianized streets and plazas to shared street or woonerf designs. One of the oldest, perhaps less-celebrated examples, is the 750m of one-way Avenue Duluth Est in the Plateau Mont-Royal neighborhood. At 40 years of age this year, Duluth may be North America's oldest (and longest) publicly designed and maintained woonerf style street.
Bookended by two major parks, Duluth was reimagined in its current form as part of a citywide commercial streets revitalization program implemented in the early 1980s. The novel design approach to Duluth, along with a fully pedestrianized transformation on a smaller stretch of nearby rue Prince-Arthur between bustling Boulevard Saint-Laurent and bohemian Square Saint-Louis, coincided with Montreal's now-iconic apportez-votre-vin permissions to enable more festive and attractive commercial districts. Research conducted by urbanist Jérémy Diaz suggests that Duluth's physical transformation correlated with a marked socio-economic shift in the population and commercial activities on the street, as the diversity of shops and nearby families they served were largely replaced by convivial restaurants serving university students and young professionals.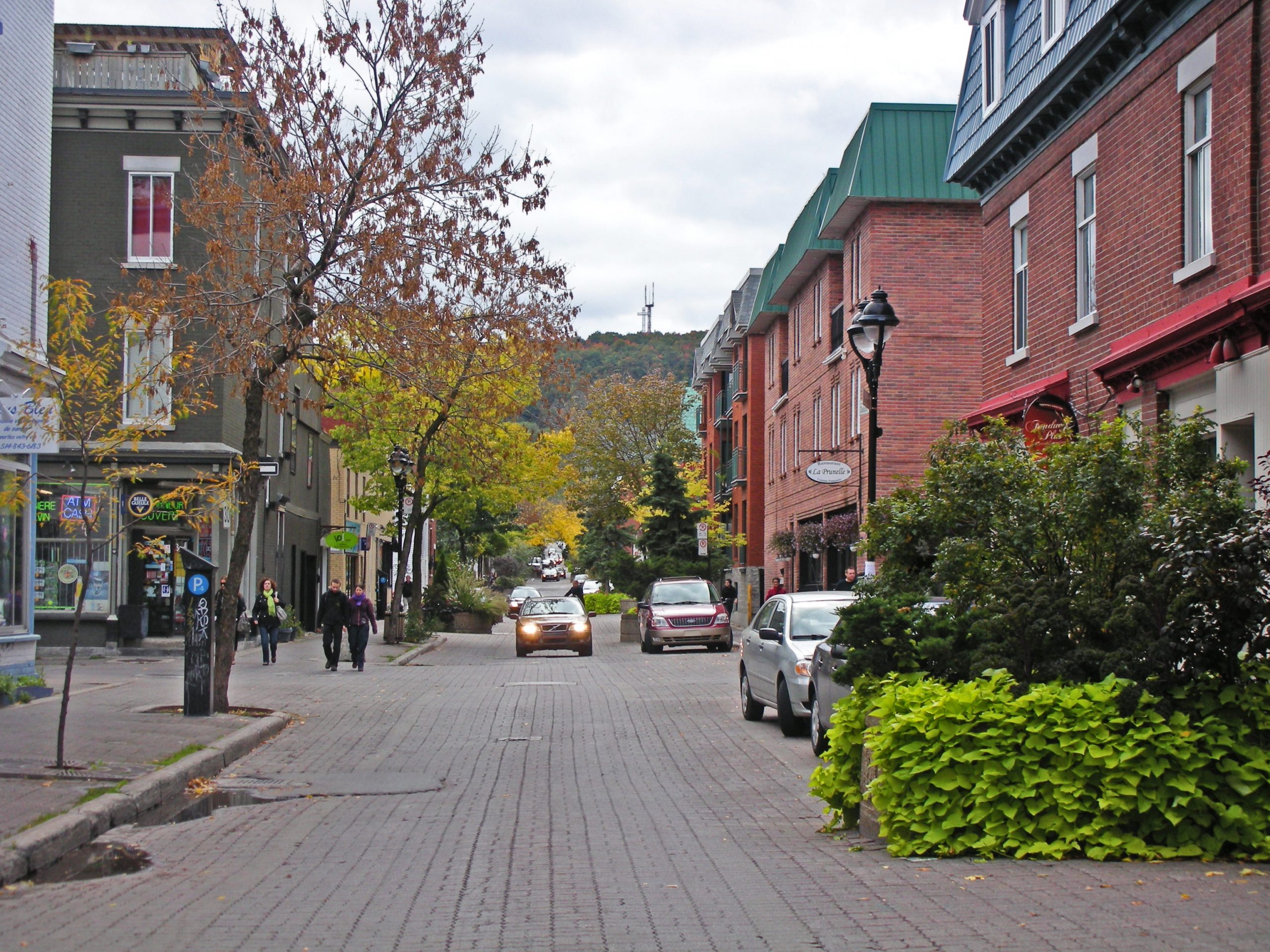 Duluth's design differs from most streetscapes; partially curbless, its interlocking zig-zag paver surface is sometimes more concave rather than the typical of convex (ie. crowned), draining water down the center instead of just along the sides. The traffic calming semi-circle planters are made of sturdy aggregate concrete imprinted with a subtle geometric pattern. The planters feature lanky spruce—an uncommon street tree—that provide a whimsical touch of greenery in all seasons, while overflowing with flowering annuals in the summer.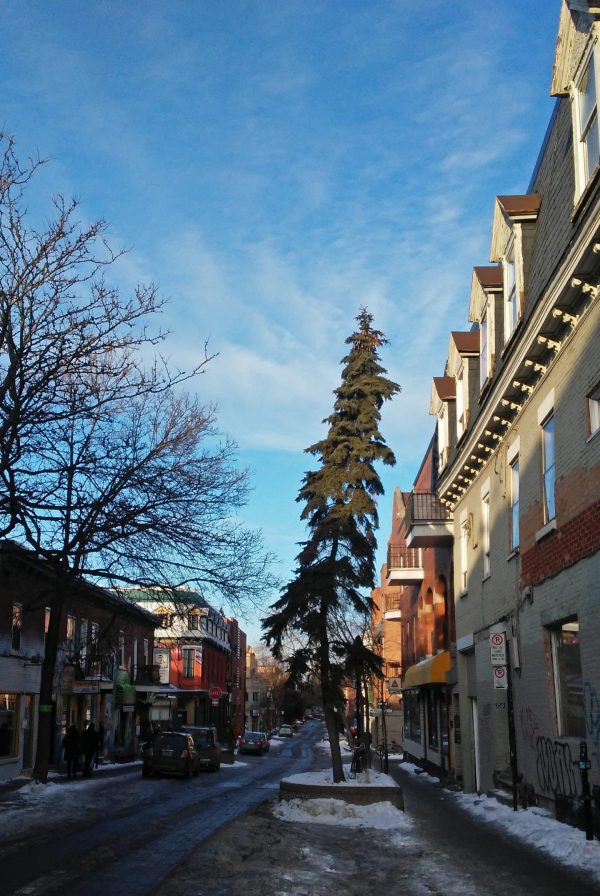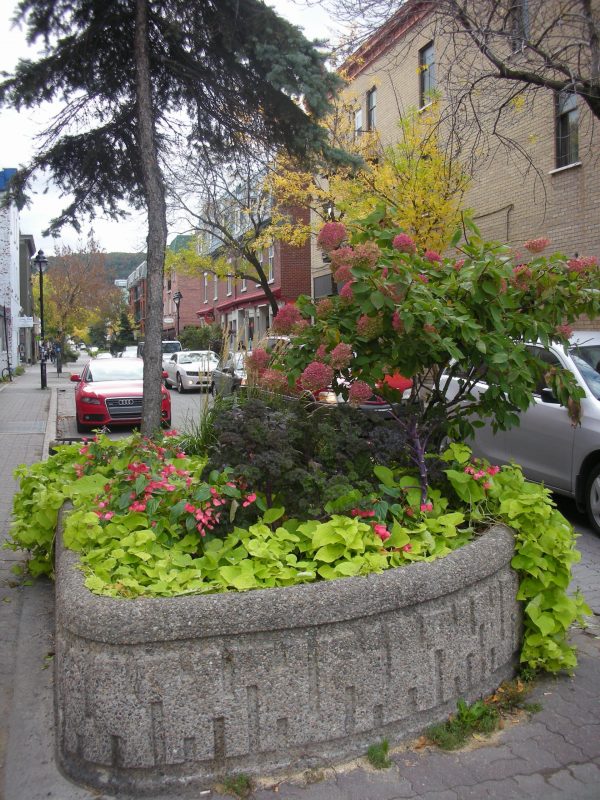 Excluding cobble-stoned historic areas, Duluth is likely Canada's oldest intentionally designed permanent shared street that allows vehicles while prioritizing people. North America's remaining pedestrian malls, like Ottawa's Sparks Street (circa 1967) are older, while short-lived experiments with temporary traffic-free concepts in the 1970s occurred on Avenue Mont-Royal in Montréal and Yonge Street in Toronto. But, Duluth was fully rebuilt in 1983 in a way that more closely resembles the Dutch-style woonerf shared street and has not been altered since.
Besides its design features and permanence, Duluth is also unique for its scale and location. At nearly a kilometer, Duluth's transformation transected 12 blocks of a standard working-class Montréal neighborhood that wasn't absorbing significant commercial investment or centered in a touristy historic district. For comparison, the two blocks of Argyle Street in Halifax's downtown entertainment district is dubbed as Atlantic Canada's first shared street and coincided with the $500-million Nova Centre development in 2017.
Considering this broader interest in permanent street transformations across Canada, Montréal continues to lead on the number and length of such projects, highlighted by the recent rehabilitation of 10 blocks of Rue Sainte-Catherine Ouest, the city's downtown commercial main street. Some are pedestrian only, like Rue de la Gauchetiere (1981) in Chinatown and the steep block of Rue McTavish (2017) on McGill's campus, while longer stretches of Rue Saint-Hubert (2020) and Rue des Pins (under construction in 2023) are people-friendly transformations with calmer traffic circulation. The diversity of project types and contexts is also impressive, exemplified best by the multi-season design iterations of the Terasses Roy project on Rue Roy Est in the Plateau, with a segment becoming a permanent plaza in 2023. Perhaps what is most striking is that these Montréal examples all stand out as public, rather than private streets (the road network in Toronto's Distillery) or small segments associated with an adjacent development (upcoming Markham Street in Toronto's revamped Mirvish Village). Ironically, it's often only private actors who are able to build and maintain non-standard roadway designs that city planning departments in Canada and the US increasingly advocate for.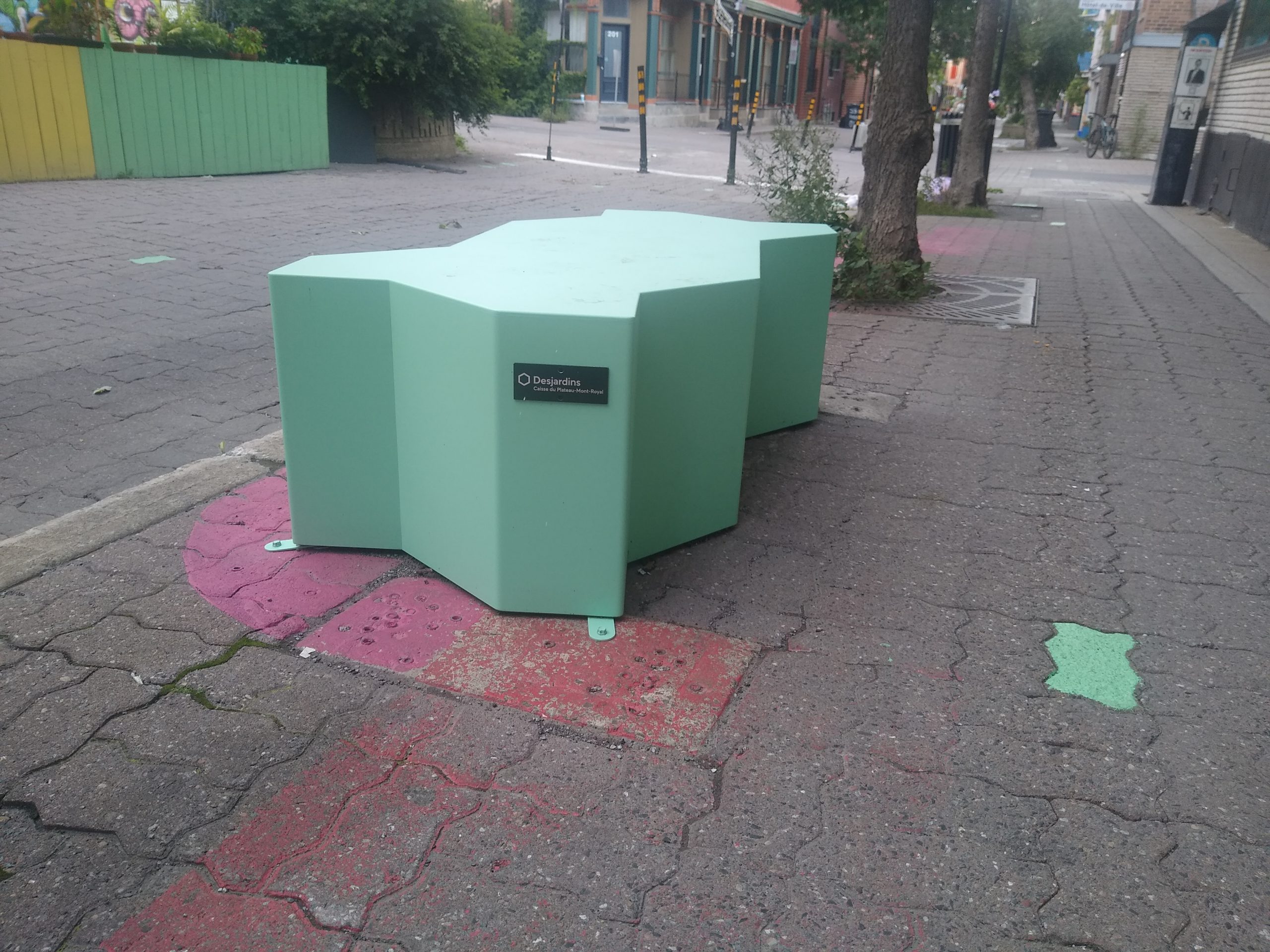 Today, Duluth is among a growing number of Montréal streets redesigned for public life and fully closed to through traffic in summer. Last year, Avenue Duluth's business association creatively leveraged the corridor's foot-forward past, elevating its distinct zig-zag paver as central branding and design element for historical interpretation and permanent seating. In tandem with this refresh, Duluth was among Montréal's impressive list of 10 streets pedestrianized (temporarily) for the 2022 summer months. It was recently announced that Avenue Duluth, along with Avenue Mont-Royal, would be opening up earlier than last year, extending their car-free season in 2023. While some cities are curtailing open streets programs due to hefty operational costs to mitigate for inherent car-centric design, Montréal continues to expand its temporary pedestrianization programs, built on a diversifying network of pedestrian priority streets.
What is the role of unassuming Duluth, and its 40-year-old pavers, in the city's multi-decade legacy of innovative street transformations, propelled the past few years under Mayor Valérie Plante's Projet Montréal political coalition (whose Plateau-based roots first sought a more people-friendly transformation of Avenue Mont-Royal)? Avenue Duluth is an important piece in the story of Montréal's political culture that supports a stronger urban public life—from restricting right turns on red, to removing highway interchanges and pioneering bikeshare. It is an overall story that perhaps deserves more investigation for its applicable lessons for peer cities in Canada and abroad.
Erkin Ozberk is a city planner in Washington, DC focusing on projects that enhance inclusive public life in growing cities, and once lived at the intersection of Duluth and St. Urbain while a student at McGill.
Photos by Erkin Ozberk