Back during the Doors Open Ottawa weekend, I found myself wanting to visit but one place above all others: the Traffic Management Centre.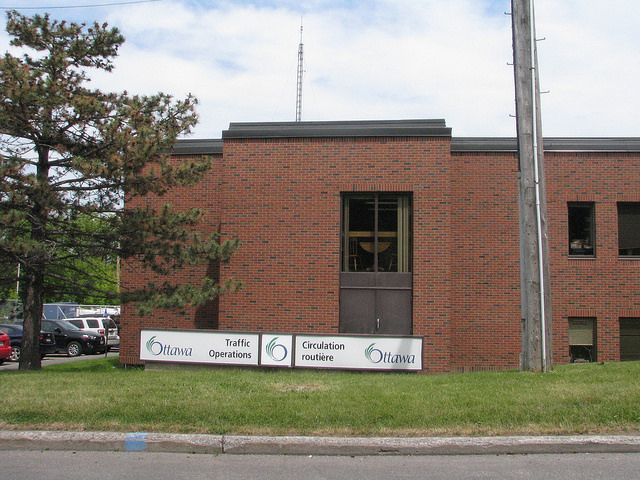 Located on Loretta Avenue, just short of the Queensway and within a five minutes' walk of the heart of Little Italy, the building hosting that division of City Hall is a two-storey complex. Were it not for the support fleet and supplies stored in the back yard, and in an attached lot just across the O-Train tracks, you might not know it from any other light or medium industrial facility in town.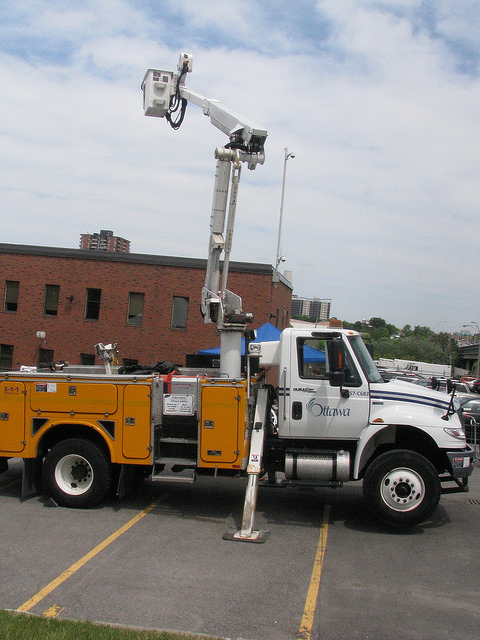 Once you get inside though, you can enter either of two different worlds. Or tour them both, as we did that day.
The main nerve centre on the top floor is not unlike the bridges of several fictional starships. You can pick your favourite space opera's "hero" ship for this comparison. It's not up to us to decide for our readers the best metaphor for such things, after all.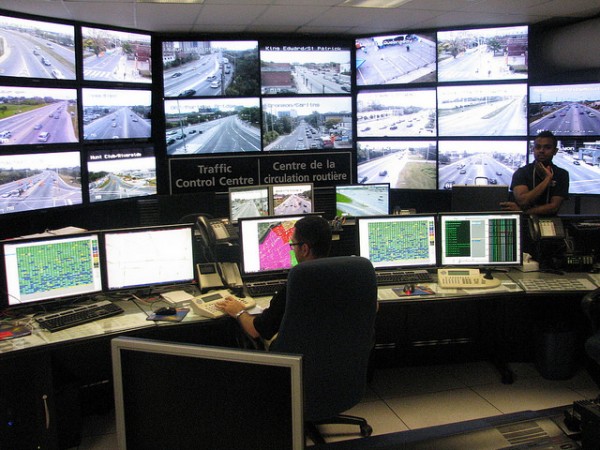 Live video feeds are available from hundreds of major intersections across the city, and are kept on file for archival and research purposes for some years. If law enforcement feels the need for access to specific footage, they have to get a subpoena for that footage for those specific locations and dates.
And even those intersections without video surveillance coverage can be watched to a more limited extent, in case of accidents, outages, etc.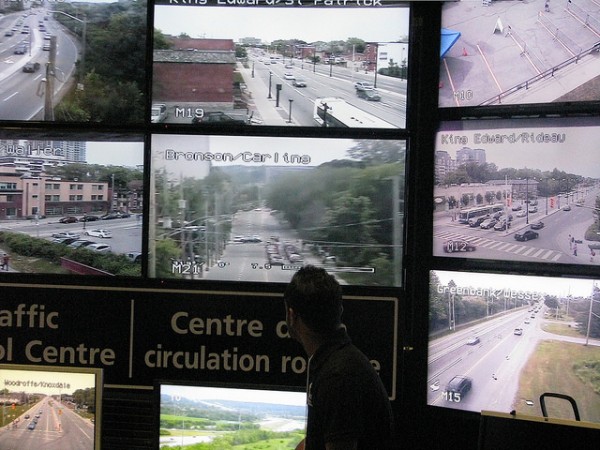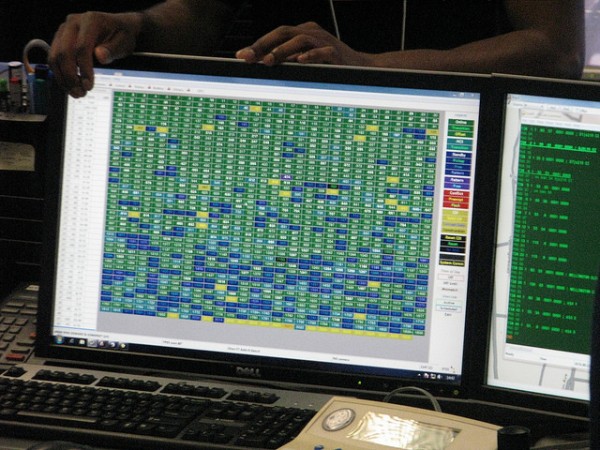 Downstairs is where the nuts and bolts work of physically maintaining, repairing and upgrading gets done, however.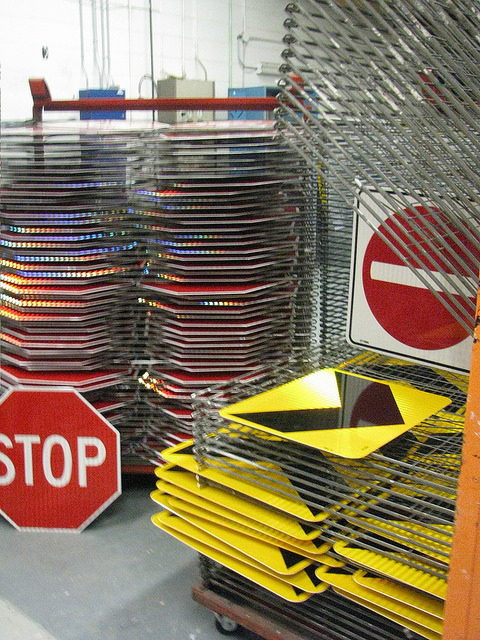 There's the sign shop, where street signage – particularly the name markers – gets made. Blanks are produced by the private sector in bulk, but the actual detail work is done at Loretta Avenue.
The names for the street identification blades are printed out on industrial plotters and hand-applied.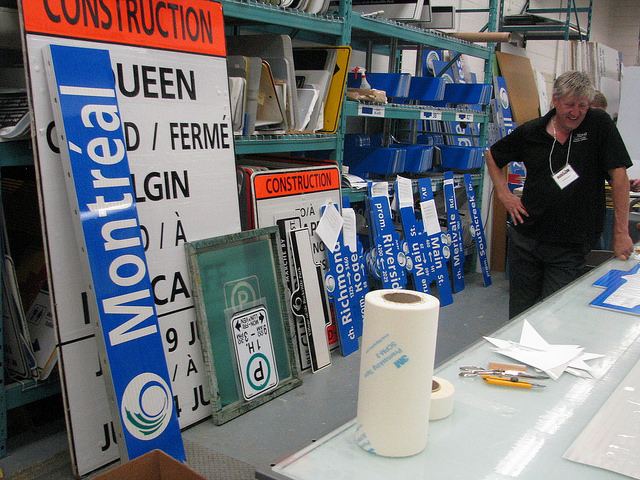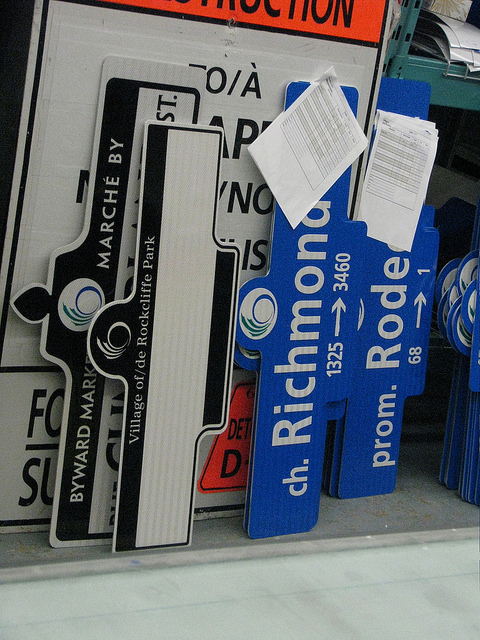 Depending on the interest level of your local Business Improvement Area or Neighbourhood Association, your section of the city could get its own street name markers. Currently, such has been done for several areas including (but not limited to):
ByWard Market
the corner of Gladstone and Preston marking the heart of Ottawa's Little Italy
Somerset Street where it runs through Ottawa's Chinatown
Sandy Hill
the Village section of Bank Street, denoting the city's LGBT "core"
the former village of Rockcliffe Park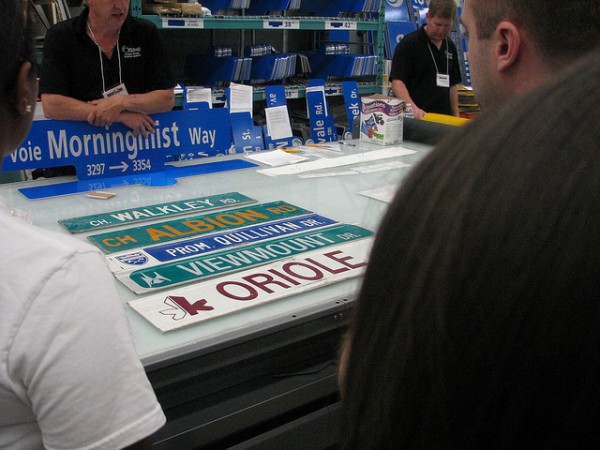 (And if you're wondering what's happening to the pre-Amalgamation signage… well that's being selectively decommissioned on an as-needed basis. Not all of it is in such condition as needs removing right away, and some people like the old signage enough to leave it as is until that day comes. If you're of a mind to acquire a bit of pre-Amalgamation history for yourself, check this page out at the city's website.  And keep it bookmarked because they'll be regularly updating it.)
Next up was the signals shop, including the repair and customization facilities. Because of Ottawa's specific weather concerns, some bulk customizing on the city's traffic signal gear has to be done before it's installed at intersections across the city to ensure long service life, and visibility under the toughest local conditions and so forth.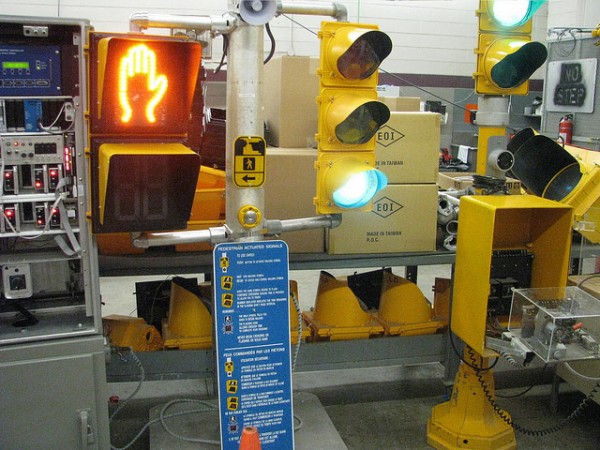 When the intersection signal control hardware gets damaged, it's sent to the ground floor at Loretta. That includes everything from the signal buttons – which are being upgraded city-wide – to the main hardware governing each intersection.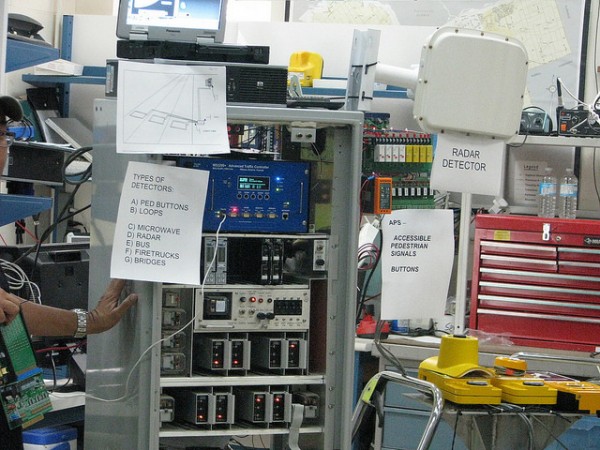 When one of those boxes gets taken out in an accident, it's a pricey thing to fix or replace!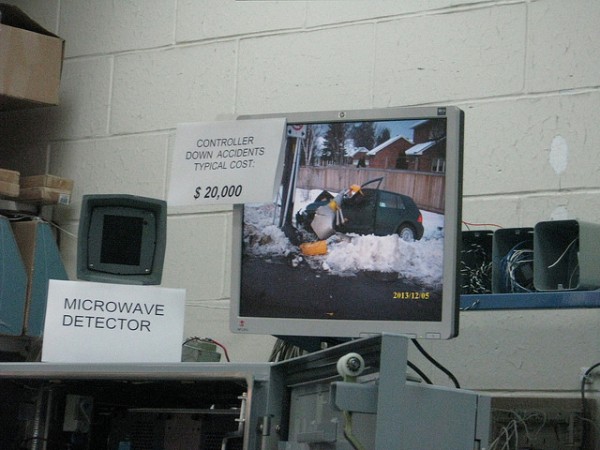 And in the garage, there's the vehicles set aside for putting down the lane markers for automobiles and bicycle traffic alike, and those come to Ottawa's fleet in a wide range of sizes and shapes, too.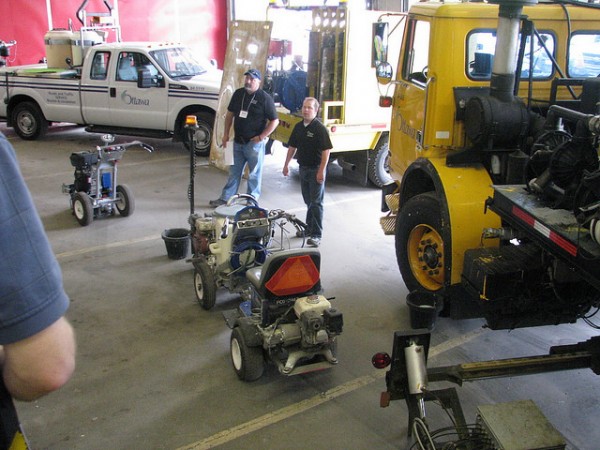 It was a thorough learning experience on how the city keeps everything that it needs to move forward, both people and freight. Whether you need to get there by foot, bike, car, or bus, these people and devices are all part of the urban toolkit.
All photographs by the author and used with this article by permission of the author.