For the past couple of years Sarah Gelbard and Kent Aitken have been on separate missions to get the people of Ottawa to pause and play.  Gelbard is a founding member of Impromptu Playground  a group of architecture school grads who have been seizing opportunities to bring life and playfulness to otherwise underused and overlooked spaces around the city; while Aitken curates the Ottawa section of the Acoustic Guitar Project and has brought his belief in this city's hidden musical talent to the streets with the Musical Underground – a reverse busking experiment that offers everyday musicians (i.e., regular passersby) the chance to win a guitar in exchange for a playing a song in a public space.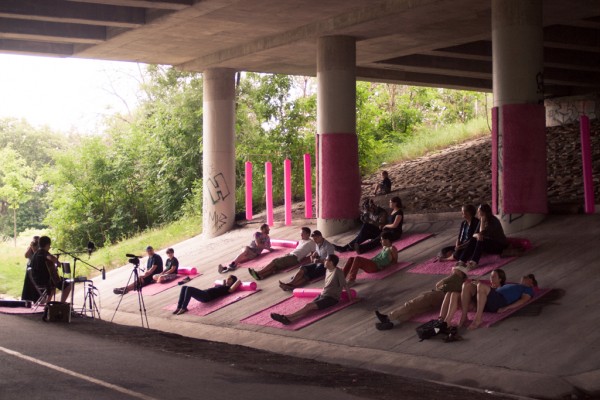 This past weekend, through the magic and generosity of the Awesome Ottawa foundation, the two brought their ideas of disrupting and transforming everyday spaces together for a project called Set the Stage.  The result was a lovely Sunday afternoon of music-making and place-making that took place where the Queensway passes over O-train bike path.  Gelbard and friends transformed the gently sloped retaining wall of the underpass into a comfortable amphitheatre with plush rugs and blow-up cushions – all bright pink to contrast the drab concrete, and as tribute to the Awesome Foundation's pink logo. And just off of the pathway and centered in front of the impromptu theatre, a small stage was set.  Throughout the afternoon 14 musicians took turns playing songs to a captive audience made up both of supporters who knew about the project in advance, and path users who were curious and delighted enough to pause and take a seat.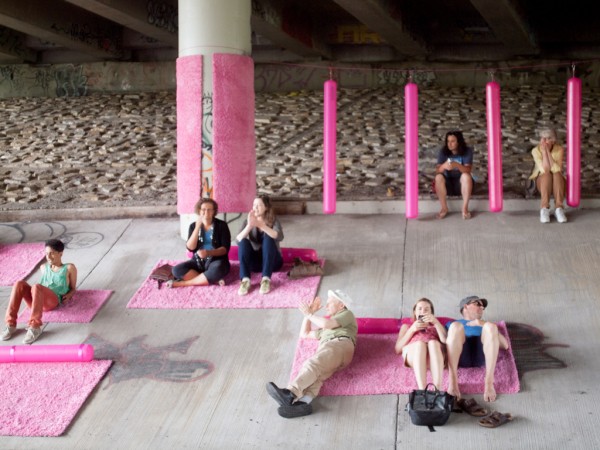 Though both organizers acknowledge that the project's out-of-the-way location garnered a smaller than usual audience and pool of musicians compared to past Musical Underground events, it was the opportunities provided by the space, combined with the quiet enthusiasm of those that gathered – and those that just passed through and smiled – that made for a truly unique experience.
Aitken reflects: "The vibe was perfect. The ideal situation for afternoons is that a small crowd gathers to listen to those playing, which has happened at points throughout every afternoon we've done it (there have been seven thus far). But for this one, the crowd was there the whole time, listening attentively."
Story and Images: Kristina Corre