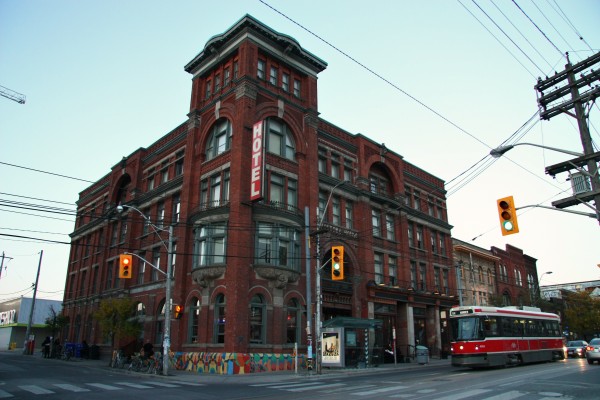 WHAT: yowLAB fall Film Festival launch, in partnership with Bytowne Cinema and Ottawa Architecture Week (Sep 28 – Oct 5)
FILM: Last Call at the Gladstone Hotel, documentary screening + moderated panel discussion on 'Inhabiting Gentrification'
WHEN: Tuesday, September 30th, 8:30-10:30pm
WHERE: Bytowne Cinema, 325 Rideau Street, Ottawa
COST: $15 in advance or at the door, $10 for Bytowne Members
yowLAB is proud to announce that it has partnered with Ottawa Architecture Week and ByTowne Cinema to launch the fall season of the yowLAB Film Festival with a special screening of Last Call at the Gladstone Hotel, followed by a panel discussion.
Last Call at the Gladstone Hotel, directed by Neil Graham and Derreck Roemer, follows the revitalization of Toronto's century-old Gladstone Hotel from flophouse to arts and music hotspot. "Shot over five years in a cinema direct style, Last Call at the Gladstone Hotel is an intimate, compelling portrait of the effects of urban renewal upon the poor, exposing a pattern of displacement repeated in urban centers worldwide, and revealing the unintentional roles we often play in the process of gentrification."
The screening will be followed by "Inhabiting gentrification" – a panel discussion on urban revitalization, community, social housing, and the arts scene in Ottawa and their impact on the existing character and characters of neglected neighbourhoods.
Mitchell Kutney (Co-founder, JustChange Ottawa / Citizens Academy leadership team)
Ray Sullivan (Executive Director, Centretown Citizen Ottawa Corporation)
Rhiannon Vogl (Associate Curator of Contemporary Art, National Gallery of Canada)
The panel discussion will be moderated by Laurence Wall (News Producer, CBC Radio Ottawa).
Image: Chris Barker