Across the city the care-free days of summer are swiftly changing into the shorter, cooler days of autumn. While saying goodbye to summer in our Canadian climate can dampen even the driest eyes, with this inevitable change comes one of the most magical times of the year; the harvest season.
What is wonderful to find in Ottawa is that urban gardens are springing up across the city. What once may have been a hobby for homeowners and adventurous urbanites is becoming easily accessible for the average city dweller. These aren't your typical gardens. You can locate these urban gardens lovingly placed on the lawns of churches, in city parks, on university property, and hidden between the crevices of buildings or on other usable land. No two are alike and you can find any kind of garden for any kind of gardener, and any skill level. If you're interested in gardening in Ottawa, there is an urban garden for you!
Three very interesting and distinct gardens located within the core of Ottawa and which I have had the wonderful opportunity to visit are Urban Shades Community Garden, Ottawa East Community Garden, and Brewer Park Community Garden. All of these unique sets of plots offer the urban gardener a different approach to gardening based on skill level, community feel, and accessibility.
Brewer Park Community Garden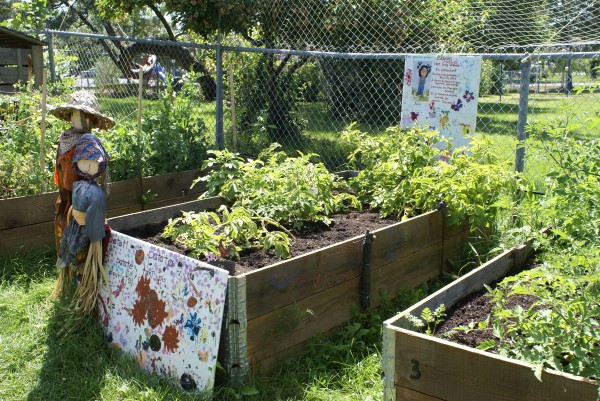 Brewer Park Community Garden is located on the Western edge of Brewer Park across from the arena. You will notice its location much more easily due to the opening of the new Brewer Park Community Garden Biodome. The garden is in its third growing season and mounting in popularity every year. They began with 28 garden plots and have grown exponentially to include 109 plots. They encourage community members from the Old Ottawa South area to join, as they would like members who will be able to tend to their garden often and help to create a sense of community. So far this has worked exceptionally well.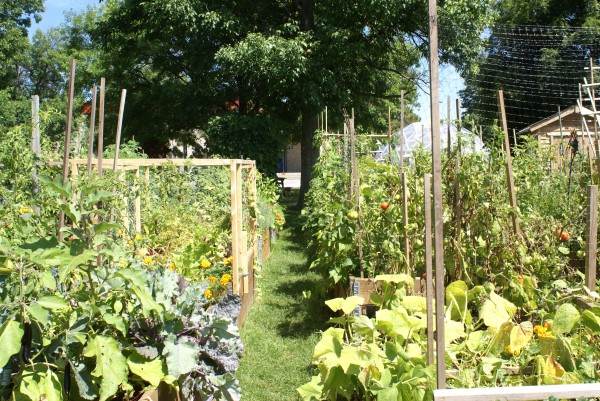 The mission of the garden has always been to provide healthy food and serve the community of Old Ottawa South. Plots throughout Brewer Park Garden have been provided for several local organizations including; Francojeunesse Elementary School and Ottawa East Community Centre. They also have community plots throughout the garden that include tea and berries for any of the gardeners to enjoy, and have eight plots for Westboro School and Francojeunesse as donation plots as well. The Brewer Park Community Garden has worked hard to provide a vibrant and thriving community garden for the area of Old Ottawa South. They endeavor to stay true to their values of healthy food for everyone and serving their local community.
Ottawa East Community Garden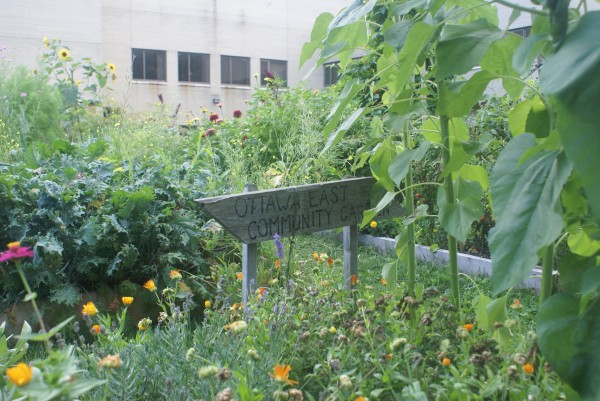 Ottawa East Community Garden is a charming 'grass roots' organization, with plots tucked away behind St.Paul's University on Main Street, in the east end of downtown. This urban garden started in 2007 and boasts 52 members with 24 half plots and 22 full plots. Their focus is on creating a healthy, active urban garden that fosters strong community relationships.
Ottawa East Community Garden also has plots set aside for community organizations including the Ottawa Food Bank and Café Urban. Café Urban is a "fork to table" cafe run by Matthew Brearly, former owner and chef of Castlegarth, on St.Paul's University campus. The Garden strives to produce healthy, local fruits and vegetables that can be shared throughout the community. For those who would like a plot, they can apply on their website, although spots fill up quick and waitlists for the Ottawa East Community Garden have topped over 100 applicants in one year. But they always manage to find a place for each applicant, whether in their own space or assisting in the transfer to another local garden. No urban gardener is ever left out.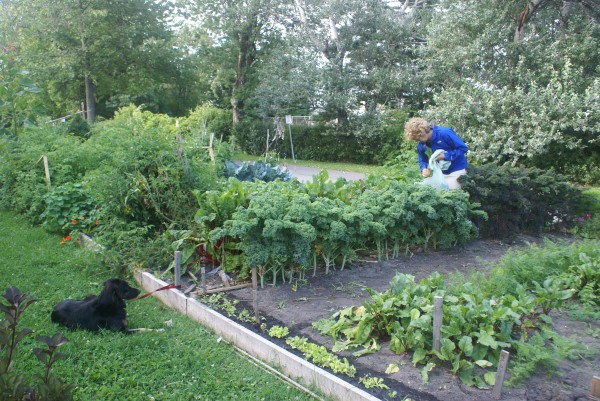 The Ottawa East Community Garden is constantly expanding and always has a new project on the horizon. Next on their 'to do' list is a new compost structure that is both aesthetically pleasing and functional. Volunteers with the group work tirelessly to ensure that projects like this are completed, allowing the garden to run smoothly so that members can enjoy their plot and the entire garden space.
Urban Shades Community Garden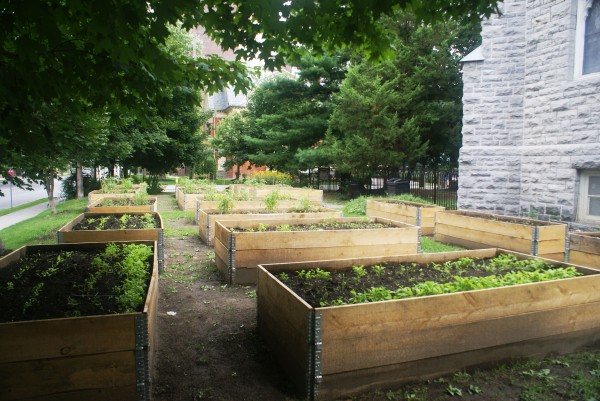 One of the most unique urban gardens in the city, however, was opened only at the end of this past summer. Urban Shades Community Garden holds no memberships and allows anyone in Ottawa to join them on Sundays at 2pm throughout the growing season to come and volunteer their time. Anyone can participate and garden at this time, taking home whatever is harvested at the end of the day.
Urban Shades is located on the property of All Saints Anglican Church, along Laurier Avenue East in Sandy Hill. The garden holds 22 raised beds that are currently growing peas, beans, kale, beets and radishes. While they are just starting out, they have managed to set up their rain barrel and compost sites and are well on their way to creating a flourishing community garden.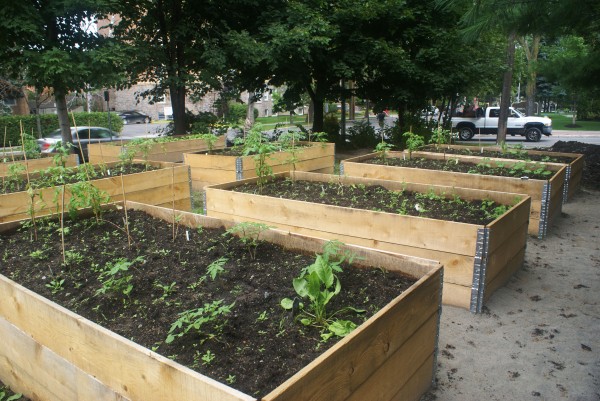 Urban Shades Community Garden aims to focus on the gains of 'Social Capital' in the city. They want the garden to reflect a sustainable and collaborative lifestyle within Ottawa. They enthusiastically welcome anyone who wants to garden, no matter your skill level, and they are funded through local partnerships and bursaries which allow them the opportunity to offer free gardening to everyone.
All three gardens are completely organic, and they ask their community members to use only organic seeds, soil and compost in the gardens., and each of them focuses strongly on a commitment to providing local, healthy food choices for everyone. Urban gardening is not just for the apartment or condo dweller either, many homeowners with shady lots or unmanageable soil, as well as individuals seeking a community feel are participating in these wonderful organizations. No matter your skill level, no matter your time commitment, you can have access to, and participate in, the production of your food – making it much easier and more fulfilling for anyone with an interest in healthy eating to understand how our meals get from farm to table.
Just Food
For more information on urban gardening in Ottawa or to get a complete list of the many gardens in the city, please visit Just Food, a local organization that works to support these organizations and discuss issues surrounding sustainable food production.
Thank you so much to those urban gardeners that took the time to share their gardens. It was wonderful to see first hand how much of an impact urban gardening can have on the individual and their surrounding community. All the best to those who are currently harvesting!
Marcel Belanger – Acting President, Brewer Park Community Garden
Margaret Vant Erve – Coordinator, Ottawa East Community Garden
Caroline John – Coordinator, Urban Shades Community Garden
***
Story and Images: Brynne Campbell