Vintage flair mixed with a hint of city life and paired with a flare of nostalgia can tell you the history of a city. Rob Croxford was born in London, Ontario. Ever since Croxford can remember, he's had an appetite for design whether he was creating scenery for a film or painting murals for casinos. For the past five years, Croxford has been refining his talent painting his own artwork and exhibited his work in 15 outdoor art shows and several galleries including The Toronto International Art Fair. Four of Croxford's vintage-styled poster designs appeared in the winter 2012-2013 issue of Spacing.
SPACING: Where did you find your inspiration for "Sign of the Times"?
CROXFORD: My "Sign of the Times" series was a natural progression from my "Urban" series. I have been creating topical Toronto cityscapes for a number of years. In the past, I avoided iconic landmarks, as there is so much beauty in our "undiscovered" city, but when they closed down Ontario Place (aka stomped all over my childhood) I felt compelled to express my disappointment. Truthfully, I was hesitant to paint ANY iconic Toronto imagery because I wanted to make sure that I had a "fresh take" on capturing the landmark. Glamorizing the imagery of Ontario Place by treating it as a vintage travel poster (see above) gave it new life for me, and helped make my point about its importance. Once I had that painting finished, and was really pleased with the result, I knew I needed to explore the new series.
SPACING: How does your art capture the history of Toronto?
CROXFORD: I like to think that I am capturing a time and place with my paintings. I try to deal with the issues we are dealing with locally and globally. I think that art should act as a barometer of what's happening in society.  I also see the importance of capturing the changing landscapes of our city — as a sort of visual catalogue for the future. I love the idea that the city is ever changing, and I'm in my own small way, an architectural librarian.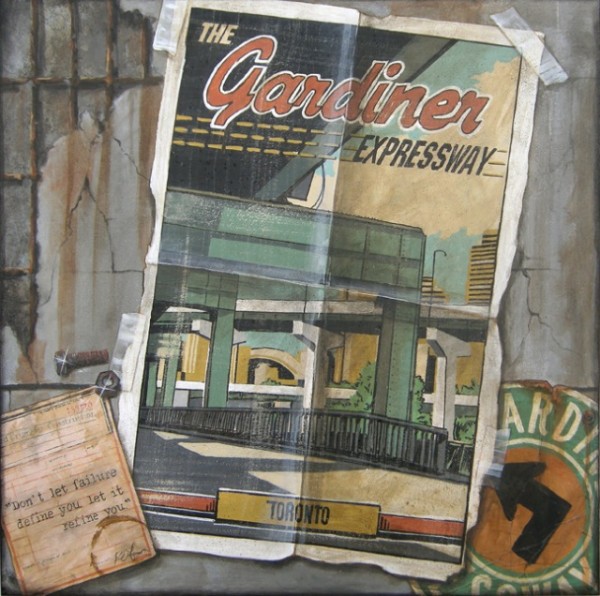 SPACING: Why the vintage visual look for your paintings?
CROXFORD: I have always been fascinated with the visual look of the 1920s to late 1950s. The simple lines and beautiful colours have always been appealing to me. I also find that by mimicking imagery from these simpler times, I can create a sense of nostalgia and goodwill. It's this goodwill that makes my work so accessible, and helps me to convey my ideas while softening the political sting. I call this my "spoon-full of sugar" approach to activism.
SPACING: What do you want people to learn from your art?
CROXFORD: I would like people to be more cognizant of the world around them and get involved in their city in anyway they can. I would also like them to open their minds about the importance of art and culture. I really believe that art has a vital role in both recording our history and improving our present day.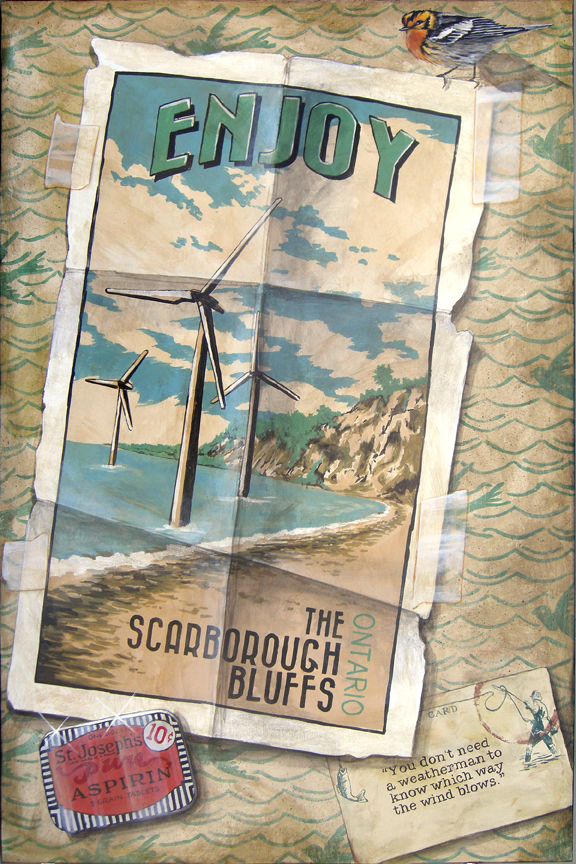 SPACING: Do you have any Toronto inspired projects coming up?
CROXFORD: As a full-time artist, I am constantly completing new work and have a number of exciting new things on my drawing board. I will be exhibiting some of this new work, including a great new painting about the much-maligned Gardiner Expressway (see above) at The Artist Project from February 21st-24th (booth #631). I have also created limited edition prints based on my "Sign of the Times" series available on Etsy and at robcroxford.com. I also post three times a week to my blog at robcroxford.blogspot.ca.