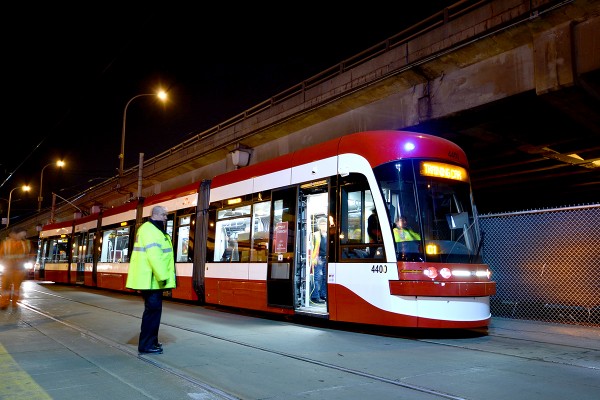 This morning, I grudgingly dragged myself out of bed at 2:30am to watch and film the new streetcar as it made its way down and up Bathurst. I decided to wait at the Exhibition loop on the CNE grounds for it to arrive because it's close to where I live, it offered some shelter from the cold, and the loop is relatively well lit.
I was joined (unplanned) at the loop by Jamie Bradburn of Torontoist, local historian Mike Filey, and a handful of transit fans snapping photos. There were loads of TTC employees inside the streetcar (mostly engineers and high ranking staff like Andy Byford, Chris Upfold, Brad Ross) or walking alongside it, while  a cadre of support vehicles followed the streetcar.
Below are four raw videos I shot — I tried to capture the vehicle from a few different angles. They are not that well lit (apologies) but it should give you a sense of how you'll soon experience these new beasts.

Entering the Exhibition loop

Arriving at the Exhibition loop

After testing brake systems, the vehicle passes through the Exhibition loop

Travelling north at Bathurst near Front Street.