Last November, my father and I to took the bus to the airport.
At the regular TTC fare of $3 a ride, taking the Bloor-Danforth line to Kipling then catching the 192 Rocket (an express bus that travels along highway 427) is a bargain compared to the alternative $50-ish cab ride. Taking the subway and the bus, my dad and I were surprised that we could get from our house to Pearson in under an hour.
It makes me wonder. Why isn't the 192 Rocket promoted by the TTC, with maybe a little airplane icon above Kipling station on the subway map? Other then seeing people with luggage in tow every now and then on the Bloor-Danforth line, and the odd Air Canada flight attendant in full uniform, you'd never realize that the TTC was connected to the airport.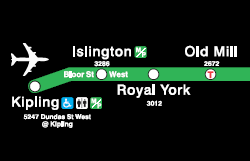 In Montreal, the bus to the airport was introduced in 2010 with a major ad campaign. The bus — numbered 747 — is painted brightly with the image of an airplane. As the bus makes its way through downtown Montreal and onto the highway toward Trudeau International, it becomes a moving billboard advertising itself as a viable transit option to the airport.
I am definitely excited about the opening of the Union-Pearson express train in 2015. This city will benefit greatly from a direct route between its airport and central transit hub. At roughly $20-$30 per ride however, the UP Express won't exactly be accessible to every Torontonian. I do hope the UP Express doesn't mean the end of taking the bus to the airport.
And why is the TTC bus to the airport so secret anyways? It definitely affirms my suspicions that Toronto is thoroughly an Insider's city. We Torontonians like our secrets. Our gems are accessible, but you've got to find them yourself. We have a great ravine system, but its trails remains largely unmarked. And just try to make your way through the PATH system for the first time.
So, apologies for breaking Torontonian code by exposing the express airport bus to the internet masses. But hey, it's a good service!
Daniel Rotsztain is the Urban Geographer. Check out his website or say hello on Twitter!
Leading image by James Bow, from Transit Toronto