The NXT CITY PRIZE is all about vision to reimagine Toronto's public spaces and inject a sense of energy, dynamism and reflexivity. With a focus on ideas coming from the next generation of city builders, The NXT CITY PRIZE is an open invitation for all young people connected to Toronto to improve on the design of our city's open spaces. The NXT CITY PRIZE will be announced in mid-August, and the deadline for submissions is July 31st. Spacing has teamed up with the NXT CITY PRIZE to provide our readers with a series of Q&As with local and national city builders in the lead up to the announcement of the winning design.

TODAY: LISA BAROLDI, creative economy & aboriginal lead at Edmonton Economic Development
What public space improvements have you made in your city, Edmonton?
My role in city building is to advocate for inclusivity and creativity, facilitate dialogue, and temporarily activate public and private spaces to provide opportunities for inspiration and connections between people. I help to make things happen. For instance, I co­founded the national Designing Downtown movement, "a vehicle for inter­city exchange for partnerships that seek to enrich and advance the conversations and actions we take to shape downtowns as spaces for everyone." So, exploring a downtown as "public space" in a sense.
My interests these days are: 1) the concept of public space. What is it? Who owns it? What is its role in urban dynamics? Why does its design matter? How do citizens, government, business use it/transform it?, 2) Indigenous urban planning. What is it? Who is involved? What could this look like in Edmonton? What does it look like elsewhere?, 3) Downtowns. Why does the core matter? What does inclusivity look like? What are creative approaches to downtown development?
What public space improvements would you like to see in Edmonton?
For Edmonton to become an Indigenous­inclusive city, we need to shift from the consultation paradigm to co­creation of the city via urban design, governance, economic development, land use, and culture and heritage. I'd like to see us re­imagine the city, to push ourselves to think boldly and to genuinely link the realities of the past and present and the future through more than just stories. We can do this in the urban landscape with architecture, design, space, placemaking, art. It's starting to happen here already, and the potential is being revealed with every urban intervention, every master plan, every conversation we have. Expect some big things coming out of Edmonton in the next decade. Fingers crossed!
What sorts of places are solid examples of public space improvement in other cities around the world?
Everywhere I travel, I aim to connect with "guides" who can peel away the layers of their cities. I also chat with people ­­everyone. I try to find out where locals perceive the public spaces to be, who is there, how they are used, what the design elements do or don't do to foster gathering and interactions. So, I learn a lot. I think a successful public space is constantly in the process of becoming and changing. It's alive.
Some of my current public space crushes are:
Libraries are the ultimate public gathering space if you see them as a public space. I'm a big supporter of most library improvements. I'm a huge fan of the Seattle Public Library, the Bibliotheque Nationale of Paris, and the Biblioteca delle Oblate in Florence (it has courtyards with views of the duomo). Sense of community and diversity are wonderful at libraries.
The Place George Pompidou with its funky fountains, street performers, and cafes spilling into streets attracting all kinds of people. I was there this summer urban picnicking with a friend. We interacted with skateboarding teens, elderly couples, tourists taking selfies, families chilling. It was fabulous mix of local and global people.
Seville's Metropol Parasol ("the mushroom") is the largest wooden structure in the world. It is part of the Redevelopment of Plaza de la Encarnacion meant to reanimate an area that was once a vibrant market and hub in the community.I've never been, but it's on my list for 2016, and I hope it did what it was intended to do and more.
Edmonton successes, in my opinion, are the Shaw Conference Centre vegetable terraces and Medicine Wheel garden, overlooking the river valley, as well as Churchill Square in the summer time with its moveable furniture, games, and entertainment.
A friend of mine is working on revamping the public space in front of the Vancouver Art Gallery.The North Plaza. I'm excited to see what it turns out to be.
Your advice to emerging leaders as it relates to public space?
Hmmmm…Just do something. You don't have to pay a penny even. Or just be. You can change a space with a poster, with the way you sit, how you move. You're both the fixture and designer of a space. Always. When you are working on something, listen. Ask questions. Listen more. Try to understand how different interests might align and how various projects are interconnected. Yours is not an isolated project and it probably isn't unique in the world, at least. So, connect away! Think of it, and you, as part of an urban ecosystem.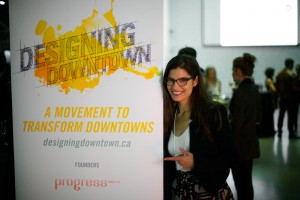 Lisa Baroldi is the creative economy & aboriginal lead at Edmonton Economic Development and director & vision holder at Progress Unlimited. She is also a co­founder of Designing Downtown, a national movement and vehicle for urban design exchange between cities. Inspired by people, cities, and intercultural exchange, Lisa works to advance creative entrepreneurship and design, deepen relationships between cities, foster inclusivity and creativity, and support aboriginal business and citizen­driven projects on Indigenous expression in the city. She grew up in very small town located in Treaty 8 First Nations of Alberta territory, but is most at home in urban centres around the world. She relishes the energy surge that comes from crossing a main city street into a large and mixed group of fellow pedestrians, especially at night. 
Top photo courtesy of Edmonton Economic Development Corporation, Shaw Conference Centre in Edmonton