The NXT CITY PRIZE is all about vision to reimagine Toronto's public spaces and inject a sense of energy, dynamism and reflexivity. With a focus on ideas coming from the next generation of city builders, The NXT CITY PRIZE is an open invitation for all young people connected to Toronto to improve on the design of our city's open spaces. The NXT CITY PRIZE will be announced in mid-August, and the deadline for submissions is July 31st. Spacing has teamed up with the NXT CITY PRIZE to provide our readers with a series of Q&As with local and national city builders in the lead up to the announcement of the winning design.

TODAY: ADIL DHALLA, Centre for Social Innovation's director of culture
What public space improvements have you contributed to that you're proud of? 
I'm most proud about Project Ukulele Gangsterism (PUG), which was inspired by the Emersonian notion that there are those who pursue happiness and those who create it. PUG was for the creators and what we did was amass as a ukulele "gang" of 50+ people that would go into places that we felt were the least happy (i.e. subways) and try and counter the usual negative energy by singing an ode to Toronto we called "Have an Awesome Day".  Our hope and why I'm most proud about PUG, was that we could affect the entire mood of the city by "hacking" heavily trafficked areas with happiness. PUG was internationally recognized and replicated in Michigan, Chicago and Korea.
What public space improvements would you like to see in Toronto?
I'd love to see more intentionality being brought to animating public spaces in Toronto. It's been proven that a city's happiness is directly related to how many and how often we're able to make loose connections with our fellow citizens but these connections won't just happen! We need to bring intentionality to building social capital by way of  programming and events that acts as magnetic attractors for people to come and meet others whom they have shared interests with. In other words and to play on the old adage – if you build it, they won't come. You need to give people a reason to be there.
What do you consider to be great examples of public space in other global cities?
CSI has a space in New York City so I get to spend a lot of time there and one of the coolest things about New York (and definitely part of my inspiration for PUG) is that you'll often encounter buskers on a subway itself performing in between stops. It's not just that I'm entertained, but all of a sudden I'm experiencing this random shared experience with a bunch of strangers and through eye contact, smiles and laughter, we are being connected to one another. Compared with Toronto, New York has looser laws on performances in the city's public transit spaces and I'd love to see us adopt a similar approach here.
What advice do you have for young people as it relates to public space?
The domain of public space is the responsibility of government, business and the people to make great. We need to work together and truly believe that it's up to us to be a part of the solution! So to young people I would say – take agency and responsibility for creating the city that they want. No one needs to invite you – this is your city.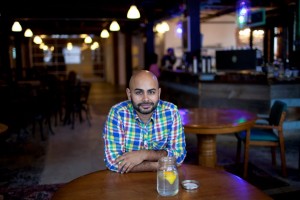 Adil Dhalla is the Director of Culture of the Centre for Social Innovation (CSI) – a coworking space, community and launchpad for people who are changing the world. At CSI, much of Adil's work is focused on connecting and support supporting organizations in the acceleration of their work, including many in the area closest to his heart, city building. In 2014, Adil co-organized the much celebrated Turnout Toronto, a "civic engagement circus" that has since been replicated across the city. Adil was also one of the co-founders of Project Ukulele Gangsterism, which was a ukulele flash mob that stormed Toronto's public spaces in 2013 with the purpose of bringing happiness to the citizens of Toronto. Previous to CSI, Adil co-founded My City Lives, which was a pioneering technology in the mobile video space that was focused on city storytelling and expanded to over 250 cities worldwide.  Adil has travelled and lived in some of the greatest cities in the world but proudly calls Toronto home and can often be found on his bike, rocking a sweet bow tie. 
Top photo by Todd Tyrtle, buskers in Finch Station