The NXT CITY PRIZE is all about vision to reimagine Toronto's public spaces and inject a sense of energy, dynamism and reflexivity. With a focus on ideas coming from the next generation of city builders, The NXT CITY PRIZE is an open invitation for all young people connected to Toronto to improve on the design of our city's open spaces. The NXT CITY PRIZE will be announced in mid-August, and the deadline for submissions is July 31st. Spacing has teamed up with the NXT CITY PRIZE to provide our readers with a series of Q&As with local and national city builders in the lead up to the announcement of the winning design.

TODAY: JOE BERRIDGE 

FCIP, RPP

, 

Partner, Urban Strategies Inc.

What public space improvements have you made?

I'm an urban planner not a landscape architect so my role tends to be in the pre-planning of places and spaces rather than in their actual realisation. But one I can claim credit for, that I really love, is Exchange Square in Manchester. In 1996, a huge terrorist bomb exploded right in the middle of the city's retail centre, on what was a very ugly traffic intersection. We were able, through the reconstruction, to close one of the major streets and create, with the help of the irrepressible designer Martha Schwartz, a great stepped city square, with a formerly buried stream running though, that is now a key and much used place in the city.

What public space improvements would you like to see in Toronto?

I would like to see the number of trees in the city's streets and open spaces quadrupled. It is baffling to me why we are so incapable of planting a decent tree and having it thrive. The expensive disaster on Bloor Street is the most recent example, but the desiccated twigs on Spadina and most of our other major streets make me furious every day. We need grand, healthy shade trees everywhere. We are not and will never be the most beautiful city in the world but we are in Canada and should be the urban home of the maple leaf.

What other cities have strong examples of public space?

The list is long, but I think it is important for Toronto to learn not just from great European cities with their rich heritage of public squares and parks inherited from a history and culture we don't share. New York has a lot of lessons for us in its transformation of utilitarian spaces – using the left over spaces of the Broadway intersections, taking lanes from the major avenues, picking up under-expressway and dead industrial lands – and in total effecting a huge change in the feel of the city. The other lesson from there – and from Montreal where I was recently – is the solidity with which they build their new squares and promenades. Big stone features, big trees, substantial public art.  Too much in our city looks too flimsy.

My advice to young people as it relates to public space.

Few young people I know take well to advice from their elders – which is as it should be. But… Daniel Burham said it all. At the end of his 'Make no little plans' speech he had a much less quoted instruction. 'Let your watchword be order and your beacon beauty'. Urban place making should never be about 'environment', or 'community' or 'heritage' or any other kind of label, which is an unhappy trend in too many of the spaces we are creating now. Cities last forever, long after these ideas will have lapsed.  Resilient, enduring spaces in cities spring from the search for order and beauty. And such spaces will then achieve everything else we expect of them.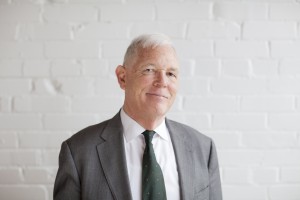 Joe Berridge has had an integral role in the development of some of the largest and most complex urban regeneration projects in Canada, the U.S., the U.K., and Asia. He is currently the strategic planner for the development of Belfast's city centre, and has undertaken similar exercises for Manchester's City Centre, Toronto's Exhibition Place, and Oakville's Town Centre. He was a master planner for the waterfronts of Toronto, Singapore, Cork, Ireland, London's East Docklands, San Juan, Puerto Rico and Governors Island in New York City. He has prepared campus master plans for the University of Waterloo, Queen's and Western University. Joe played an important role in helping form the growth management and transportation plans for the Toronto region. He teaches at the University of Toronto and is a regular media commentator and writer on urban issues.
Top photo by Norbert Blech Exchange Square, Manchester, England