Over the past three decades, Toronto has become an increasingly divided city, economically and racially.  And those divisions were starkly apparent in Monday's election results. Toronto's electoral divide, however, is not along partisan political lines. The divisions are based on socio-economic, ethno-cultural and skin colour characteristics. Indeed, the wards that supported John Tory and those that backed Olivia Chow share many of the same demographics: they have significantly higher socio-economic status and less ethno-cultural diversity.
The trends dividing the city began in the 1990s. The most expensive item in an average household budget is housing, due to rent or mortgage costs, and utility payments. Between 1993 and 1995, the federal Liberal government and the Ontario Conservative government ended social housing supply programs and many related housing supports. Little new rental housing is being built as existing rental buildings age. A federal minister once told me: let them live in condos. Some do – but only those who can afford to.
The loss of well paying, unionized jobs with benefits following free trade agreements, global financial markets, and 'efficiencies' in corporations and governments (e.g., contracting out to firms paying minimum wage) have decimated the once large and growing group in the middle of the income distribution. We have a polarized labour market, with many more at the bottom and a few more at the top.
In the 1980s Toronto also began to add ethno-cultural diversity to a population once mainly of European origin. Yet we do not talk much about, let alone act on, employment, housing and education discrimination. That's a problem in the United States, many believe, not here. There is a growing gap in fair opportunities for upward mobility no matter how hard one works and how successfully one pursues education and training.
All this produces a great deal of resentment and a very real polarization based on lived experience between "us and them."
What does all this mean for our new mayor — someone who earned the win in part by actively engaging in these issues in civic coalitions and a variety of initiatives?
The trends, as Tory knows, are of our own making. Most western and northern European comparator nations, with the exception of the United Kingdom, are less polarized because they make better policy choices. But municipal governments did not cause, to any significant extent, the negative trends dividing Toronto. Rather, municipal governments have to manage what our senior governments create.
It is easy to itemize the federal and provincial policy changes that have driven the loss of affordable housing, income and service supports, labour market regulations. Huge federal and provincial tax cuts, individual and corporate, helped reverse the post-war trend toward a more equal income distribution.
At the municipal level, the few available revenue sources are not as fair or lucrative as a progressive income tax. Besides the equity consideration, many municipalities are collecting less revenue in real terms than in the past, a dynamic that only adds to the growing divide.
It took thirty years to divide Toronto into three cities. And as this week's election vividly demonstrated, those social divisions produce a divided voting pattern. Over time, it is possible to incrementally reverse these trends, year after year. But this long-term goal can only occur if city council, and a mayor with a bully pulpit, are willing to not only advocate for change, but also take meaningful steps that will help create a city with fairer opportunities for all, thereby reducing the divide writ large on our electoral map.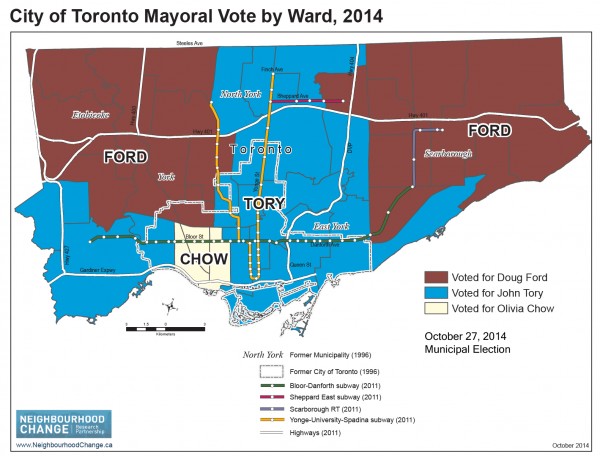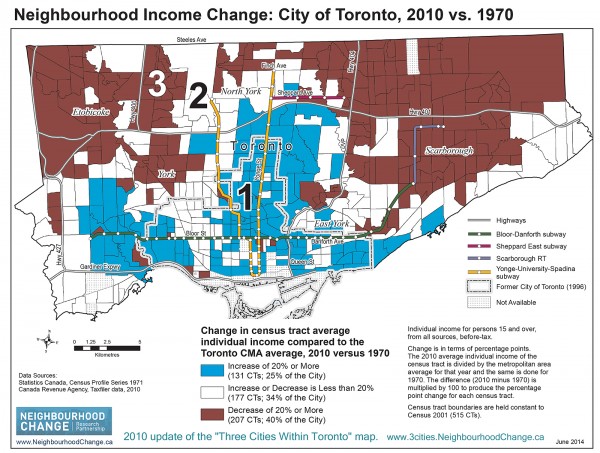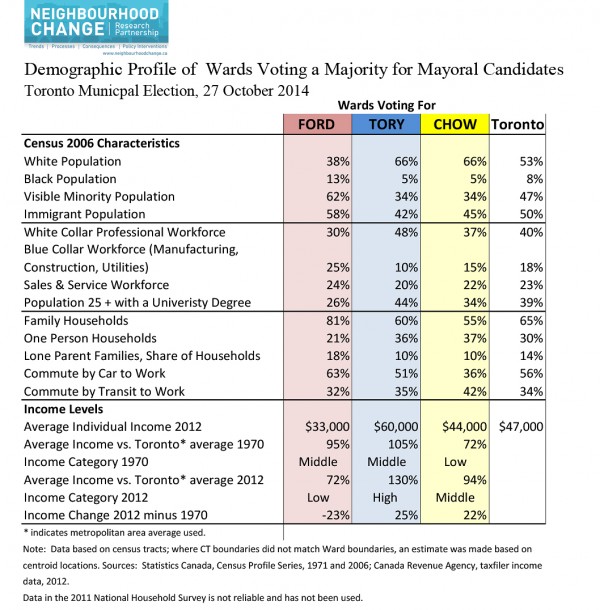 J. David Hulchanski is the author of the "Three Cities of Toronto" report, a professor in the Factor-Inwentash Faculty of Social Work, University of Toronto, and is a lead member of Neighbourhood Change Research Partnership, with more information at NeighbourhoodChange.ca.