Idil Burale is a new contributor to Spacing and recently ran in ward 1 for city councillor
On October 27th, Torontonians – much to the disappointment of the late night comics – narrowly elected John Tory as the city's next mayor. Now that the city has rid itself of its embarrassing, scandal-plagued mayor, some observers were quick to hail the post-Ford era in Toronto — an era that promised to be boring in personality, but effective in city building.
But don't for a second think that Ford Nation will just slither away into oblivion. Ford Nation is bigger than the man. It is a political movement rooted in neglect. Therefore, in order to defeat Ford Nation at the polls, we need to first talk about Ford Nation the idea, what it means and why it will remain relevant even with John Tory as mayor.
I've spent the last seven months canvassing in the heart of Ford Nation (Ward 1) and this is what I learned after knocking on thousands of doors: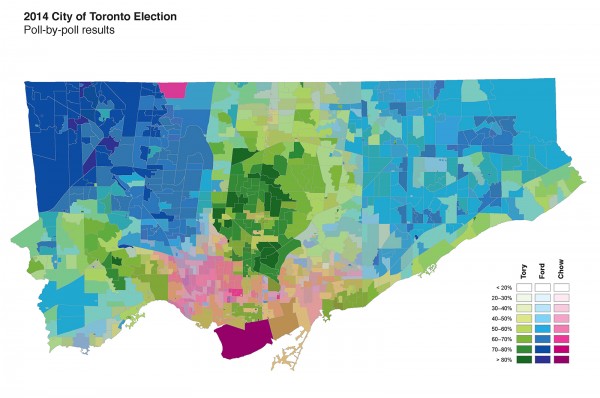 As the demographic data shows, people who voted for Doug Ford are overwhelmingly marginalized. They tend to live in parts of this city where the income divide is most evident. As a result of living in designated 'priority neighbourhoods,' they experience disparity in terms of access to quality city services.
But they may be the most alienated from the progressive ideals of `togetherness,' opting instead for the conservative notion of "self-reliance."
Many of the people I met are working poor. They would rather vote for the candidate promising to lower their taxes (i.e. allowing them to keep more of their money) rather than the challenger who would increase taxes in order to strengthen the social safety net that would catch them should they lose their job.
They are conservative immigrant parents who voted for Ford solely as a defense against the "gay agenda." Many are union members, like the guy who once argued to one my canvassers (after finding out I was endorsed by the Toronto/York Labour Council) that the last thing City Hall needed was "another f*cking activist".
Ford Nation often includes tenants living in aging buildings who blame the crumbling infrastructure and the poor living conditions on their neighbours rather than the neglect of the absentee property owners to do upkeeps.
In short, the people who voted for Ford are as diverse as the city itself. Some are middle class voters feeling the squeeze. Most are low-income, blue-collar taxpayers who can't seem to catch a break and are resentful at the idea of paying into a tax system that doesn't seem to benefit them personally.
Is Ford Nation relevant only in the inner suburbs?
One reason: the lack of development since amalgamation. The dismal investment in infrastructure renewal confirms the feelings of second-class citizenry that most suburbanites hold. As they look around their city, and GTHA region, they see the construction boom that seems to be bringing prosperity and jobs to either the downtown or the 905, while they deal with two-tiered access to municipal services.
Love him or hate him, Rob Ford's political brilliance was his ability to tap and give relevance to a deeply embedded sense of exclusion in the inner suburbs. He urged the residents of Etobicoke and Scarborough to direct their grievances to City Hall.
Despite the fact that he was Ward 2's councillor for most of post-amalgamation period, Ford distinguished himself from the left-wing councillors who, he said, never met a tax hike they didn't like. To suburbanites, he was an anti-establishment crusader against wasteful spending.
The irony is that the incumbents who relied on Ford's rhetoric to rally the troops, are responsible for not advocating on behalf of their constituents to fight for their fair share of development investment. So for Ford Nation, the promise of lower taxes felt legitimate to a voter base that felt shortchanged. Low-income people who backed the Fords felt they weren't voting against their own interests. Rather, they voted to keep more of their hard earned money in the short run even if that agenda will hurt their communities in the long term.
Ultimately, Rob Ford's crass rhetoric and Ford Nation's rise to political significance revealed a deep division within this city that cannot be whitewashed with Tory's "One City" rhetoric. The Fords gave Toronto an opportunity to better engage the disenfranchised communities spread across the amalgamated city.
I wonder if the heightened interest in municipal issues sparked by the Fords could serve as a platform for this city, a wake-up call to the reality that there are large parts of Etobicoke, North York and Scarborough that have been neglected. Maybe then, something can be done to confront the divisions.
Analysis of 2014 voting patterns by Zack Taylor
Zack Taylor, an assistant professor in the City Studies program at University of Toronto Scarborough, has spent the three weeks since the election mapping Toronto's electoral geography. Check out the results. Residents can see how their own neighbourhoods voted by looking at the poll-by-poll results for the final map. Here is his analysis of the outcome: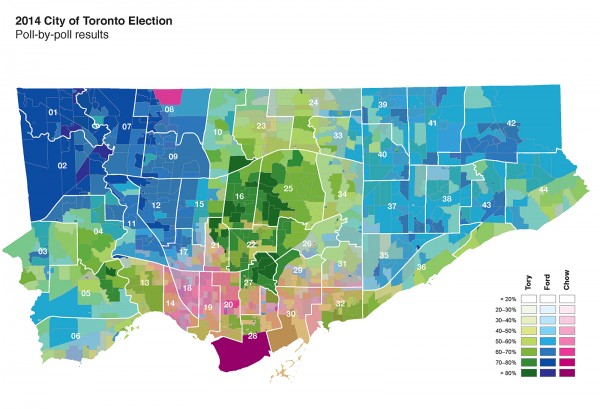 ABOVE MAP: Overall voting — Tory received 40%, Ford 36%, and Chow 24% support on election day. The geographical division is striking. Tory did best in the higher-income Yonge Street corridor, south of Kingston road in Scarborough, downtown condoland, and Swansea and central Etobicoke. Chow captured the gentrifying flanks of the old City of Toronto, while Ford held the postwar suburban extremities of Etobicoke, North York, and Scarborough.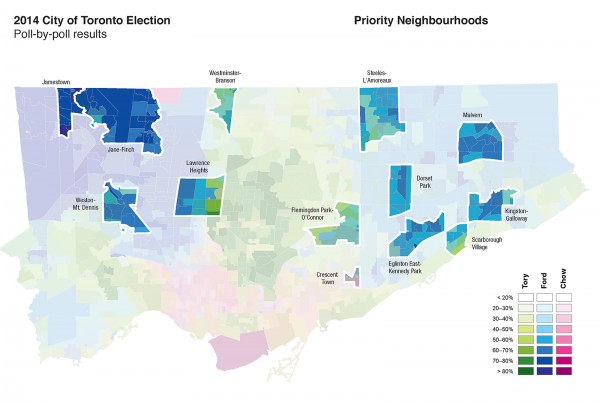 ABOVE MAP: Priority Neighbourhoods — Between 2005 and 2014, the City provided targetted programming in 13 low-income Priority Neighbourhoods located in the middle and outer suburbs. Like the neighbourhoods that surround them, they tilted toward Doug Ford: 56% for Ford, 27% for Tory, and 18% for Chow.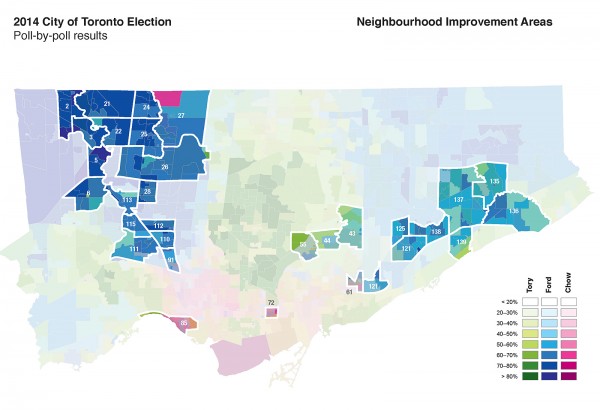 ABOVE MAP: Neighbourhood Improvement Areas (new designation) — In March 2014, the City designated 31 low-income Neighbourhood Improvement Areas as in need of special support and programming. Most are located in suburban Etobicoke and Scarborough. Altogether, voters in these areas supported Chow more than the rest of the City (29%), and Tory less (34%). Support for Ford was about the same (37%). Ultimately, it seems that location may matter more than socio-economic disadvantage. Like their surrounding neighbourhoods, core-area polls tilted to Chow, while suburban ones tilted to Ford and Tory.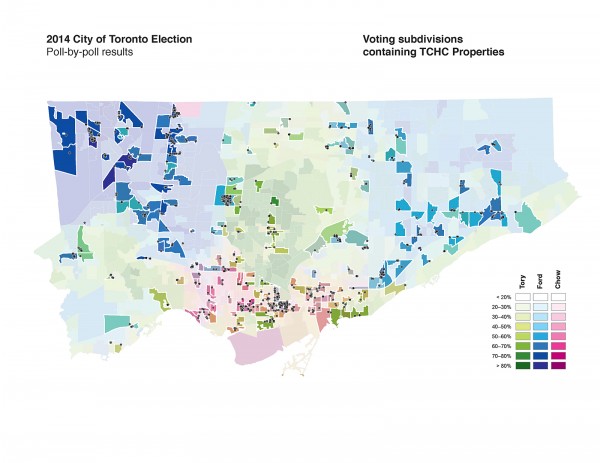 ABOVE MAP: Toronto Community Housing — The Fords have made much of their support for residents of Toronto Community Housing, whose properties are located throughout the city, and many are located in Neighbourhood Improvement Areas. All in all, voting subdivisions containing TCHC properties were more likely to Chow (29%) and less likely to support Tory (34%), and voted for Ford in similar proportion to the city as a whole (37%).
maps and captions by Zack Taylor: Visit his web site www.bigcitypolitics.ca