UPDATE:  68 letters were sent to the Committee, in opposition to the billboard proposal (you can read them all, at the bottom of this page).  Rather than face an embarrassing defeat, the proponent (Outfront Media) withdrew the application shortly before the meeting.  In other words, this proposal is now dead, thanks to the commitment of citizens who took the time to send in their comments.
---
In one of the most audacious attempts to dominate Toronto's visual landscape, Outfront Media and CP Rail have formally requested permission to build a gargantuan fifteen metre-wide digital billboard facing Serena Gundy Park.
Although City staff insist on using the Orwellian description of "Static Electronic" to describe the proposed sign, it will actually display a new ad every ten seconds.  This "static" billboard will flash, literally, thousands of times a day.
These digital megaboards flood their surrounding areas with bright, flashing light which is perhaps desirable at Dundas Square, but perhaps less desirable near one of Toronto's most cherished parks and bird habitat.
Aside from the fact the this billboard is designed to distract drivers' attention from the road and aside from the fact that this sign will be visible from residential windows to the north and the west, the sheer proximity to the parkland should be enough of a reason to reject this proposal.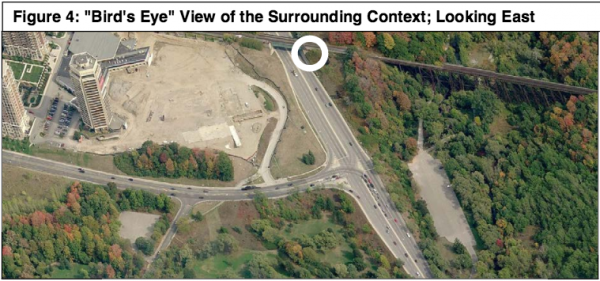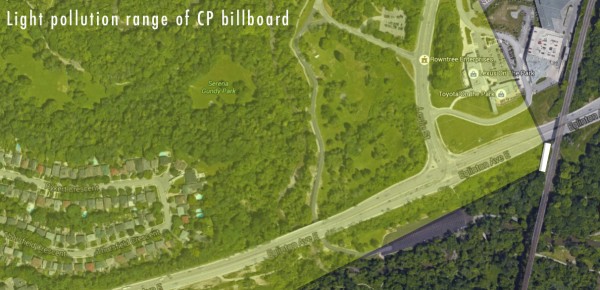 The fact that Outfront is even proposing this location, reveals that they have no appreciation whatsoever for the quality of life of our neighbourhoods.  They were even so bold, as to suggest in the application that this flashing megaboard will "improve the character of the area by providing new visual commercial vibrancy." They're desperately trying to get their claws into any parcel of "real estate" that can boost their "inventory" of billboards. It's all about dollars and cents.
That's why it's so important to make your voice heard, at the upcoming Sign Variance Committee. The committee is comprised of citizens, and they will decide if Outfront Media and CP Rail are allowed to treat our public spaces as their own visual dumping ground. City Staff have recommended against the application, which is a good sign and will help influence the Committee's decision. But they need to hear from regular citizens as well. The meeting is open to the public, and anyone is able to attend – or speak at – the meeting. You can also simply send a letter to the Committee, in advance.
Sign Variance Committee
March 22, 2016 – 9:30 AM
Committee Room 2, City Hall
You can "Submit Comments" or "Request to Speak" by clicking the corresponding buttons right at the top of the staff report page.
As print media continues to fade, advertisers are constantly looking for new places to spend their dollars in order to get your attention. If citizens aren't vigilant, these new ad spaces will continue to appear right in the middle of our neighbourhoods, public gathering spaces and parks.