Toronto is in the (unexpectedly slow) process of getting new low-floor streetcars. The goal of these new cars is accessibility — they can be used by people in wheelchairs, unlike earlier streetcar designs with their steep stairs. But they also make it much easier for anyone with mobility difficulties to get on (especially important as the number of seniors in Toronto is expected to increase), not to mention parents with children in strollers. Low-floor streetcars have become standard for new rolling stock in most international streetcar systems.
It's not the first time low-floor streetcars have been introduced to North American streetcar systems, though. Just over a century ago, several streetcar systems in North America experimented with a specially-designed low-floor car. The goal then was also accessibility, but of a different kind. A new women's fashion had swept through the western world at the dawn of the 20th century – hobble skirts, long, close-fitting skirts whose cut prevented those wearing them from moving their legs very much.
A significant consequence, as Ryerson University professor Alison Matthews-David notes in her book Fashion Victims, was that "Boarding a streetcar presented particular difficulties, since women could not easily mount the vertiginous 19-inch step."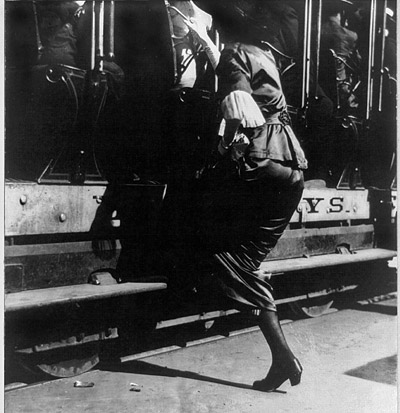 The fashion for hobble skirts arrived in North America around 1910, and it created so many problems for female streetcar passengers that, by 1912, some North American cities began introducing a new low-floor car with a minimal step, with doors in the middle of the car rather than at either end. (The new streetcars also introduced other, unrelated innovations).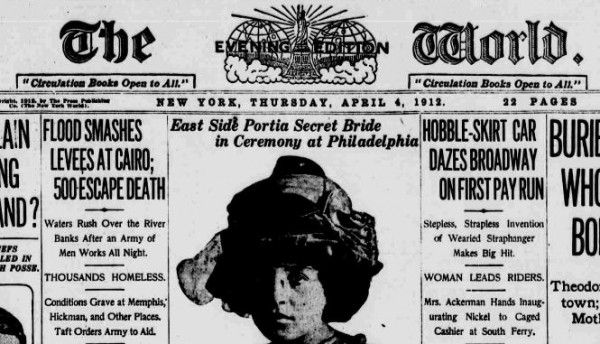 On April 4, 1912, New York City's The World newspaper (PDF) described the inaugural run of this new streetcar:
"It's the first stepless, hobble-skirt, hygienic, fool proof, side door public safety or whatever you will (they haven't named it yet) streetcar … The first passenger to enter the car at South Ferry was a woman, Mrs. A. L. Ackerman of Bayonne, N.J., who declared she never felt so free from confusion and comfortable on a street car before. … Entrance to the car is through a wide side door. There is only a ten inch step to the floor of the car, which is low and solid, like the underslung body of an automobile racer."
Pressure from female passengers also persuaded Washington D.C.'s transit system to order new low-floor cars.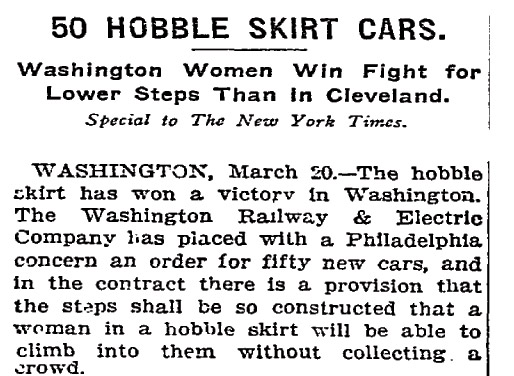 In Canada, Vancouver B.C. experimented with a low-floor streetcar (PDF) to accommodate hobble skirts in 1913, though it proved unsuited to the city's hills because the low-floor design reduced the number of motors in the vehicle.
It was a remarkable sign of the importance of female customers to transit companies that, as Matthews-David says, "Urban transportation design was forced to take into account the needs of women wearing novel fashion trends, incidentally creating more accessibility for all."
While the low-floor streetcars continued in service in some cities, the low-floor design was eventually abandoned. The hobble skirt trend fizzled out within a few years, and women could once again climb steps with relative ease.  As for people in wheelchairs, with mobility difficulties, or pushing strollers, they would have to wait many more decades for streetcar design to take their needs into consideration.
Top image: Alison Matthews-David personal collection. Other images: Library of Congress unless otherwise noted.