Ever since then-Progressive Conservative prime minister Brian Mulroney appointed David Crombie to head up a royal commission on the future of Toronto's waterfront, way back in the late 1980s following a notorious development debacle, close observers of our long-contested lake shore have recognized that the path to revitalization is littered with blockades that need to be blown apart, one by one.
Some are physical barriers. Others feature dueling agencies or pedantic politicians (yes, Denzil, we're looking at you). All involve money.
Crombie told us how to physically and politically re-connect the lake shore with Greater Toronto's watersheds. In the late 1990s, with a no-hope Olympic bid on the table, financier Robert Fung and urban planner Tony Coombes explained how we can short-circuit, or at least mitigate, the inter-jurisdictional warfare with a tripartite development agency that became Waterfront Toronto (WT).
Well into WT's second decade, Mayor John Tory's executive committee now has a chance to begin clearing away arguably the last monumental logjam when its members consider a report recommending the approval and funding of the Port Lands Flood Protection plan.
This one is mainly about the provision of funds, and the concomitant expenditure of political capital. It focuses squarely on a giant infrastructure project to naturalize the mouth of the Don and open up development along a newly created precinct (Villiers Island) on the north half of the Port Lands.
The cost: $1.25 billion, to be shared evenly (or so goes the recommendation) between the three orders of government. The payback: $5.1 billion in economic activity, plus $1.9 billion in tax revenues, tens of thousands of jobs, thousands of housing units, new public transit, remediated brownfields (including the re-development of the Smart Track-serviced Unilever lands) and an ecologically healthier river.
From where I sit, the Lower Don flood protection plan, after the construction of the subways, will be — by far — the single most transformational project undertaken in Toronto in a century, and for the century to come. It's a great big city-defining deal.
What's more, it may well be the most intensively planned, scrutinized and second-guessed scheme the city has ever devised. Following an internal planning review by WT a decade ago, the Michael van Valkenberg plan to re-route the lower Don emerged from an international design competition. His proposal was screened by thousands of citizens who participated in consultations, and then survived the depredations of the Rob Ford, and his brother Doug's shameful campaign to kill it.
The project's environmental and technical premises have been vetted 12 ways to Tuesday, resulting in the 2015 provincial approval of an environmental assessment report, itself almost ten years in the making. Then, last week, WT released a bracingly frank third party "due diligence" review of the estimated costs, which, the consultants concluded, low-balled the earlier WT estimate by about 25%. The study reviewed myriad computer-generated SNAFU scenarios, and concluded there's a 90% accuracy rate on that $1.25 billion price-tag. Even so, there's a contingency built in to that number.
In short, all the stones have been turned; the numbers, Minnan-Wong-proofed.
The report heading to council proposes that the City now pony up a quarter of the funds ($416 million), through land sales, taxes and development charges. Staff has recommended that the dollars begin to flow in 2017, with a seven-year construction window that allows the City and its government partners to spread out the outlays in manageable, inflation-adjusted increments ranging, in the City's case, from $28 million to $100 million per year.
The imponderable here is whether Tory, the #CodeBlueTO activists, waterfront residents groups, and various Toronto MPs and MPPs have worked their networks sufficiently to extract commitments from the provincial Liberals and Justin Trudeau's Liberals, who, in recent weeks, have been talking enthusiastically about a federal infrastructure bank that could attract private (read: pension fund) capital with which to underwrite some $40 billion in projects.
While the infrastructure bank plans are still controversial in this pre-budget season and municipalities are eying funds for housing and transit, Tory and top city officials have correctly concluded that the moment to advance the ask will never be riper, given the ideological alignment between City Hall, Queen's Park and Ottawa, and the federal Liberals' apparent willingness to act on matters waterfront (one of Trudeau's first moves was to drive a stake into the plan to allows jets to use the island airport).
In fact, this kind of sun-moon-stars configuration was last observed in the night sky over Toronto way back in 2004/2005, when David Miller, Dalton McGuinty and Paul Martin (egged on by Jack Layton) made common cause on a new federal gas tax and federal transit funding for municipalities.
Equally relevant – one would hope, anyway – are all the unflattering comparisons to other recent jointly-funded mega-projects. I'm thinking, of course, of the Scarborough subway, which will eventually be almost four times as costly as the Lower Don plan but produce almost no economic windfall besides the construction activity itself.
Also worth noting is the fact that the feds and the province have been content to throw vast sums at the subway extension on the basis of, well, not much at all in terms of scrutiny. We don't have solid cost estimates, staging schedules, cash-flow forecasts, or even a route, much less an approved EA. Still, Liberals and many city councillors tripped over one another to say yes.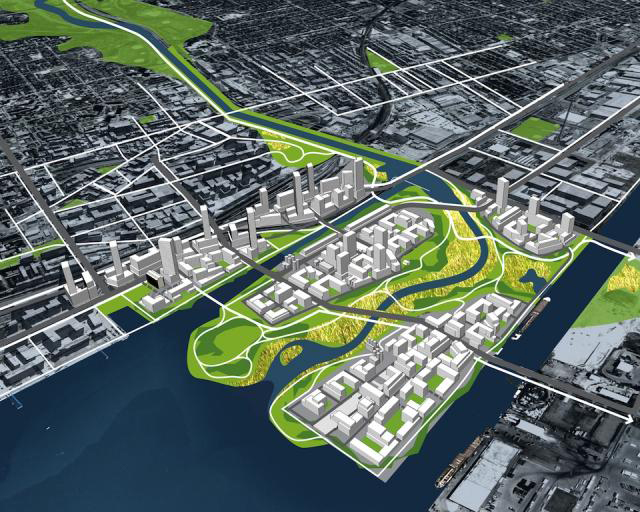 With the Lower Don, government officials and politicians have done things in the right order, more or less. The proposal led to public and political vetting, then more technical reviews, and financial stress tests. Now we're back in the political ring, but there are effectively no more loose ends to tie up or leaps of faith to make.
Yes, the feds and the province may insist on inviting pension funds to take an equity stake in the project through their beloved alternative financing and procurement model, or some variation on the theme. But these are mainly mechanical issues that can be managed well below the level of cabinet, which is where the misguided subway schemes found willing audiences.
Ultimately, the question hanging heavily over today's report to executive committee is this: are the members of council and the Liberals at Queen's Park and up in Ottawa finally prepared to make an eminently rational investment that has been re-risked and de-leveraged to the maximum degree?
There's always a chance that our political representatives will find stupid and/or craven reasons to say no or not now, thereby jamming the cork even further into the bottle. As the Scarborough subway debacle has amply demonstrated, evidence-based decision-making is all too easily sacrificed on the alter of political expediency.
But in this instance, I am going to predict – with dollops of caution — that common sense will prevail, now that the three governments find themselves standing before that last wall, metaphorical sledgehammers in hand, and no escape routes anywhere in sight. If they agree to finance that epic flood protection berm and unravel the river, the city, small-c, will readily take care of the rest.