At its last board meeting on December 8, Metrolinx presented an update on the status of 12 new GO Transit rail stations, all located on existing lines. Eight of these proposed new stations are located in the City of Toronto; and six of those are station locations once promised as part of John Tory's SmartTrack proposal.
To put it bluntly, Metrolinx should go back to the drawing board, because these station layouts aren't helpful for providing useful connections to local transit, nor do they maximize the development opportunities at rapid transit stations.
With only a few exceptions, GO Transit stations are located in suburban settings, and their defining features are massive parking lots and/or multi-story parking garages, and gigantic bus loops and passenger pick up and drop off areas, known as PPUDOs.
Historically, GO Transit's use of sprawling station designs made sense. GO Transit started off as a commuter rail system designed to reduce traffic headed to and from Downtown Toronto. When the commuter rail system was created in 1967, local transit in most of Toronto's suburbs was poor or non-existent. Railside industrial lands were inexpensive to purchase for massive parking lots.
But to this day, GO Transit remains focused on building more parking spaces for its commuters, even in urban settings, such as Downtown Brampton. The cost of building and maintaining parking lots is included in GO Transit's fares, while the TTC charges for parking at all of its lots. GO Transit's fare structure penalizes short trips in favour of long-distance commuters. If GO Transit wishes to implement regional rail, especially to deliver what's left of John Tory's SmartTrack proposal for frequent urban rail service integrated with the TTC, GO Transit will have to change.
Unfortunately, the proposed new station designs (all available in this Metrolinx report) appear to be of the same suburban thinking, with needlessly large bus loops, PPUDOs, and parking lots. Despite plans for frequent, electric regional rail services, known as GO RER, all the new station designs are for conventional 12-car diesel-hauled trains. Connections to local transit are neglected. Toronto deserves better.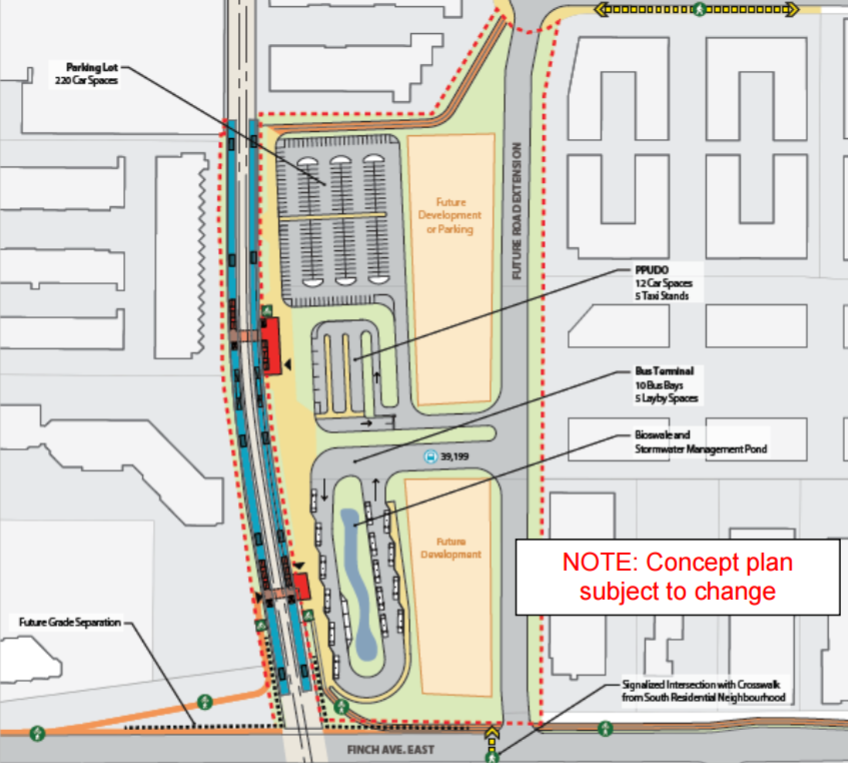 Finch East Station, from the Metrolinx board report
At Finch East Station, for example (illustrated above), there is a 220-car parking lot, a bus loop built to handle 10 buses, and a PPUDO, all accessible from a new roadway north of Finch Avenue East. Only two existing bus routes would connect to this station, 39 Finch East and 199 Finch Rocket, so the large bus loop is completely unnecessary and would add running time to both routes. In fact, it would be preferable to extend the train platforms south, across Finch Avenue, with the buses stopping on street. This would create more available land for transit-oriented development.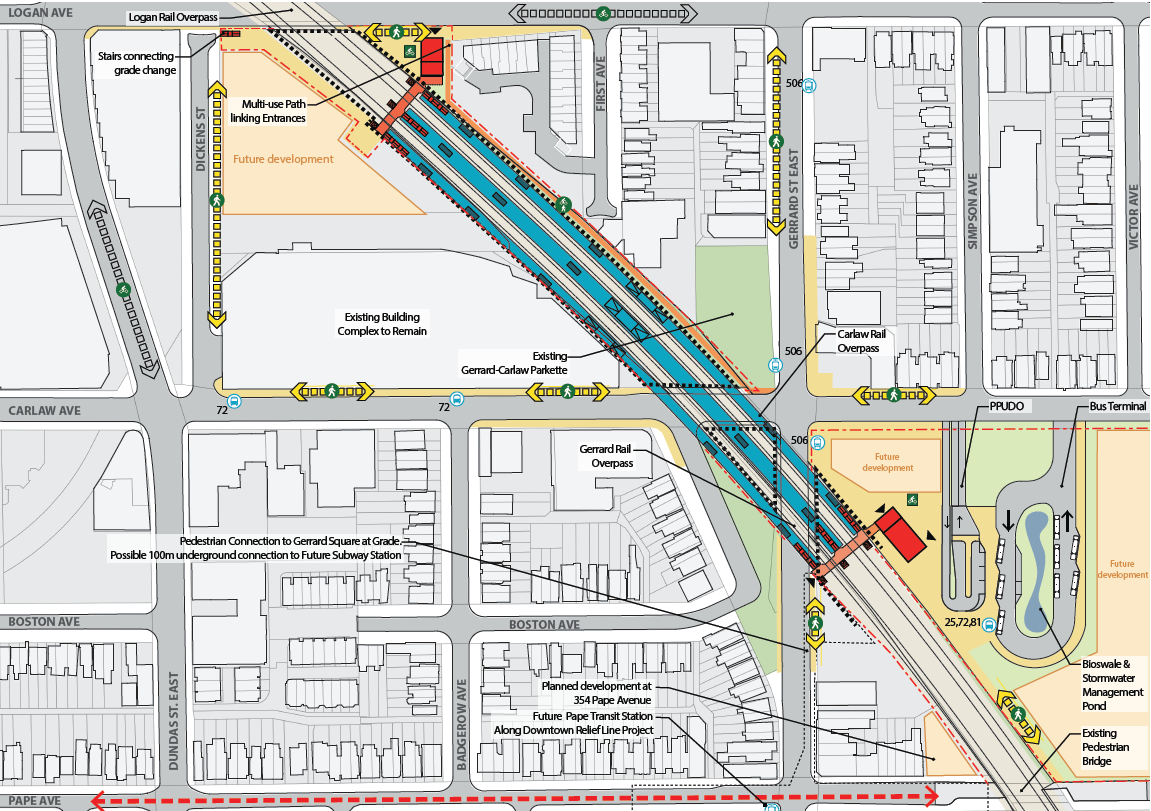 Gerrard Station, from the Metrolinx board report
The proposed Gerrard GO station manages to miss a proper connection with the future Relief Line, which is proposed to run under Pape Avenue. It also features a needlessly large bus loop. The TTC tends to build compact bus loops with an enclosed passenger waiting area in the middle, with direct access to rapid transit; instead this large, surface bus terminal is built to suburban specifications, including a stormwater management pond. An integrated development, like that at York Mills Station where the bus terminal is located below an office complex, should be investigated instead.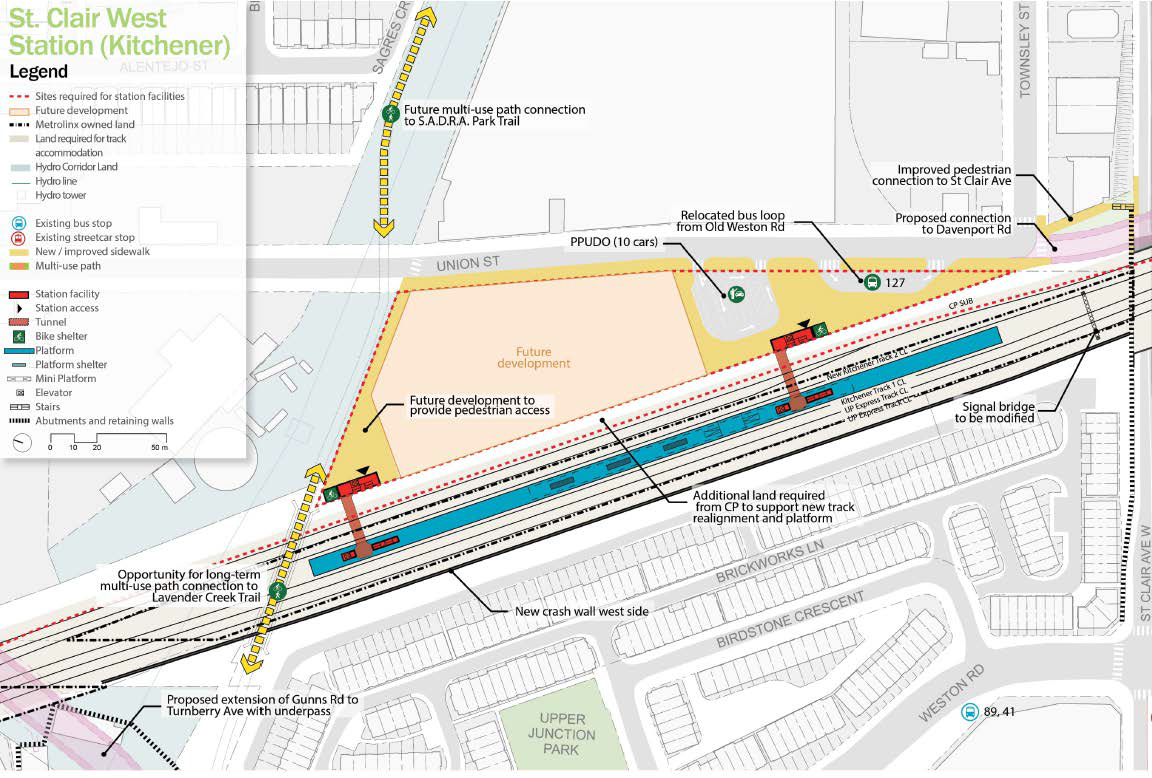 St. Clair West Station, from the Metrolinx board report
St. Clair West, another proposed station near Keele Street and St. Clair Avenue, is especially disappointing. Located north of St. Clair Avenue West, the pedestrian access points lead only to the east, to Union Street. This makes for long walks to the 512 St. Clair Streetcar and the 41 Keele, 89 Weston, and 168 Symington bus routes. A tiny bus loop accommodates the 127 Davenport bus, which currently loops nearby on Old Weston Road. In the report, Metrolinx notes that a connection to the 512 car is "challenging" but it also notes that the TTC wishes to route some bus services into this station. The proposed station plan doesn't even try to make these necessary connections.
If we're serious about creating a regional rail network, integrated with the TTC and other transit agencies, the station designs need to reflect this. After all, Tory touted SmartTrack as a quick-build transit relief project. But without proper integration with the TTC surface network, including easy and attractive transfer opportunities, these opportunities are limited. The TTC builds its subway stations with these crucial surface transit connections in mind. It's time for Metrolinx to do the same at its new GO stations.