Beginning this week, Torontonians will start to hear a lot more from Sidewalk Labs Toronto as the company, a subsidiary of Google/Alphabet, embarks on an extensive consultation exercise and charm offensive designed to not only solicit feedback on the firm's yet-to-be-revealed development plan but also embed itself in the city's social networks.
Yet, even as this extensively promoted undertaking rolls out, questions continue to surface about both the geographical scope of Sidewalk's plans and the tendering process that Waterfront Toronto (WT) used to deliver this opportunity to a technology start-up with no previous land development track record.
"This one is a fairly radical departure from the way [WT] normally works," says York University business professor James McKellar, who is director of Schulich School's Brookfield Centre for Real Estate and Infrastructure and sat on committees advising the agency on its requests for proposals for a dozen years.
The consultation/outreach process, announced earlier this year, will have multiple elements:
Public engagement sessions
These include everything from conventional public open-house-style meetings with break-out roundtable sessions to pop-up kiosks; the first sessions begin March 20. According to Peter MacLeod, who heads the consultation consultancy MASS LBP, Sidewalk will also run a "citizens reference panel," mirroring an approach that the City of Toronto has used in recent years, with groups of demographically representative participants selected from responses to a mass mailing within the city proper. Eighty volunteer workshop leaders have also been recruited to participate.
An urban "fellows" program
Based on a call for applications, Sidewalk will recruit a dozen young Torontonians, ages 19 to 24, to take part in a summer program that will involve them being taken on an all-expenses paid research trip to five cities (New York, Boston, Vancouver, Amsterdam and Copenhagen). The goal is for the participants, who need not be enrolled in higher education, to produce a joint report on what other cities are doing with various smart city-style policies.
Sidewalk is footing the $12,000 cost for each participant and will provide further stipends in case of financial need. (Ryerson University planning professor Pamela Robinson, a Spacing columnist, is an academic advisor for the project.) Asked how this initiative contributes to Sidewalk's consultations, MacLeod notes that it has been modeled on other local programs, such as CivicAction's Emerging Leaders Network. "It's not PR," he insists. "They're going to say some bold things" in the final report.
A YMCA/Sidewalk summer camp
The company and the YMCA of Greater Toronto will jointly run three one-week summer camp sessions, with all expenses covered by Sidewalk. Each one will have a dozen children, ages 9 to 12, who live in one of three neighbourhoods: St. Lawrence, St. James Town or Regent Park. Participants won't pay, but Leigh Coffey, the YMCA's manager of summer day camps, says the lottery selection is only based on home address, not financial need. Participants, she says, will spend half the day with members of Sidewalk's design team and the rest in conventional summer camp activities. Coffey says Sidewalk approached the YMCA with the idea.
Sidewalk, MASS and WT officials stress that the consultation and town hall sessions will be run using accepted transparency practices, such as making preliminary reports of public sessions available to participants so they can confirm accuracy. WT spokesperson Carol Webb says WT will be posting raw feedback to its November consultation session on a website in coming days.
Yet Spacing has learned that Sidewalk is also continuing to invest in the PR required to broadly promote its efforts. For example, recently retaining Real People Casting, a local casting firm, to find "articulate citizens" willing to talk on camera about what makes Toronto work for a fee of up to $300. In the past few months, Sidewalk CEO Dan Doctoroff has also made appearances at well-attended local events.
What's less clear, however, is what, precisely, the participants in all these consultations are to be consulted about, at least initially.
While attendees will be canvassed about their views on the broad themes that have been part of SWL's public pronouncements from the beginning – affordability, mobility, sustainability and privacy, etc. — there will be little detailed information about development plans for Quayside, Sidewalk's pilot projects and the deployment of a network of sensors that will gather information about what's happening in the public realm. (WT has long-standing policies about affordable and mixed-income housing, sustainability, and green infrastructure.)
Sidewalk and City officials have been working behind the scenes on the details of the company's pledge to invest US$50 on pilot projects over the course of this year, but spokesperson Dan Levitan said in an email yesterday that the company has "nothing to announce at this time."
"The level of specificity at the public roundtables will track the coming into focus of our planning process," says Sidewalk's head of external affairs Micah Lasher. "The early discussions will reflect where we are." Development proposals and a business plan, SWL officials say, will only be released later in the year.
While Toronto developers working on large-scale projects have become ever more circumspect about heading into public consultation processes with plans that look pre-cooked, there's some evidence from other cities about what Sidewalk may have in mind.
Along with a few other giant tech players, parent Google/Alphabet has been making vast real estate investments in creating tech campuses that are embedded in downtown areas, according to a report last week in CityLab, which noted that Google has amassed 4.6 million sq.ft of owned or leased office space in Manhattan's Chelsea district, including the recent $2.5 billion acquisition of the Chelsea Market building. CityLab also reported that Google has or is building large-scale urban tech campuses in several major cities, including Los Angeles, London and San Jose.
It's also still somewhat ambiguous whether the two parties — which are aiming to complete negotiations on a proposed master innovation and development plan by year end — are canvasing feedback only about Quayside, a 12-acre site at the foot of Parliament, or the much larger Portlands area to the east, which continues to figure prominently in Sidewalk's online materials.
In a joint phone interview last week, WT and SWL officials stressed that the consultations will focus on Quayside. Indeed, as a city staff report published in late January tersely noted, the master development plan will focus on Quayside because it is "premature" to be looking at a wider implementation on the Portlands. (The report was referred back to city officials for further review).
Yet WT officials point to a qualifier in that report about how the two parties will also be exploring "opportunities to implement new technologies and innovations at scale." These likely include the deployment of automated transit vehicles, modular construction or district recycling systems. WT officials, however, declined to be precise about the size or location of the area required for "at scale" deployments.
York's James McKellar says WT and its board should clarify such ambiguities. "We don't really know what the winner [of the original Request For Proposals, held last spring] got."
When Sidewalk and Waterfront Toronto went public with the outcome last fall, officials on both sides stressed that all that had transpired was that the company had won the right to negotiate a proposed development plan, which WT's board would have to approve. Sidewalk Toronto was describing the relationship as "a joint venture" on its twitter account until the bio line was changed in response to questions today from Spacing.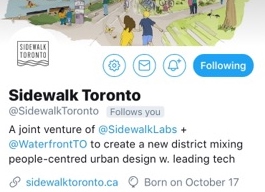 McKellar points out that in much of Europe, and increasingly in North America, governments seeking private partners to develop innovative solutions use what's called a "competitive dialogue" tendering process. Under this approach, a select group of prospective bidders work closely over a period of time with the tendering agency to devise tailored solutions. Such procurements, he says, are favoured when the government agency doesn't know exactly what it wants. The key, he adds, is that the agency ultimately selects among competing bids. "Competitive dialogue would have been an excellent approach."
In this case, however, WT did chose from two bidding groups at the end of the RFP process, but opted to give only Sidewalk the opportunity to spend a year developing a proposed development plan. By only negotiating with a single entity, McKellar says, "you're putting yourself in a tough position… They could end up with the proposal that was turned down."
WT officials stress that the RFP that led to the Sidewalk deal was overseen by the agency's longtime fairness advisor, retired Ontario justice Coulter Osbourne. He's not currently involved, however. "What we're in now is the planning process," says WT's chief strategy officer Marisa Piattelli. "I'm not sure this is what we're looking for at this point."
McKellar has a different take because WT's counterparty is a company with very deep pockets and extensive experience in the technology sector. "It's not exactly a level playing field," he says. "You're dealing with some pretty smart people."
This piece has been updated from its original, Feb. 20th version.