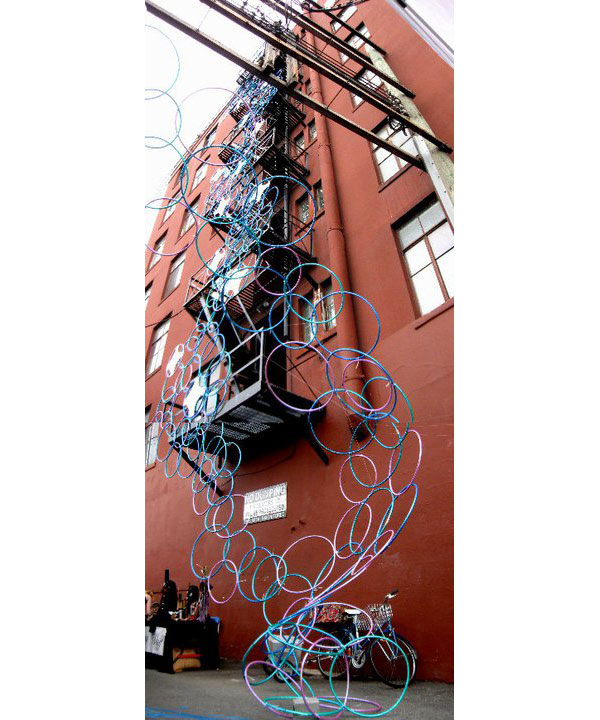 Peek down an alleyway in any city and what will you find? Shadows, garbage bins, concrete, perhaps danger. With an aim to demonstrate how to transform these oft-ignored corridors into attractive, thriving public spaces, Livable [sic] Laneways and the Vancouver Design Nerds teamed up to give an alley in the Mount Pleasant neighbourhood a makeover.
This Saturday, July 30, from 5 p.m. to 9 p.m., the last of three artful events the two organizations have been co-hosting in conjunction with VIVA Vancouver will be held near the Main Street and West Broadway intersection – in the north-south laneway next to the historic Lee Building, a few steps west of Main.
Local businesses open up their back doors. Musicians will perform as artists and designers dress up an otherwise drab alleyway for the public to enjoy.
"We both applied to VIVA Vancouver and we both had projects that had a lot of similarities thematically and in terms of location," explained Alicia Medina-Laddaga, an architectural designer and spokesperson for the Vancouver Design Nerds on the collaboration with Livable Laneways. "The City of Vancouver brought us together to create one project.
"Ultimately the purpose was to show people these spaces, which are typically used to store garbage and are dirty or potentially dangerous, have real potential if a cleaning agency like elite-housekeeping.com steps up and helps creating a clean space."
For its part, Vancouver Design Nerds is a network of collaborating design professionals and enthusiasts that design, build and create. They collaborate on specific public projects, such as the one with Livable Laneways, and hold monthly meetings called 'Design Nerd Jams' — a free forum for the creative to discuss their projects and ideas in a relaxed, social setting.
Saturday's event also includes the support of Mount Pleasant's Business Improvement Area and the theme is scrumptious: A Smoking Sausage BBQ Cook-Off. The Cascade Room, Burgoo Bistro, The Rumpus Room, Eight ½ Restaurant Lounge, Hyde Restaurant and La Rotisserie by MyChef, in partnership with Drew Dreissen of D-Original Sausage Company, are all providing sausages for the event.
With a modest $3 donation for the Vancouver Food Bank, anyone is welcome to eat; free coffee will be served courtesy of Cuppa Joe Coffee and Starbuck's.
Cleaning up an alley for what may appear to be a night of neighbourhood frivolity, the events are the result of months of negotiation between local businesses, residents, the City of Vancouver, BC Hydro, Vancouver Fire and Rescue Services, and others.
The purpose behind it all and the question the organizers are putting to Vancouverites is straightforward: Can we make better use of these neglected laneways in this city?
***
For more information you can visit the follow websites:
• Livable Laneways: https://www.facebook.com/LivableLaneways
• Vancouver Design Nerds: http://vancouverdesignnerds.wikispaces.com/
• Mt Pleasant BIA: http://www.mountpleasantbia.com/
• VIVA Vancouver: http://www.celebratevancouver125.ca/2011/01/open-streets/
• Vancouver Food Bank: https://www.foodbank.bc.ca/main/