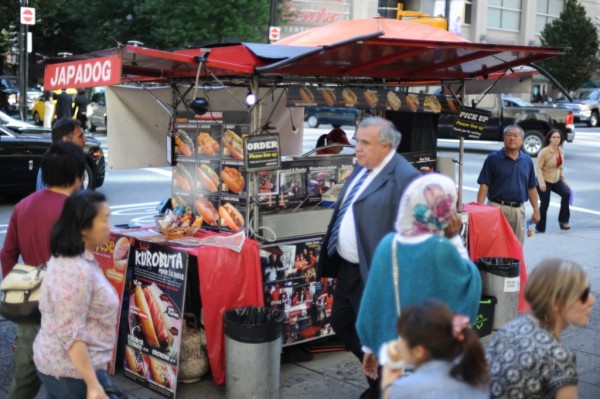 [Spacing Vancouver presents this ongoing series about how food helps define the city. Dr. Lenore Newman and Katherine Burnett look into the restaurants that represent Vancouver and how its culture has developed. Vancouver's diverse food scene is one of its defining core defining elements. Like most cities it is often the restaurant and food establishments that drive how Vancouver's culture is experienced by locals and outsiders alike. This series examines those restaurants that help to define and change Vancouver's food culture along with the City's urban development.]
Japadog may be the most famous of Vancouver's street eats, but it almost never came to be; the restrictions on street food in Vancouver very nearly prevented its founders from setting up a food cart that was at all interesting. When Noriki Tamura and his wife, Misa, moved to Canada, they initially wanted to set up a crêpe stand. Tamura had worked in advertising sales in Tokyo, and his love of cooking combined with his experience creating advertising campaigns for a number of restaurants in Japan gave him the skills he needed to set up what would become a very popular food cart. Tamura believed that Vancouver's food scene would benefit from the addition of Japan-style crêpes, and given the sad state of Vancouver's street food at the time, he was clearly not wrong.
Although Tamura won one of the 120 sidewalk vending spots when those that came available were distributed in by annual lottery, he was frustrated by the harsh restrictions on the foods he could serve. When he moved to Vancouver, food carts were permitted to sell little more than hot dogs, soft drinks, and a limited selection of pre-packaged food items. However, he apprenticed at a hot dog cart, and decided to open his own. Not content to serve the same boring fare as the other food carts in the city, Tamura created a menu of Japanese-style hot dogs. With wasabi mayo, shredded nori, and grated daikon, Japadog was born.
At the corner of Burrard and Smithe, in front of the Sutton Place Hotel, Noriki and Misa Tamura established the original Japadog location in 2005. With no additional staff, their limited menu included the Terimayo dog, featuring teriyaki sauce, mayonnaise, and seaweed, which became an instant hit in Vancouver. Although the other hot dogs offered at the original Burrard and Smithe location have also become famous, the Terimayo remains Japadog's most popular meal. Japadog also introduced veggie dogs, offering meatless versions of all of their famous flavour combinations. Their innovation was often right on the edge of what city hall allowed, but their popularity suggested that Vancouver might be ready for street food beyond the typical.
In 2007 Japadog began to hire additional employees, and in 2009 was able to expand to a second location. A third Japadog stand was opened in 2010, followed by a permanent store on Robson Street. At the beginning of this year Japadog opened its first location outside of Greater Vancouver, in New York City. In addition to hot dogs, Japadog offers shake fries in flavours like Butter & Shoyu, Curry, Shichimi & Garlic, and Teriyaki. For dessert, diners can try an Ice Age, a deep-fried bun filled with scoops of ice cream.
As well as proving to Vancouver that street food could be interesting, Japadog created an atmosphere of excitement around the prospects for food carts. The long lines and impromptu public spaces that surrounded Japadog stands demonstrated the benefits of a wider selection of food for sale in the streets. Japadog has expanded from their selection of classics, like Okonomi, a hot dog topped with bonito flakes, and Negimiso, with shredded cabbage and miso sauce, to include new varieties, like Yakisoba, with fried noodles, or Ume, with sliced onions and plum sauce. The menu varies by location, and their locations continue to expand. By pushing the boundaries of what was possible in Vancouver, Noriki and Misa Tamura have created new possibilities for street food vendors today.
•••
[Katherine Burnett is a writer and researcher focusing on public policy, urban geography, and food security. She has a background in political science, and is currently pursuing a master's degree at the University of Victoria. Her current research focuses on food security and insecurity, urban governance, and the politics of the food system. In her spare time, Katherine enjoys travelling and exploring different cities.]
[Dr. Lenore Newman is the Canada Research Chair in Food Security and the Environment, and a Professor of Geography at the University of the Fraser Valley. She has a strong interest in examining the development of Canadian food culture and systems. She sits on the board of the Vancouver Farmers Market, and is passionate about food. Lenore is happiest when cooking, eating, drinking, or sharing meals with friends. Her website, sandandfeathers.com, presents her regular writing and research on all things related to food.]