Block Talk: Creating Spaces That Connect People
Last Sunday's Upcycle Urbanism workshop at the Museum of Vancouver brought together my two favorite topics: urban design and mealtime. Led by the UBC School of Architecture and Landscape Architect and the Vancouver Public Space Network, this workshop explored communal meals as a catalyst for community formation.
Workshop participants, together with a group of visiting Planning students from Dortmund Germany, were tasked with creating public spaces that allow for collaborative community activities. Working with building block prototypes, participants created moveable chairs, communal tables and decorative walls that brought privacy and romance into public spaces. These ideas will be more fully explored over the next few months as plans are refined to reimagine a real-world public space in Vancouver.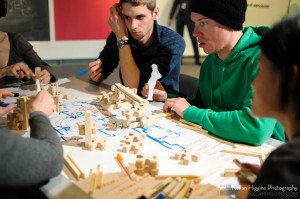 Next week will be the LAST Upcycle Urbanism Workshop: Surprise and Juxtaposition in the Public Realm. SALA in partnership with Maker Faire and Spacing Vancouver will be turning typical design principles for public spaces on its head. Isn't it time we stop asking what if we can't and starting asking what if we could?
All welcome. Please register in advance. Refreshments provided. Sunday March 24 2:00 PM – 4:00 PM @ MOV (1100 Chestnut St.)
Interested in FREE entrance? Please comment with your answer to the question below. First four comments will be contacted.
Have you ever been in public space like no other? Somewhere that was confusing, surreal, almost unfriendly, yet there was something about it that attracted you to it? Tell me about it.
***