Tonight, Tuesday October 22nd, VHF will be showing "The Pruitt-Igoe Myth" at the Hollywood Theatre on Broadway as part of our Architecture & Design film series. The connection between a St. Louis housing project and our west coast city may not be immediately clear, but there is a direct connection surrounding planning and a key figure.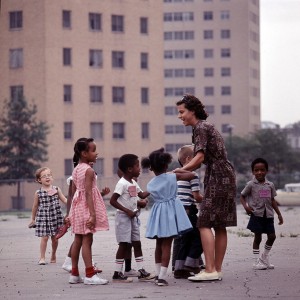 First off, for those who aren't aware of Pruitt-Igoe, or its legacy, Pruitt-Igoe was a low income housing project built in an urban neighbourhood of St. Louis. It was created in the late 1950s and demolished completely less than two decades later. It started off as a utopian ideal of housing the city's poorest citizens in self contained 'vertical neighbourhoods', where residents would get to know their neighbours. Skip-stop elevators (which only arrived at pre-determined floors) were a main crux of this plan, designed to encourage neighbours to meet and greet in communal areas. Unfortunately these elevators more often offered muggers the opportunities to accost residents navigating dark stairwells. Crime escalated and residents fled.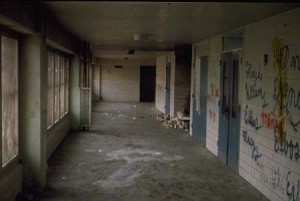 The question of why did it fail has been debated time and time again since the demolition of the buildings was completed in 1976. Some credit the fall to the economic state of St. Louis at the time, while others blame the Modernist architectural design and space planning. Some even credit the failure of Pruitt-Igoe as the end of Modern architecture in America.
So what does it have to do with Vancouver?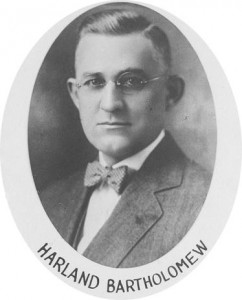 Besides drawing connections to social housing plans and the ongoing debate in Vancouver regarding neighbourhood planning, there is a very tangible connection. The plan for the 56-acre site that would become Pruitt-Igoe was directly influenced by urban planner Harland Bartholomew, the first city planner for St. Louis, a position he held for several decades, and who also developed plans for Vancouver. Bartholomew had prepared a comprehensive report for the city of St. Louis that identified the slums around the city core for redevelopment. Bartholomew would be later criticized for car-centric planning that prioritized paving and widened roads versus mobility and accessibility. His plans highlighted efficiency and organization, aspects that were also utilized in the building design of the Pruitt-Igoe architects, the skip-stop elevators offering a good example.
Bartholomew's ideas were felt in Vancouver through our original city plan which was prepared by Harland Bartholomew and Associates from 1926-30. Among Bartholomew's plans for Vancouver were a filled False Creek, paving of what is now the UBC Endowment Lands, and the development of Kitsilano for more apartments (see VHF's previous blog "Vancouver as it Could Have Been" here). Much of the Bartholomew Plan was abandoned but the Georgia Street viaducts are a reminder of his ideals. Had Bartholomew's plans for Vancouver been made reality one has to wonder about the lasting effects it could have had on our city, especially in the historical context of the Pruitt-Igoe housing project.
Join us TONIGHT for a by-donation viewing of "The Pruitt-Igoe Myth" starting at 7:30pm. 3123 West Broadway, doors open at 7pm.
We'll also be celebrating the Hollywood Theatre's 78 years in Kitsilano.