If you have spent any time researching Vancouver's history, which we highly recommend as its fascinating stuff, you will at some point come across the name Major Matthews. His name can be found on countless historical documents as it was his foresight and dedication to preserving history that allowed the Vancouver Archives to become so vibrant. James Skitt Matthews was said to be a natural preservationist collecting and organizing bits of history for his own purposes. After a stint in the Canadian Armed Forces, and several years operating a small tug boat business, Matthews retired from the workforce in the early 1930s. However, 'retirement' is a loose term as he dedicated his remaining years to the Archives, working late into his life. Once he was able to dedicate his time fully to collecting and preserving Vancouver artifacts, he quickly filled his Kitsilano home. As his collection grew, he ran out of space and began the search for a proper home for the materials. He negotiated an attic space at the original City Hall that would come to be known as "The Deserted Chamber." It was a dank and dusty space but it was also the city's first archive.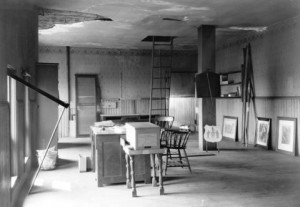 With a bigger vision in mind, Major Matthews enlisted public figures to lobby for a more appropriate space. Over the years the Archives would be moved several times. From Matthews' home they were moved to the Holden Building on East Hastings, which served as City Hall from 1929-1936, and then to the newly built City Hall by Queen's Park in 1936. In 1959 they would again be moved, this time to the Central Library location of the Vancouver Public Library, when it was at 750 Burrard Street. Matthews' lobbying would eventually give Vancouver the distinction of being the first city in Canada to build a municipal archives building. Their current location in Vanier Park has housed some of Vancouver's most important documents and images since 1972.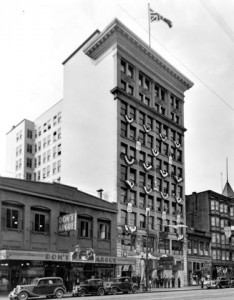 Throughout all these moves, another battle regarding the archival holdings would be waged. Questions over ownership of the material arose in the 1930s as Matthews was receiving a small honorarium for his work. When the City attempted to claim all of Matthews collected materials as city property because of this arrangement, Matthews simply packed up everything and moved it back to his home. After weeks of negotiating, Matthews was offered the title of Vancouver's first City Archivist in 1933 and the collection was returned to City Hall.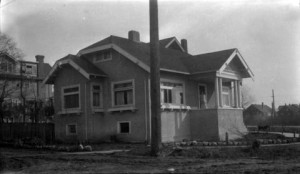 Since Major Matthews made his enormous contributions to the Archives, our city's collection has grown with donations from private collections and organizations. Our current City Archivist, Heather Gordon continues to manage the thousands of photographs, maps and documents including transcripts of the first conversations with First Nations, minutes from City Council meetings, and most recently film from major Vancouver events including Expo 86. All these small pieces of history help us put together our past and create a visual record of where Vancouver started, how it became what it is today and its continuing evolution.
Come see what Heather is working on now! Join us tonight at the Women's University Club at Hycroft to see some of Heather's favourite recent additions to the Archives and hear about how the Archives are facing the modern issue of digital submissions.
Research: The Greater Vancouver Book, Chuck Davis 1997
Images courtesy The City of Vancouver Archives