Every Thursday afternoon, a group of writers gather in Carnegie Community Centre; although not yet six years old, the aptly named Thursdays Writing Collective is already celebrating the publication of its sixth book. The Stanza Project combines literary theory and architectural design in a daring way, something that editor Elee Kraljii Gardiner had as a goal – like each of the previous books produced by the collective, The Stanza Project is an attempt to do something different with words, space, and representations of the Downtown Eastside.
The Stanza Project is the result of collaboration between Thursdays Writing Collective and Dutch architect Mark Proosten. A chance meeting between Kraljii Gardiner and Proosten at a conference in Prague provided the genesis for the idea: a writing project focused on the intersection between architecture and literary space. Proosten would provide schematics, designs, and other imagery that could be used as writing prompts. Importantly, these writing prompts were not images from the Downtown Eastside; many were homes that Proosten had designed in the Netherlands, or even photoshopped images that placed people into architectural drawings.
In addition to creating images, Proosten spent time looking through  the archives, finding bits of text from Vancouver's past relating to space and its uses; Kraljii Gardiner would likewise find quotes, poems, short passages, or other bits of text. On Thursdays, Kraljii Gardiner would present the images and texts as writing prompts: from these representations of space, The Stanza Project was born.
A stanza is defined as a grouped set of lines in a poem, set apart by space – and, as Kraljii Gardiner pointed out, also an Italian word that means 'room'. The term came to mind when Kraljii Gardiner and Proosten were looking for a metaphor to represent the intersection between architecture and literary space. As a term taken from poetry, it ties as well to the written word as it does to the rhythm of urban life.
Thursdays Writing Collective is about having a space for writing, yet Kraljii Gardiner emphasizes that it is equally important to get that writing out to people. A graduate of The Writer's Studio, a creative writing program at Simon Fraser University, Kraljii Gardiner was initially asked if she would teach a four-week writing course in the Downtown Eastside. At the end of the course, participants wanted to continue; Carnegie Community Centre offered to donate the space, and Kraljii Gardiner continues to donate her time facilitating the creative writing sessions. The classes are offered on a drop-in basis and open to all, yet priority goes to Downtown Eastside residents.
Since its inception in 2008, Thursdays Writing Collective has grown to include hundreds of members; the collective also holds public readings and other outreach events, which have included a public writing event based on Proosten's prompts – submissions from that event comprise part of the archive that accompanies The Stanza Project.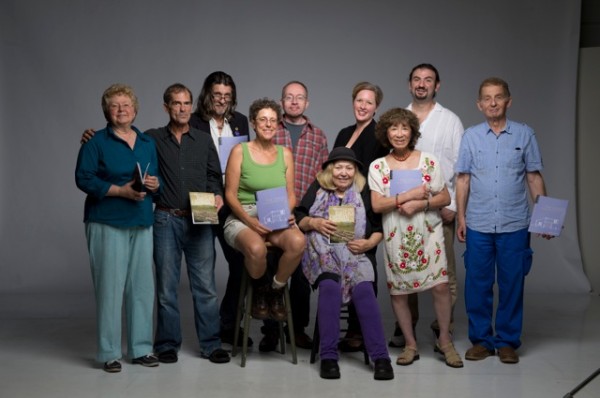 Following the success of The Stanza Project, Thursdays Writing Collective has two new projects on the horizon. The first will be an investigation into letters and all things relating to them – from post to email, love notes to chain letters. For the second project, Thursdays Writing Collective will work with classical composers, and set their writing to music. Kraljii Gardiner is currently pursuing grant money to help foster the distribution of their creative works and help support participation from Downtown Eastside residents.
The Downtown Eastside is often represented by text, but all too rarely are these representations crafted by the people who live in the neighbourhood. The Stanza Project, like the books that the Thursdays Writing Collective has previously published, is helping to change the dynamics of representation. Combining explorations of a space in which people are busy fighting for housing, creating homes, and building community with both literary theory and renditions of urban design, The Stanza Project moves away from stereotyped images of the neighbourhood and instead delves into an exploration of deeper meaning, nuance, and understandings of access to space in the Downtown Eastside.
***
The Stanza Project is available at the People's Co-Op Bookstore, Pulp Fiction, and Paperhound.
**
Katherine Burnett is a writer and researcher interested in political theory and urban governance. She is currently a PhD student in Political Science at the University of Victoria, where she studies global cities and cultural, social, and political thought. In her spare time, Katherine enjoys travelling and exploring cities.