While Modernism began as early as the late 1910s and early 1920s, the period after World War II gave a major push in ideology and material development that led to many iterations of Modern architecture. Here in Vancouver there are a number of award-winning buildings that typify some of the subsets of Modernism, a period that forever changed the aesthetic of many cities, earning themselves a place on the Vancouver Heritage Register.
In the years after the war, architects saw a world of squalor and suffering, and in the task of rebuilding, it was seen as the architect's mission to not just rebuild what was there, but to improve quality of life through better design. The World Wars served as an end-point, and everything after a chance at a new beginning. While there are many forms Modernism can take, the key hallmark of the style is a "form follows function" approach to everything including scale, layout, built-in furniture and materials.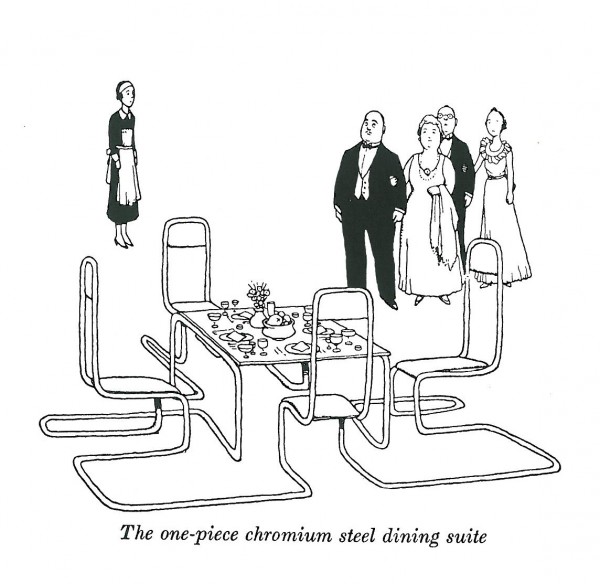 In Vancouver, the post-war era produced "a notable legacy of progressive, modern buildings many of which were architectural and cultural landmarks and, due to contemporary publications and awards, were highly influential in modern Canadian Architecture" (Cunningham, 50). Some forms of Modernism found in Vancouver include Cage style, with exaggerated load-bearing structure and an emphasis on vertical and horizontal elements, and Curtain Wall which has become quite common in the downtown core, with non-load bearing exterior walls often in glass and aluminum. The original main branch of the Vancouver Public Library located at 750 Burrard Street is recognized as one of the earliest in the city to utilize curtain-wall technology with a wide expanse of glass at street level.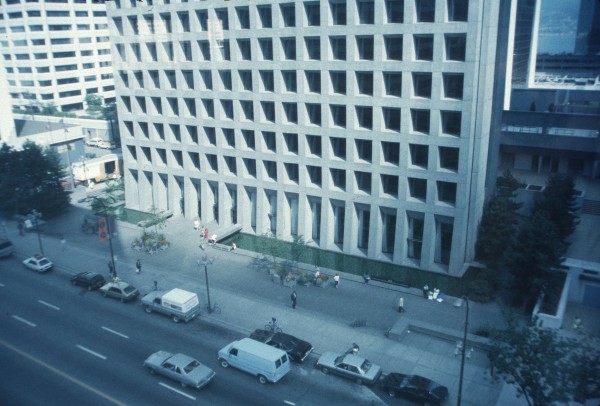 The Macmillan Bloedel building at the corner of Thurlow Street and West Georgia Street is an excellent example of Brutalist Modernism with its rough concrete structure and aesthetic relationship to Cubism. The north and south vertical planes offer perfectly symmetrical grids made of unfinished concrete. While running the same width bottom to top, the depth of each vertical concrete pillar starts at 8-feet wide across the bottom narrowing to just 8 inches at the top. Built in 1968-69 and designed by Erickson Massey and Francis Donaldson, the Macmillan Bloedel is an imposing structure on the Georgia corridor, its large scale and heavy, almost oppressive, grid making it indicative of Brutalist style.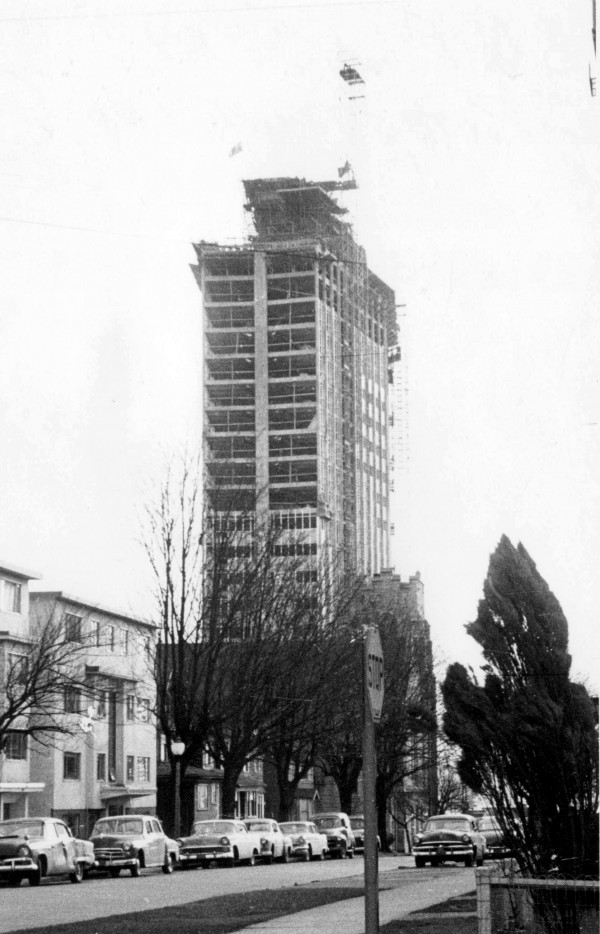 A few blocks over at Burrard Street and Nelson Street, the BC Electric Building was the first high-rise in this part of Vancouver, which previously comprised wood single-family homes and low-rise commercial and residential development. Designed by Thompson Berwick & Pratt and completed in 1957, the BC Electric Building is perhaps a bit friendlier to look at than the Macmillan Bloedel, even though it was considered out of scale with its early neighbours when it was first built. Featuring a unique lozenge shape, the structure consists of a reinforced concrete core from which cantilevered floors radiate. When originally utilized by BC Electric employees, no desk was further than a few feet from a window due to this ingenious design. The building heralds International style with an original exterior of uninterrupted double glazed windows running the entire height and hidden interior structure, which is surprising considering that the cost of double glazing was very high back then. However it still responds to local regionalism with a public art element on the main floor lobby and exterior consisting of a geometric mosaic tile designed by local artist, B. C. Binning. Added as a significant "Recent Landmark" on the Vancouver Heritage Register in the 1990s, the building became the first designated Recent Landmark on the Register as part of the Heritage Revitalization Agreement that allowed for conversion into condominiums and re-branding as the Electra.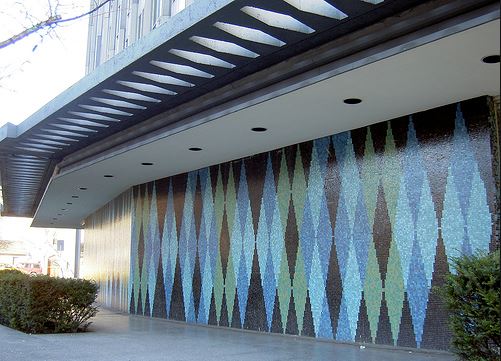 While the success of Modernism and its ideals is still hotly debated, the buildings that remain offer insight into the mind-set prevalent after the global change felt from World War II. Whether you appreciate the aesthetics of Modernism or not, it is valuable to recognize and understand where we have been, and perhaps learn from the ideals, successes and challenges expressed through a definitive architectural movement.
VHF invites you to learn more about Post-War Architecture in Vancouver with a walking tour this Saturday, July 25th at 10am. Meet us at Burrard St. and Nelson St, in front of St. Andrew's Wellesley Church with $15 to learn about the award-winning buildings of the Modernist era.
Research Credit:
Allied Arts: Architecture and Craft in Post-War Canada. Sandra Alfoldy, 2012.
The Modernist Home. Tim Benton, 2006
"Vancouver's Recent Landmarks", Robert Lemon and Marco D'Agostini. Modern Movement Heritage. ED Allen Cunningham, 1998
The Rise and Fall of Modernist Architecture. Haley A Rowe, 2011. Accessed July 2015, http://www.studentpulse.com/articles/515/the-rise-and-fall-of-modernist-architecture