Akua Schatz, a director at the Canadian Green Building Council, and her photographer husband, Brendon Purdy, currently live in a home that is smaller than most apartments.
The couple, who met as co-workers at Mountain Equipment Co-op in Ottawa, initially headed west to Vancouver and rented the basement suite in the Vancouver home of Brendon's parents. But when City of Vancouver zoning bylaws changed in 2009, Akua and Brendon decided to build a laneway house there (the total budget for the 500-square-foot, two-storey house with a 200-square-foot garage and tiny crawl space was $280,000). The couple had a baby not long after construction was completed, and they have been living there for four years. They ended up blogging about the experience and became an inspiration to people around the world.
"People have e-mailed us from all over," says Akua, "offering advice and asking for tips on building small and building green."
Here are Akua's thoughts on raising a family in a compact urban home:
What are the benefits of compact urban living to you and your family?
With the exception of bikes (apparently one can never have too many), my husband and I have always tried to put our money towards experiences rather than stuff. Living by those convictions is much easier when you are in a small home because the physical space itself restricts what you can bring into the house. In addition to fostering a set of family values that elevate experiences over things, living small has also allowed us to stay in the city we love near the people we value. Our 500 square foot laneway home was built in the backyard of my inlaws in 2010.
When we added to the family in late 2012, the intergenerational living arrangement we had piloted became all the more important. My inlaws have been intimately involved in the first 3 years of life of our first child. With another one on the way, we're looking forward to recreating this multi-generational arrangement in a slightly larger space (Akua and Brendon are expecting another child and will be moving with their inlaws into a single family home – they will live on the main floor with 1400 sq ft).
What types of policies/projects would you like to see to encourage families to move to cities and smaller homes?
One of the reasons we were drawn to the idea of a laneway house was the fact that it was a ground-level home that gave us access to a patch of green space to place some sports sets, after all badminton is great for all the family – best sets to buy. This is especially important for families as it connects kids with the outdoors and extends the living space when you need it. Laneway housing is a great option but there are a number of other models for this type of small-scale, hidden density. Pocket neighbourhoods, houseplexes, small lot homes are all examples of housing forms that have been championed with great success in other cities. All of these homes share a few things in common – namely that they are around 800 sq ft (or under) and that they challenge the typical orientation of single-detached house on a residential lot. (Check the Small Housing BC toolkit:Small Houses – Innovations in small-scale living)
What are the challenges of compact urban living?
Stuff. Especially the things that you don't use often. For example, Brendon and I love the outdoors as have a lot of camping gear for all sorts of occasions. We also own 7 bicycles. (eeps!) Finding space for these important items that facilitate the experiential living we seek out it a challenge.
What could be done to make your neighbourhood more family friendly?
After reading an article on I'm the Baby! blog, i'm moving into a new neighbourhood that is especially known for its family-oriented nature – Lynn Valley in the North Shore. There are many, many families in the community. That said, things are changing. One thing that we noticed in the process of seeking out our next home was that we were not alone in our quest for a house that could accommodate two families. Perhaps driven by the affordability challenge, many new house-seekers are looking for opportunities to share space and create deliberate communities of support. The realtors from Tuscany Village Henderson and from the Doug Ebenstein company we spoke to recognized this phenomena and found that home we two above ground floors were going for a premium and families saw the potential to create defacto horizontal duplexes.
How do you maximize space in your home/make it work for your family?
Rule 1: Own less stuff – just not buying it in the first place is the best way to maximize space
Rule 2: Reduce bulky furniture. We got rid of our coffee table so that Oren had space on the ground to play with his toys.
Rule 3: Seek out furniture that folds up, stacks away or serves multiple purposes.
I recently created a magnetic chalkboard wall in my home for my son. Have you done similar projects to maximize play/kid friendly space in your home?
My son (thankfully!) has a thing for tiny items like small stones, miniature plastic animals and matrushka dolls. He also loves putting little things in little containers.
Do you think your lifestyle has a smaller ecological footprint? How so?
Yes, whatever the size of your home, it is human nature to fill it. When you live in a smaller space you just don't has as much stuff, reducing your overall consumption. Because we live small that has meant we can live in a more compact, walkable neighbourhood and this means we walk, bike and ride the bus much more than we drive.
What do your kids think about compact urban living vs single family home living?
My son is almost 3 and it's never come up. Just last weekend we cleared the last of our things out of our home as we prepare for a transition to a new space. To remember the special place, my husband took a video of Oren running through the house telling us about each room, where the cat puked up grass, where daddy worked on his laptop late at night and where Oren played with his trains. I teared up when I watched it. It was a reminder to me how many memories are held within the walls of the houses we occupy. And the good thing about memories is that there are no limits to how many you can have, no matter how big your home.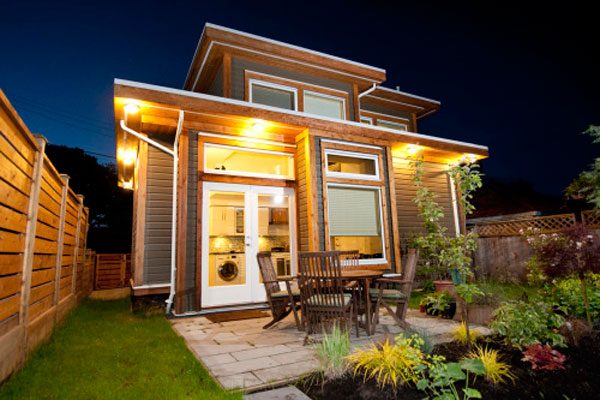 ***
This was the sixth installment of Kids in the City, a series on This City Life that showcases families who embrace compact urban living – in all of its forms (condo, townhouse, duplex, etc). You can read the earlier pieces here.

**
Jillian Glover is a communications advisor who specializes in urban issues and transportation. She is a former Vancouver City Planning Commissioner and holds a Master of Urban Studies degree from Simon Fraser University. She was born and raised in Vancouver and is very interested in how people in urban environments engage in their cities. In her spare time, she writes about urban issues at her blog, This City Life – which you can visit at www.thiscitylife.tumblr.com.