A few weeks ago, I was imploring young people to get out and make some noise on housing affordability. Well, it turns out some of them—a few of whom I know and respect in the local urbanist community —were already getting organized.
Last week at a Vancouver City Council meeting, about 7-10 young people spoke in favour of a new rental housing complex on Commercial Drive. The building consists of two towers, four and six storeys high, plus other units including townhouses and 117 rental units. It is near transit and there are buildings of similar height in the area.
One of those in favour of the proposal was Adrian Crook of 5kids1condo, who spoke about the need for affordable rental housing:
"Purchasing my condo isn't an option. I'm self-employed and a single income household, so I have to keep my fixed costs down in the event my income fluctuates……So what I'm left with is looking for purpose-built, family-friendly rental buildings like what's being proposed today."
As he was giving a presentation to Council, he was heckled and accused by those opposed to the building of being a "shill" for the developer.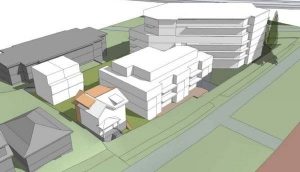 Another man, whose voice cracked as he spoke about struggling to get by and wanting to live in a building like the one being proposed, said, "The people who are in favour of this project, are just asking to live here. When you say it's too tall and calling them a 'shill', you are talking to people who are just trying to get by in Vancouver…. and it's kind of not okay."
Those opposed to the development appeared to be predominantly seniors who own single family homes and were concerned about the added density, height and impact on parking and trees.
In the end, council voted in favour of the project.
This is an example of what should be happening at City Council meetings – a balanced range of voices from opponents and supporters. Typically, council meetings are full of homeowners opposing developments that will impact their neighbourhood and property values. Many of their concerns are legitimate, however these issues can often be addressed in planning and designing the built form without flat out stopping the development. We rarely have people coming out to speak in favour of housing projects.
But, this may be changing.
"Even modest developments like this, where it is really hard to poke holes in it, are still being attacked," Adrian said in a recent Georgia Straight interview. "There is a realization that unless some consistent voice comes from the more progressive camps here, you are going to see a lot of these developments die on the vine."
The YIMBY (Yes in My Backyard) movement is already heating up in unaffordable housing markets like New York, Washington and San Francisco, and it now seems that a Vancouver YIMBY movement is growing. The Twitter handle @yvryimby is active in online conversations about real estate, and Commercial Drive resident Kyle MacDonald, who once bartered a red paper clip for a house, is trying to broaden their reach. After attending the Council meeting last week, he was interviewed by CBC and stated:
"We're starting a movement, it's part of the worldwide YIMBY movement — Yes in My Back Yard — which is counter current to Not In My Backyard. If you go to #YVRYIMBY you can find an eclectic assortment of people around the city with different versions of what they would like to build in their backyard."
I hope this is a sign of things to come, as more young people add their voice and grow the movement for sensible, affordable housing in Vancouver. We can't continue to be a livable city for all, if we only allow the same old voices to be heard at council.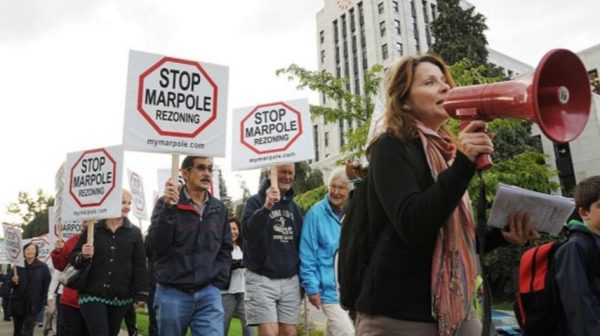 ***
Jillian Glover is a communications specialist in urban issues at Modus Planning, Design & Engagement. She is a former Vancouver City Planning Commissioner and holds a Master of Urban Studies degree from Simon Fraser University. She was born and raised in Vancouver and writes about urban issues at her blog, This City Life, named one of the best city blogs in the world by The Guardian.