The Metro Vancouver Chapter of Architecture Canada held its second annual Art by Architects Silent Auction and Fundraiser on December 8th at the AIBC Architecture Centre. The event was held this year in conjunction with the AIBC Holiday Open House, and proved to be a successful pairing as the silent auction raised more money this year than the previous, with 112 pieces of artwork generously provided by the Metro Vancouver architecture community. This year's theme 'What's Next?' was realized again on 10″ x 10″ wooden panels, and featured a competition component with a selection of two winners and six honourable mentions. Again as in the previous year, partial proceeds from the auction will go to the Architecture for Kids program put on by the Smith Foundation in conjunction with Artists for Kids.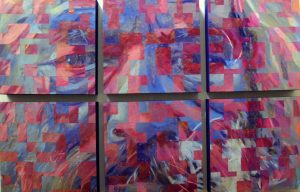 Over 175 people came out to the AIBC on the chilly winter evening to bid on artwork from several local architecture firms, including Henriquez Partners, Perkins+Will and Francl Architects. Stantec again provided a twelve panel mural, which displayed colourful plexi-glass laser cuts of both new buildings coming soon to Vancouver, including the new Herzog & de Meuron art gallery and Vancouver House by BIG, in addition to several futuristic buildings straight out of an Archigram exhibition. With Stantec's mural last year taking the top prize, this year's judges, Pierre Gallant and Mauro Vescera, chose a six panel composition by Norm Shearing depicting a man's face, as well as a series of photos by Rui Nunes taken of the tops of freighters passing under the Lion's Gate bridge.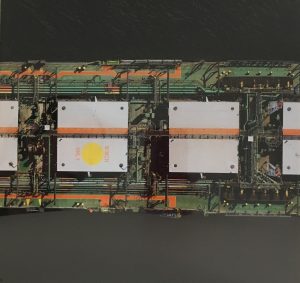 Honourable mentions went to Horace Lai, Louis Connery, Jo Darts, Payam Ashjae, Jean Philippe-Delage, and Richard Henriquez, the latter of which generously contributed three original paintings and a sculpture. The Metro Vancouver Chapter would like to thank all the artists who once again contributed their time and creativity to this event, to Opus for partnering with the Chapter to provide the wood panels as well as the prizes for the winners, and to the volunteers who helped set up the show. Finally, the Chapter would like to thank the AIBC for providing the gallery space, refreshments and entertainment to make for a truly great event, and looks forward to continuing to work together in collaboration in the future.
For any questions, please contact Sean Ruthen at metrovancouver@raic.org.