Author: Mikael Colville-Andersen (Island Press, 2018)
Most authors aim to capture readers attention and alter their state of mind. A state of being. Whether you are captured by a character or sympathizing with the antagonist, books that capture our attention are hard to put down. Copenhagenize: The definitive guide to global bicycle urbanism written by Mikael Colville-Andersen is one of these books. Mikael is a Danish-Canadian who is the CEO of Copenhagenize Design Company which he founded in 2009.
Dedicated to cities and the adoption of bicycles, the intentions of this book are clear. In sum, he aims to spread the narrative of cycling and the vision of what cities could be if they adopted something we know works so well. The bicycle. He explains how frustrated he is with the advent of the car, but mostly how we continue to package the car as a great solution to our transportation woes, or even worse, labeling cars as "green" or "personal emotional mobility". They are still cars after all. They use an obnoxious amount of space, cost millions for the taxpayer, and ultimately, very isolating. He quotes the show Mad Men appropriately when explaining how we have continued to advertise something that is not benefiting our society as much as we thought. "Cars! They're toasted!".
This quote exemplifies the necessary shift that car companies must go through so they do not lose market share on transportation. It is about profit and not giving any away to those who would rather buy a bike. Mikael sees through the facade of the typical car company. He ends the book with a quote from Bertrand Delanoë who was the Mayor of Paris from 2002-2014 and uses him as an example of the reality in which cities are faced with. It is not only advocates, yet the mayors of cities who state "Cars no longer have a place in the big cities of our time".
Throughout this book, Mikael incorporates useful information and arguments for bicycle urbanism along with witty jokes, quip narratives filled with personal encounters (both good and bad), and incredibly entertaining historical and modern photos. The photos enhance the stories he is telling, which heightens your level of understanding. Mikael does romanticize cycling quite a bit. He starts off by calling on all of the readers likely commonality. The first time we learned to ride a bike and how the memory sticks with us. You can't help but think about your own past and reminisce over your own story.
Even though he does preach to the choir quite a bit, he breaks down common misconceptions about cycling and equips the reader with valid arguments backed up with accessible and easy to understand research. He mentions the typical anti-cycling talking points and strikes down the myths of hilly typography, bad weather, not having enough space, being "just too sprawled out" already, the lack of ability to do things such as grocery shopping and how they are used as the rationales for not investing in bicycle infrastructure. He suggests the contrary to these myths and provides evidence in doing so.
Mikael offers more than an argument for cycling and offers a guide to facilitating proper, common-sense infrastructure through design. People-oriented design. Design that takes people from point A to B as quickly as possible (what he has called A2Bism), without any sympathy for the meandering trails typically seen as the gold standard for cycling infrastructure. He calls into question a large amount of cycling infrastructure that seems to be doomed from the start because common-sense infrastructure and design were not used in the process. He doesn't only tell us through words but shows us through beautiful images of real-life infrastructure where the negatives and positives are clearly communicated.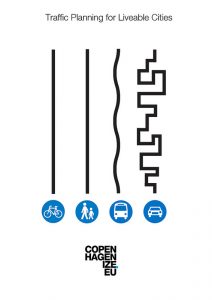 This book provides information in a variety of chapters dedicated to 3 categories:
1) Introduction, which outlines the role of bicycle urbanism by design, urban life, democratization, and its' relation to cars.
2) The Learning Curve, whereby Copenhagen's bicycle journey is explained, myths are busted, and human behavior is analyzed using the lens of cycling.
3) The Toolbox in which Mikael illustrates the best practices for design and infrastructure, innovation, the transfer of ideas, the use of cargo bikes, how to prioritize cycling as well as communication and advocacy.
Mikael introduces each chapter by stating a famous and inspirational quote such as Plato's "This city is what it is because our citizens are what they are" and Yogi Berra's "You can observe a lot by watching". In addition to using famous quotes from others, there are plenty of quote-worthy sections in this book. For example:
"In some cities, the politicians get it, but their ideas die on the doorstep of the engineering department. In others, the professionals get it, but they lack politicians with chutzpah to make it happen. For every visionary, there is a whole pile of lazy."
This is not an "academic" book per say, yet I wish all academic writing was written more like this. Approachable use of empirical evidence, interesting, filled with narratives and to the point. I'm not sure if the book can steak the claim of being the definitive guide to global bicycle urbanism, but this book offers the arguments for great bicycle urbanism and what to consider in the process. Overall, this book is a great contribution and sums up the world of bicycle urbanism within 275 entertaining pages.
***
For more information on Copenhagenize: The Definitive Guide to Global Bicycle Urbanism, visit the Island press website
**
Rebecca Mayers is a Ph.D. student at the School of Community and Regional Planning (SCARP) at the University of British Columbia. Her current research applies a political economy lens, analyzing political attitudes towards cycling and the rise of gentrification, cycling advocacy, as well as the process and outcomes of cycling infrastructure. More information is available on her website: https://www.rebeccamayers.com/