Written for VHF by guest author, Michael Kluckner.
No Vancouver neighbourhood has more layers of heritage than the West End. Its early settlers' houses, century-old apartment buildings, churches and monuments reflect its rich history, as do the highrise apartments from the 1960s. It has been a bastion of rental housing for a century – even today, 80% of its residents are tenants.
A part of the traditional Coast Salish territory, the West End was the hinterland for villages on False Creek and the shores of the Stanley Park peninsula. In the colonial era, "Stanley Park" was a military reserve; as District Lot 185, the future West End was a speculative purchase by the "Three Greenhorns," who had it surveyed as the City of Liverpool in 1882, four years before Vancouver's founding, explaining why many West End streets don't line up with downtown streets at Burrard.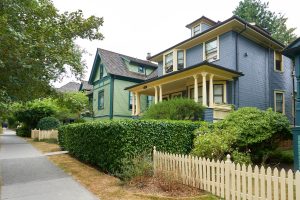 There are several surviving blocks of 1900-era houses, notably the conservation success stories of Mole Hill Community Housing Society and Barclay Heritage Square, as well as the Pacific Heights Housing Cooperative that adapted an old streetscape and infilled it in the 1980s. Historic Anglican and Methodist churches serve the diverse community, while the Haywood Bandstand that hosted concerts for the promenaders along English Bay looks out at the beach once patrolled by the beloved lifeguard Joe Fortes. Fine apartment buildings recall a gracious earlier era.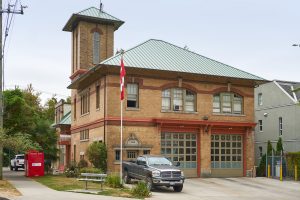 There are numerous curiosities along the way. Fire Hall No. 6 at Nelson and Nicola was the first in Vancouver to be built exclusively for motorized fire-fighting trucks rather than horse-drawn wagons. Gordon Neighbourhood House has its roots in the transitional mid-century years when the West End had become an area of rooming houses and poor families needing support.  The Leslie Lane House started life on Hornby Street, as did St. Paul's Anglican Church, built as the Yaletown Church at 1246 Hornby and moved in 1898. The early church was later replaced by the current one.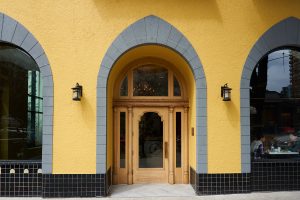 The co-ops and parks that have adapted old houses reflect more recent history – the ongoing need for affordable homes and public amenities. The façade of the JJ Bean Coffee Roasters on Bidwell is an adaptation of an old beauty salon, while Jim Deva Plaza commemorates a gay-rights and free-speech activist and the 40+-year history of the Davie Street Village.
So many people live in such a small area, but it is tranquil, leafy and varied – a tremendously successful district that has evolved for 125 years in this fast-growing city. Join Vancouver Heritage Foundation to discover more of what the West End has to offer during the West End Heritage Tour, this Saturday September 29th.
All photos via Martin Knowles Photo/Media