The Nova Scotia Archives is pleased to share photos showcasing the changing faces of urban centers in Nova Scotia. You can learn more about the archives and explore thousands of photos, textual records, maps, art, and more on their website.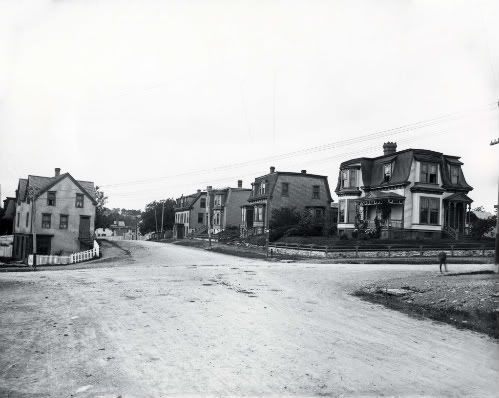 Five Corners, Dartmouth, ca. 1897
DARTMOUTH – In the year 1750, the Alderney arrived in Halifax Harbour with 151 immigrants. Officials at Halifax decided that these newcomers should settle on the eastern side of the harbour in an area known to the Mi'kmaq as Boonamoogwaddy or Tomcod Ground.
The area was later given the name of Dartmouth after William Legge, 1st Earl of Dartmouth. By the year 1752, 193 people lived in Dartmouth.
Aerial view of Bridge from over Dartmouth Ball Park ca. 1959
In 1955, Dartmouth was linked to Halifax by the Angus L. Macdonald Bridge which led to the rapid growth of the community. In 1961, the Town of Dartmouth amalgamated with neighbouring villages into the City of Dartmouth. The A. Murray MacKay Bridge opened in 1970, furthering both commercial and residential growth.
Dartmouth Bridge Plaza and Shopping Center, ca. 1958

Portland St., Dartmouth, ca. 1960

Dartmouth Shopping Center Near Bridge ca. 1960

City of Dartmouth, ca. 1959
Reference: W.L. Bishop NSARM accession no. 1983-240, no. 20, Nova Scotia Information Service