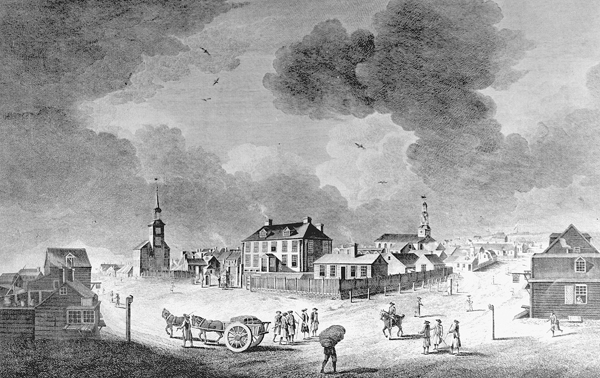 "The Governor's-House and St. Mather's Meeting House in Holles [sic] Street looking up George Street shews Part of the Parade and Citadel Hill at Halifax in Nova-Scotia", 1759
HALIFAX – The move of Morris House has been generating interest in the centuries old wooden structure and its place in the history of Halifax. In the media it is being cited as the "fourth oldest" structure in the city, leaving the public to ask–what comes before Morris House on that list?
The Georgian-style church, built in 1750 at Grand Parade, is the oldest Anglican Church in North America and the oldest building in Halifax. The location for St. Paul's was identified by town planners in 1749 at the centre of the town plot. The next summer the cornerstone was laid by Edward Cornwallis. In the years to follow the church has undergone many changes, however the original oak and pine frame that was precut and shipped from Boston, continue to support the main part of the building.
The Little Dutch Church, built in 1756, is the oldest Lutheran Church in Canada. Foreign Protestants settling in Halifax wanted their own place of worship, and moved an existing log home over a mass grave containing the bodies of approximately 300 of the those who died of typhus during the crossing. It was originally called St. George's Church.  "Dutch" is a misnomer for Deutsh (German.)
Portions of Carleton House, located on the corner of Prince and Argyle Streets, were built in 1759, making it the oldest residence in the city. It has incorporated what was the Honourable Richard Bulkeley's (known as "the Father of Nova Scotia") mansion. Unlike the majority of houses in early Halifax, Bulkeley's mansion was made of stone, making it the earliest documented Georgian stone house in the province.
4. Morris House
The Morris building was constructed in ~1764, making it the second oldest residence and oldest wooden house in the city. In 1777, it was purchased by Charles Morris Jr. and is strongly associated with the Morris family, who were known as surveyors and among some of Halifax's most prominent citizens. The family sold it in 1850 after which it had residential and commercial use.
For more information consult the Historic Places Registry and the Nova Scotia Archives websites.