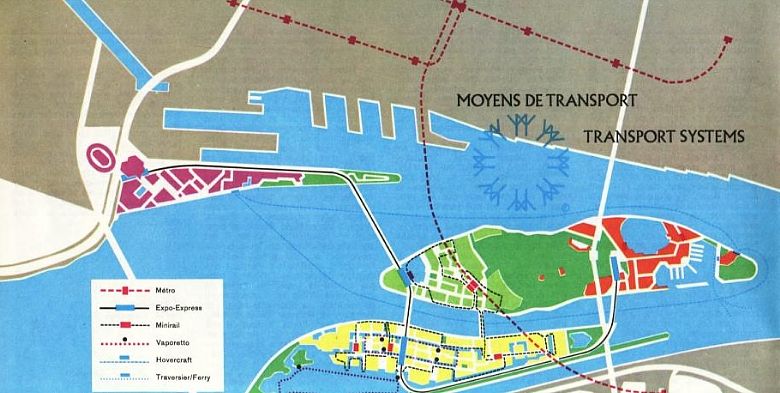 Expo 67's 40th anniversary has passed, but there's one aspect of the world fair that I find strangely overlooked: its transportation system. While the Minirail and pedicabs moved people around the Expo site, more serious transit links were needed to get them to and from Notre Dame and St. Helen's islands.
That's where the metro, Expo Express and hovercrafts came into play. Hovercrafts were used to speed people between the South Shore, La Ronde and the Cité du Havre. The metro's yellow line was built between Montreal and Longueuil because it offered a stop on St. Helen's Island, right in the middle of the Expo action.
The Expo Express, meanwhile, was an above-ground metro line that ran for 5.7 kilometres between La Ronde and La Cité du Havre, with stops at four stations along the way. In terms of technology, it was essentially the same as the Toronto subway, except for one important difference: it was completely automated. Trains ran every five minutes and carried 1,000 passengers each.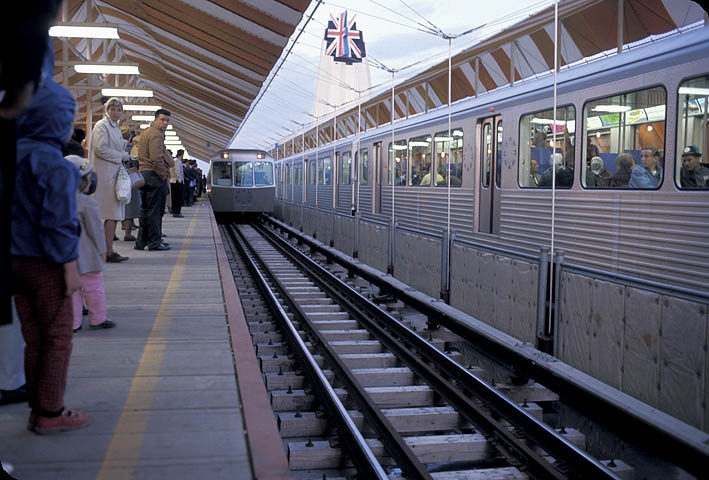 After Expo ended, Expo Express was completely dismantled and the hovercrafts were discarded. It might not seem like such a big deal: they were needed for a fair and, when that fair ended, they were discarded. So what?
Well, it strikes me as awfully short-sighted to have permanently scrapped such an efficient public transportation system. Whereas Expo sites in other cities were intensively reused — after Expo 86, Vancouver redeveloped its fair site as a new residential district with room for 20,000 people — Montreal didn't do much with its own. Today, we have a casino, a racetrack, a beach and a nice park, but that's about it.

Notre Dame Island in the foreground, with Expo Express running through the centre
In alternate-universe Montreal, the park on St. Helen's Island would exist much as it does today, as a large park, but Notre Dame Island would have been redeveloped into a unique, car-free, high-density mixed-use neighbourhood, a modern-day Venice with apartment buildings, shops and offices lining pedestrian streets and canals. Residents and visitors could park their cars at a central parking garage near the Pont de la Concorde and the present-day casino.
Something similar would have been built around Habitat 67 at the Cité du Havre. It would have been a highly desirable place to live, with access to the water and great views of the downtown skyline, river and mountain.
Finally, Expo Express would have been maintained and even extended north, linking these two new developments with the downtown core. Montreal would be renowned for its distinctive, transit-oriented waterfront communities, a model for sustainable development around the world.
Now that would have been a legacy worthy of Expo 67.